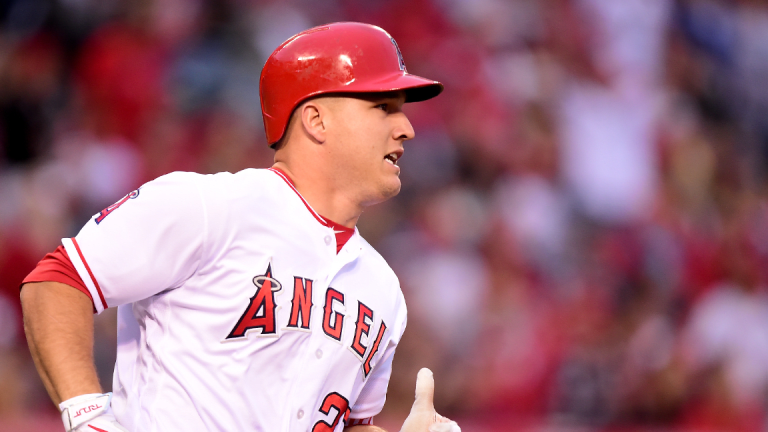 What Is Mike Trout's Net Worth?
Mike Trout, baseball supernova for the Los Angeles Angels, is a rich man, in more ways than one.
Mike Trout is one on baseball's top-tier supernovas, with a slew of all-star appearances and a brand new contract that makes him the highest paid player in major league baseball.
The Los Angeles Angel's center fielder has ascended since he hit the major leagues on July 8, 2011. By 2015, Trout would become major league baseball's youngest ballplayer to pop 100 home runs and steal 100 bases.
Trout, who turns 28 on Aug. 7, 2019 is also a role model in his southern California community. He is highly active in charitable works and is a rarity in the upper echelons of professional sports - he's a scandal-free superstar who kids want to emulate and who adults want to pay to see play baseball.
Mike Trout's Net Worth
Mike Trout's net worth stands at $45 million as of mid-2019.
Currently, the big right-hander both at the plate and on the field, earns $16 million annually from the Angels in salary.
He recently signed a new contract with the Angels for $430 million over a period of 12 years, according to media reports, which translates into an approximate annual salary of $36 million, making him one of the highest-paid professional athletes on earth, and the highest-paid major league ballplayer, as well.
Technically, Trout's new deal is an extension of his current contract. With free agency looming in 2020, the Angels and Trout agreed upon a 10-year extension which will take him all the way to 39 years old, where he'll presumably retire as a Los Angeles Angel, unless Trout is traded at some point in the next decade.
Officially, the new contract commences in 2021. In the interim 2-year period, Trout won't be going hungry - he'll earn a total of $66.5 million over the last two years of a $144.5 million extension he signed back in 2014.
Mike Trout's Career
Based on his on-the-diamond exploits, Mike Trout has earned his new contract extension, and then some.
Born in 1991 in Vineland, N.J., Trout grew up an avid Philadelphia sports fan, reveling in the prospects for the region's four high-profile sports franchises, the Eagles (NFL), the Phillies (MLB), the 76ers (NBA), and the Flyers (NHL).
It would soon come apparent that Trout might have designs on a career in professional sports himself.
In Little League, Trout opened eyes with lightning speed on the mound and on the basepaths, and with at-bat displays of power that had the New Jersey natives buzzing.
At nearby Millville Senior High School, Trout tossed a no-hitter as a pitcher, but his mound prowess was exceeded by his power-batting prowess, as one year he hit a New Jersey state record 18 home runs.
While Trout and his family (his father was a high-caliber college baseball star) had their eyes on his playing ball at the collegiate level, a commitment to attend East Carolina University fell by the wayside.
Instead, the Los Angeles Angels drafted Trout in the 25th round of the 2009 major league draft.
After two short years, Trout made his major league debut in August, 2011, and has been staking his claim as the best baseball player at the major league level ever since.
Consider these career highlights:
Trout was the American League MVP in 2014 and 2016.
Trout has made seven American League All-Star Teams.
Trout has won six major league baseball Silver Slugger Awards.
Trout was the American League Rookie of the Year in 2012.
Trout has a career on-base average of .441, and a career batting average of .306.
Trout led the American League in slugging in 2015 and 2017, and has averaged a .575 slugging percentage over his career.
Trout has led the league in runs scored four times - in 2012, 2013, 2014, and 2016.
Trout led the American League in stolen bases in 2012, and had slammed 256 career home. Those numbers are reminiscent of "speed and power' Hall of Famers like Mickey Mantle, Willie Mays, and Joe DiMaggio.
Mike Trout's one career blemish is shared with his Angel teammates over the years. The Los Angeles Angels have never won a major league playoff series in Trout's eight-year career on the ball club.
Mike Trout's Endorsements
A hit with baseball fans of all ages, Mike Trout is an advertiser's dream.
He's a genuine American brand, in the "clean cut" mold of sporting greats like Mantle, Mays and DiMaggio in baseball, and Michael Jordan, Peyton Manning and Wayne Gretzky in basketball, football and hockey.
Like those legends, Trout and offers across the board appeal to all demographics, and has been appeared in ad campaigns for major media brands like Body Armor, Subway, Rawlings, and Nike (NKE) .
Trout also recently inked an advertising deal with Super Pretzel and in 2014, Nike rolled out Trout's own branded Mike Trout Branded shoes.
Interestingly, major league baseball players don't pull in the cash that superstars in other sports do, as baseball suffers from lack of international exposure. That isn't the case for soccer great Lionel Messi or the NBA's Stephen Curry or James Harden, who both out-earn Trout on the branding front by a wide margin.
Mike Trout's Salary
At $36 million per year, Trout is in the upper echelon of professional sports figures. By the time his new contract extension runs out, Mike Trout will have earned $500 million in salary alone.
That's rarified air, but it's not the top of the heap. Both soccer's Messi (who'll earn $120 million annually through 2021) and boxing's Canelo Álvarez, who'll earn $73 million a year as part of his own five-year deal via the streaming.
Major league baseball is a different story, as Trout is at the top of the heap.
His annual salary of $36 million just crests the $33 million (on average) earned by fellow diamond superstar Bryce Harper, who just signed a long-term deal with the Philadelphia Phillies for the next 13 years.
How Does Mike Trout Spend His Money?
Mike Trout appears to be a good steward of his financial largesse.
While he does own a Laguna Beach mansion near Anaheim, Calif., where the Angels home field resides, he also owns a modest house back in his native New Jersey (in Bridgeton).
He does indulge his taste in high-end four-wheel vehicles, with a garage full of luxury wheels like a Chevrolet Corvette Stingray, Mercedes-Benz AMG, and Chevy Silverado Midnight Edition.
To his credit, the modest Trout spends a great deal of time and money involved with his favorite charitable causes, and is well known both in Southern California and in his native New Jersey for his philanthropic efforts - a trend that people close to Mike Trout say will last long after his playing days are over.
It's never too late - or too early - to plan and invest for the retirement you deserve. Get more information and a free trial subscription toTheStreet's Retirement Dailyto learn more about saving for and living in retirement. Got questions about money, retirement and/or investments? We've got answers.