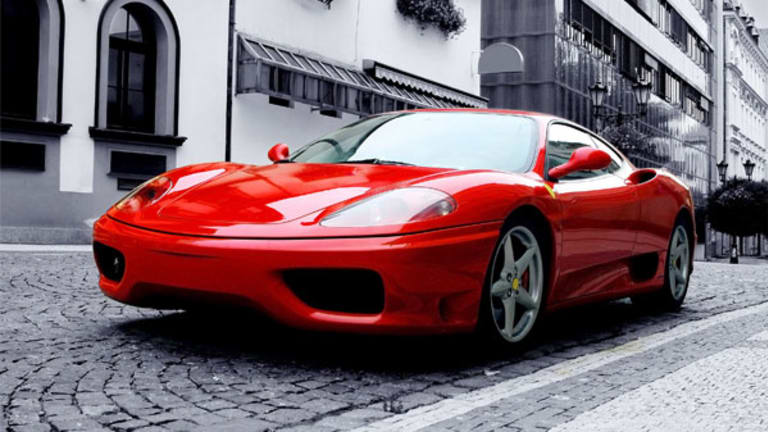 Michael Kors Bucks Retail Trend
Michael Kors' reported stellar first-quarter results on Tuesday, boosted by strong brand recognition in Europe.
NEW YORK (
) -- Earnings results from
Michael Kors
(KORS)
showed the European luxury consumer still has plenty of money to spend.
The luxury apparel and accessory designer earned 34 cents a share on net income of $68.6 million during the first quarter of 2013 -- a 162% year-over-year climb -- and revenue of $414.9 million -- a 71% year-over-year increase. The recent quarterly performance of rivals
Ralph Lauren
(RL)
and
Coach
(COH)
pale in comparison. Wall Street analysts were expecting Michael Kors to generate earnings of 20 cents a share and sales of $368.3 million for the three months ending in June.
Despite rivals citing economic weakness in Europe, Michael Kors is reaping the benefits of its strong brand recognition amongst affluent consumers. The company's revenue increased 110% to $33 million in the region, with same-store-sales rising 24%.
"Michael Kors is established as a desirable jet-set brand, and we believe that we are taking market share in the European accessories, footwear, watch and apparel markets as our brand awareness rises," explained Michael Kors CEO John Idol during a conference call with investors on Tuesday.
Idol added that, while Michael Kors maintains a close watch on the European retail environment, it has not seen an impact on its operations. "We are uniquely positioned to build a Pan-European accessible luxury accessory business," he said.
Japan saw an even greater increase, with revenue climbing 190% to $4 million, with comparable store sales of 21%. Michael Kors opened its first stores in the country earlier this year.
Bucking the Trend
Although competitor Ralph Lauren's domestic business remains strong, analysts noted that international performance was disappointing during its fiscal first quarter. Credit Suisse analyst Christian Buss maintained his "outperform" rating of the stock, but reduced his price target from $195 to $175.
The iconic American designer, who created Team USA's uniforms for the 2012 Summer Olympics, reported a net income of $193 million, or $2.03 per diluted share, on $1.6 billion of revenue for the first quarter of 2013.
Coach's sales in China grew 60% during its recent fiscal fourth quarter; however, Deutsche Bank research analyst Dave Weiner expressed concern over Coach's correlation with the US economic environment and its limited brand recognition in Europe. Coach's North American sales for the quarter rose a marginal 1.7%.
Weiner lowered his Coach price target from $68 to $57.50, but maintained his "hold" rating.
Michael Kors' international brand recognition could be attributed to designer and company founder Michael Kors, who reached the masses as a judge on the Emmy-nominated reality television program
Project Runway
, starting in 2004. Set against this backdrop, the luxury retailer launched the fashion industry's largest U.S. public offering in December 2011, a deal which valued the company at $3.8 billion -- 45 times more than its earnings at the time.
In March of this year, Michael Kors sold 25 million shares of stock in a secondary offering at a price of $47 per share, to raise in excess of $1.7 billion.
The New York-based company expects to generate revenue between $490 million to $500 million in the second quarter of 2013, which assumes a comparable store sales increase of approximately 30%. Michael Kors also forecast earnings between 33 cents a share and 35 cents a share -- a bold outlook considering analysts surveyed by
Thomson Reuters
are only looking for 29 cents of earnings on $444.55 of revenue.
Michael Kors shares are up 13.67% to $48.14 on Tuesday and 76.66% year to date.
--Written by Nathalie Pierrepont in New York.
>To submit a news tip, send an email to:
.
Check out our new tech blog,
Tech Trends
. Follow TheStreet Tech
.
>Contact by
.
Follow @nrpierrepont