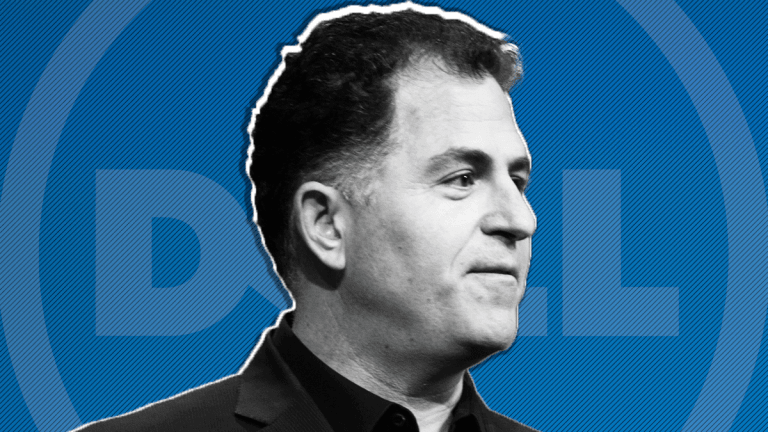 What Is Michael Dell's Net Worth?
What is the net worth of computer company founder Michael Dell, one of the richest people in the world?
People of a certain age will remember the ads. In them the actor Ben Curtis played a pre-millennial Poochie (itself a pretty dated reference) who would run around selling people on the wonders of a Dell (DELL) - Get Dell Technologies Inc Class C Report computer. He would eject a word salad of features and specs, buttoned with the catchphrase that made him whatever the equivalent of internet famous was in 2003: "Dude, you're getting a Dell!"
It may be hard to realize now, but at the time this made sense to viewers. In the 1990s and 2000s, Dell manufactured one of the most successful lines of personal computers on the market. Their boxes sat on desks across homes and campuses alike.
And today… actually much the same thing. While the market for personal computers has steadily declined in favor of tablets and increasingly versatile smart phones, Dell remains the third largest vendor in this market. As of 2018 they owned more than 15% of the entire personal computer market, and consumers may well recognize their brands such as Alienware, XPS and Latitude.
Dell as a company produces machines for the consumer market, the business market and the infrastructure market (the latter including products such as servers, network switches and bulk storage). At time of writing it was worth approximately $70 billion. And it has made a fortune for the company's founder, Michael Dell.
What Is Michael Dell's Net Worth?
At time of writing, Michael Dell was worth approximately $30.5 billion, according to Forbes.
Dell built his fortune through his company Dell, Inc. (now Dell Technologies) and through his active investments managed by the firm MSD Capital, formed entirely to manage Dell's fortune.
Dell's Early Life
Born in Houston, Michael Dell has worked in and around his company for almost his entire adult life. As an undergraduate student at the University of Texas he began earning money by selling computer upgrade kits to other students, an operation he ran entirely out of his dorm room and funded with $1,000. In 1984, while still a student, he formalized the business and named it PC's Limited.
In its first year Michael Dell's business sold almost $1 million worth of merchandise and netted him a profit of over $134,000. He dropped out of college at 19 years old to focus on this company. By this point, unable to even legally buy a drink, he had multiple employees on his payroll, moved out of the dormitories and ran his business from home in its early days.
Dell's Career
Arguably the high point of the Dell company's brand awareness came in the late 1990s and early 2000s, when alongside competitor Gateway it established its identity as the service for ordering computers-by-mail. In doing so, the company built upon the model that Michael Dell had established very early on.
Michael Dell built his business approach around limiting retail and selling directly to customers. During the 1980s the personal computer market was still emerging, and this created an opportunity for him to establish this brand. Most customers still thought of computers as something for the office, and the early market was dominated by retail-oriented companies like Apple (AAPL) - Get Apple Inc. (AAPL) Report  and IBM (IBM) - Get International Business Machines (IBM) Report .
Starting up in a dorm room let Michael Dell test this approach. During his company's first year he sold mostly to other students and people he knew on the University of Texas campus. His model emphasized direct delivery, speed and customer support. Unlike off-the-shelf computers sold by other companies at this time, Dell took orders from his customers and built his machines to their specifications before shipping them out.
This model allowed Michael Dell to grow his business rapidly. By 1987 he had changed the company's name to the Dell Computer Corporation; by 1988 Michael Dell took his company public; and by 1992, at age 27, was the youngest CEO to ever appear on Fortune Magazine's Top 500 Corporations list. By 2001 the Dell Computer Corporation became the world's largest PC manufacturer.
Michael Dell officially became a billionaire in 2000. Two years earlier he founded the investment firm MSD Capital to manage his and his family's wealth.
Michael Dell withdrew as the CEO of his company in 2004, but returned three years later after the company suffered several setbacks. Issues surrounding poor product quality and customer service continued, however, and in 2010 the SEC reached a $100 million settlement with the company after charging it with misstating its earnings. In part to pivot away from these troubles, Michael Dell took the company private again in 2013.
In 2016 Michael Dell oversaw his company's acquisition of the company EMC and renamed the new company Dell Technologies to reflect the fact that it had steadily expanded away from its original focus on personal computers. The new company, now one of the largest computer hardware retail firms in the world, returned to public trading in 2018.
Dell's Money
Michael Dell's most significant expense is his well-known philanthropy projects. In 1999 he and his wife created the Michael and Susan Dell Foundation which oversees their charitable giving.
Since its creation, this foundation has distributed more than $1.6 billion in assets and grants. It often focuses on childhood development, education and healthcare.
Dell's Home
Michael Dell made news in 2014 after paying more than $100 million for a New York City penthouse, the most expensive residential purchase in the city's history at the time. He similarly paid more than $40 million for an apartment in Boston's upper class Back Bay neighborhood.
However, Michael Dell's most publicized home is his extensive property in Austin, Texas. There he built a home measured at approximately 33,000 square feet and surrounded by properties with conservation easements (guaranteeing they will remain empty). In total this property comes to approximately 119 acres. Nearby, approximately 12 miles away, he owns a ranch where the family keeps horses.
Most notably, Michael Dell also keeps an 18,500 square foot home on Hawaii's big island. This property has been estimated as worth approximately $73 million.