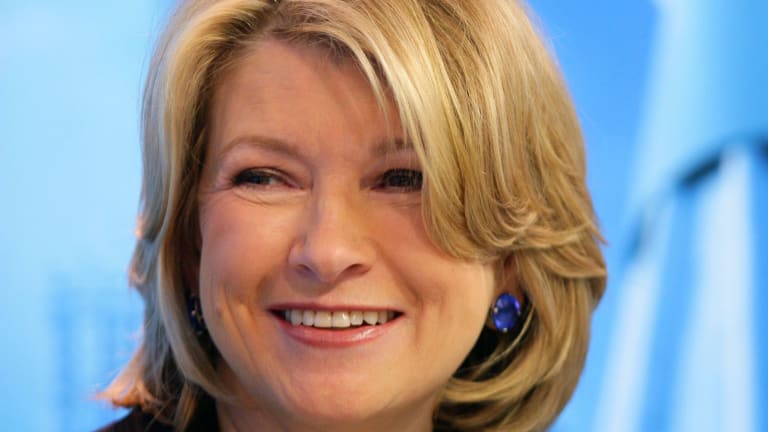 What Is Martha Stewart's Net Worth?
Martha Stewart is one of the world's best-known businesswomen and homemakers, but how much is her net worth?
Martha Stewart is one of the world's most famous and controversial businesswomen. Throughout her career, she has served a wide range of roles as an entrepreneur, writer, and television star. Find out Stewart's net worth, how she built her homeware empire from the ground up, and how she has persisted through even the greatest of obstacles.
Martha Stewart's Net Worth
Martha Stewart is a woman of true talent. She has managed to create an empire out of her DIY savvy and impeccable style. Stewart has continually renewed her brand throughout the years, surviving the changing style of today's homeware market and her own career controversies. According to Money Inc, Martha Stewart has a net worth of $640 million in 2019.
Early Life
Martha Stewart was born Martha Kostyrain Jersey City, N.J. Born to a family of six children, she spent the majority of her young life in Nutley, N.J. She began modeling at the age of 10, going on to appear in many different magazines and commercials.
Stewart attended Barnard College of Columbia University and, after changing her major several times, graduated with a degree in history and architectural history. She paid for her tuition by taking modeling jobs, with one of her primary clients being Chanel. During her time in college, she met and married her first and only husband Andrew Stewart. They have one child together, Alexis Stewart. Today, the pair is no longer together. They divorced in 1990.
After her modeling career had come to a close and Martha Stewart gave birth to her daughter Alexia in 1960, Stewart began pursuing an entirely different line of work: stock brokering. She left her job after the 1973 recession hit.
Martha Stewart's Career
Martha Stewart's career as the world's most famous homemaker began with the purchase of her Turkey Hill house in Westport, Conn. The home later served as the original backdrop for her famous television show and so much more. Originally purchased in the 1970s, Stewart spent decades renovating and upgrading the historic 19th-century home. It became immediately apparent that she had a knack for renovation and an eye for design.
In 1976, Stewart founded a catering business that she ran from her home: Martha Stewart, Inc. Her culinary talents were self-taught, thanks to the help of a Julia Child cookbook. She also spent time managing a gourmet food store in Westport, Conn. Over the years, her catering business acquired an impressive list of celebrity clients. In only a decade, Martha Stewart, Inc. became a million-dollar business.
Stewart had her media breakthrough after catering a book release party for Alan Mirken, head of Crown Publishing Group. Mirken was so inspired by Stewart's performance as a caterer that he offered her the opportunity to partner on the creation of a cookbook, "Entertaining." The book, published in 1982, found great success in the market. This was one of the many successes Stewart would later find as she continued her path in the world of publishing and media. She continued to release several cookbooks during the 1980s, alongside other publications in newspapers and appearances on nationally-renowned television programs.
In 1990, Stewart worked with Time Inc. to establish the Martha Stewart Living magazine.Over the next decade, she helped grow magazine circulation to over 2 million per issue. In 1993, she also began appearing on the television program "Martha Stewart Living," which featured similar tips in the realms of homewares, DIY, hosting, and more. Stewart appeared on a number of major television networks during this time outside of her own show, growing her renown as America's most famous homemaker.
In 1997, Stewart consolidated her numerous media assets under Martha Stewart Living Omnimedia Inc. (MSO) . She later established a few other arms of the business and companion businesses, such as an at-home delivery floral service. Stewart served as chairman, president, and CEO of the company, holding the majority of the company's stocks. Omnimedia went public in 1999 at $18 a share, eventually climbing to $38 a share by the end of the first day of trading. With that, Stewart became the first female billionaire in the U.S. who was self-made.
Though the business flourished, Stewart's fortune took a turn when she became entangled in accusations of insider trading and obstruction of justice during the 2004 ImClone case. Omnimedia's share price took a sharp dive and sales began suffering. Stewart's long-beloved television show was canceled. As part of her conviction, Stewart was forbidden from serving any officer-level financial role in any company until 2011 -- including Omnimedia.
However, this roadblock did not discourage Stewart. After her release from prison, she immediately began making moves to restore her empire back to its former glory. She established a new television show, "The Martha Stewart Show," and began making regular appearances on daytime television. She also began churning out books about everything from cooking to hostessing. In less than a year, Omnimedia began making a profit again. Stewart joined the board of directors after serving her sentence.
Omnimedia has continued to grow into other areas, creating other publications and online media outlets that produce the kind of content that Stewart is known for. Stewart also began investing in her own line of homewares that are sold in major retail stores across the country.
Her brands' appearance in Kmart was by far the most profitable, raking in almost $1 billion. However, the decline of Kmart took a toll on the brand and it has been struggling to meet the high level of profitability it once saw. Because of this struggle, Omnimedia has changed ownership a number of times in recent years. In 2015, Sequential Brands Group (SQBG) - Get Sequential Brands Group, Inc. Reportpurchased the company for $355 million and delisted it from the stock market. This year, the company was sold for $215 million to Marquee Brands.
Many things can be said of Stewart, but her grit, tenacity, and ability to reinvent herself have undeniably led to her continued success throughout the last few decades.
Controversy
Martha Stewart's most famous controversy during her career was by far her conviction for obstruction of justice in 2004.
In 2001, Stewart sold her almost 4,000 shares of stocks from ImClone, a biotech company. She did this following the advice of her Merrill Lynch broker, Peter Bacanovic. Only two days after getting rid of her stocks, the FDA announced that they had rejected the cancer treatment drug Erbitux -- ImClone's main product offering. Unsurprisingly, ImClone stock values fell 16%. The last-minute sale of Stewart's stocks saved her $45,673 in losses.
However, other suspicious sales of ImClone stock caused the Securities and Exchange Commission to flag it for insider trading. ImClone CEO Sam Waksal, who had $5 million worth of shares in the company, had sold his stocks just before the FDA announcement as well.
The case brought against Waksal for insider trading was an open-and-shut case. The case against Stewart was more complicated. Bacanovic, who also worked with Waksal, had advised Stewart to sell her stocks after discovering that the CEO was trying to offload his shares. However, neither Bacanovic nor Stewart knew about the FDA announcement nor the exact reasons why Waksal was selling his shares. This made it difficult to prove that Stewart had engaged in straightforward insider trading. Regardless, she and Bacanovic certainly acted in a way that was illegal at worst and questionable at best. However, during the investigation, Stewart was steadfast in her claims of innocence.
In March 2004, Stewart was found guilty of conspiracy, obstruction of justice, and two counts of lying to a federal investigator. Her securities fraud charge was dismissed.
Stewart served a 5-month prison sentence at the Federal Prison Camp, Alderson in West Virginia. She had originally asked to serve her sentence in a closer prison in Danbury, Conn. so her elderly mother could visit. However, easy access to the media caused the U.S. Department of Justice to deny her request.
Stewart was heavily criticized in the media for serving a light sentence. Many complained that Alderson was a "cushy" institution. All inmates in the prison had access to email, a television room, a library, and other amenities. They were also free to wander the grounds during the day, assuming they let a guard know where they were going. While the inmates' freedom was restricted, Alderson was far from a high-security prison.
Even after her release, Stewart was required to be placed on supervised leave for two years. She spent five months of this sentence on house arrest. She was confined to her home in Bedford, N.Y. After her period of house arrest, her supervised leave required that she had to continue being employed, stay away from anyone with a criminal record, and notify the courts if she was leaving southern New York.
Since serving out her sentence, Stewart has faced abundant ridicule for her insider trading case. However, tides have recently turned. Donald Trump made a move to potentially pardon Stewart and clear her record in Spring 2018, though this pardon has yet to come to fruition.
Public attitude about Stewart's role in the insider trading case is now mixed. Many see her as a victim of circumstances, while others believe that she was treated lightly by the justice system. No matter what people's opinions, most would agree that her bounce back from the controversy was staggering and a testament to Stewart's talent as an entrepreneur.
Martha Stewart's Houses
Unsurprisingly, the world's most famous homemaker has owned a series of beautiful homes throughout the northeast during her career. Here are some of the stunning properties Martha Stewart has owned both in the past and present.
Turkey Hill
Though Stewart hasn't lived in the charming farmstead since 2007, it is by far her most famous home. She took the late 19th-century home and transformed it into the picture-perfect dwelling that later served to epitomize Stewart's signature style. Tucked away in Westport, Conn., the home sold for $6.7 million - 26% below her original asking price.
Skylands
Known as Stewart's escape from the summer heat, this 63-acre estate is located in Seal Harbor, Maine just outside of the world-renowned Acadia National Park. The homewares mogul purchased the property in 1997 from a family that had acquired it from the Fords. The last known listing price for the was traditional Maine estate $5.4 million, complete with antique furnishings. Today, Stewart continues to utilize this stunning home as a seasonal retreat.
Lily Pond
Stewart's almost-oceanfront home off Lily Pond Lane in East Hampton is a beautiful historic home originally constructed in 1914. The one-story home boasts five bedrooms and 5.5 baths, as well as a separate guest house and pool. In true Stewart style, the home has undergone numerous renovations and upgrades under her ownership. She has gone on record saying that she regrets not buying more property back when she first acquired the home in the early '90s.
Cantitoe Corners
Located in a charming hamlet of Bedford, N.Y., Stewart originally purchased her Cantitoe Corners home for $15.2 million. Originally known as Sycamore Farms, the property was first settled in 1784 and later belonged to millionaire Ruth Sharpe. Stewart nabbed the property when Sharpe's family decided to sell the home in 2000. The scenic property consists of many different buildings, including an 18th-century farmhouse, 19th-century cottage, late 1920s ''winter house,'' and two other homes that were built in the late 1960s.
How Does Stewart Spend Her Money?
Purchasing and renovating homes is Martha Stewart's primary hobby and, arguably, one that has led her to great success. However, she also fancies luxury cars. According to Wiki Celeb Info, Stewart currently owns a customized BMW X3, a 1958 Edsel Roundup, and a Toyota. She is also known for taking fabulous vacations across the world, from the charming corners of Europe to the deserts of the Middle East. In fact, some cite her lavish trips as part of the reason for Omnimedia's expensive operating costs. She often billed these vacations to her company.