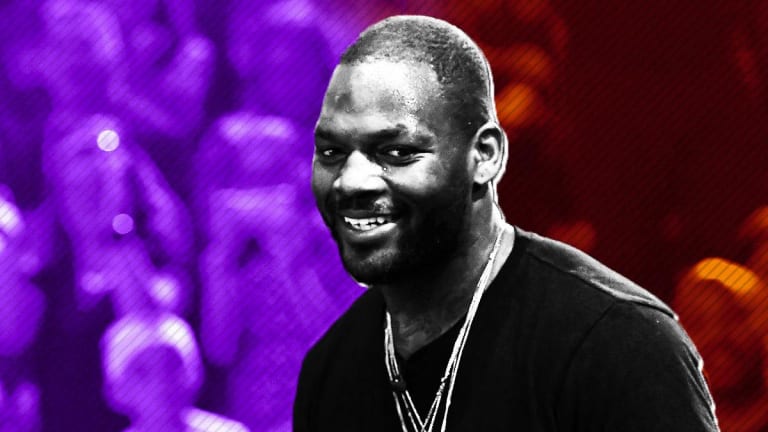 Martellus Bennett on Life After Football, Cannabis and Crypto
Martellus Bennett sat down with TheStreet to talk about his life after football.
Say no to crypto, says Martellus Bennett.
The former tight end and Super Bowl champion with the New England Patriots, offered that advice and more when he sat down with TheStreet to talk about life after football. 
"Football was really getting in my way of making cool s***," Bennett told Yahoo's Dan Roberts at Yahoo Finance's All Markets Summit. 
After he retired, Bennett started teaching himself animation. He's now the Creative Director of Awesomeness at The Imagination Agency--an animation studio that he created. He also kicked off a show on Yahoo called Mostly Football, which airs on Thursday nights. Bennett is the host of the show.  
The football star turned animator is the author of "Hey A.J., It's Saturday," which is a book based on one of his most built-out characters. His agency recently released an interactive app based on the book. 
The Imagination Agency just released another A.J. based app, based on the second book by Bennett called "Hey A.J., It's Bedtime."
Bennett talked about his passion for animation, his thoughts on the cannabis industry, the stocks he's interested in and cryptocurrencies. What follows is an edited and condensed version of the interview. 
TheStreet: Not a lot of people go into animation after pro-sports. 
Martellus Bennett: I think it's interesting. [Animation] is very hard to get into. It's very competitive. Disney's there, Nickelodeon is there. There's so many characters there. And not only those characters, but the characters before those -- like the Lion King -- so there's so many new characters being created every day and the characters from the past still exist so it's like how do I get in and how do I make a character that I love? Fortunately for me, there haven't been a lot of characters of color that have been created so that's like the advantage I have in there. It's hard for [Disney. etc.] to tell a story because there aren't many storytellers that look like me. For the most part though, it's like how do I tell a story that people want to hear?
TheStreet: Would you ever sign a contract with Netflix (NFLX) - Get Netflix, Inc. Report ?
Bennett: Definitely! Netflix should call me like right now! I love Netflix. It's like the gold rush right now. Everyone needs content, but there aren't a lot of content creators. Everyone's starting their own platforms--Disney's (DIS) - Get Walt Disney Company Report starting its own platform, there's Hulu. 
TheStreet: So you have a show airing Thursday nights? 
Bennett: Oh yeah! The show that I do -- it's called Mostly Football. It's fun, it's totally different. I feel like no one does sports satire -- I mean Will Ferrell made his career off of it, but no one else. 
TheStreet: Going back to The Imagination Agency -- do you think that you'll expand your world?
Bennett: Yeah, definitely. I've got like nine other books to come out, it's just hard to know the proper time for everything. So, like, next year I have two big projects.I also have a book called Dear Black Boy coming out in January. I'm starting to introduce more characters now because I have more time. when I played football, I couldn't introduce 100 characters at once -- I only had time to build one up, but now I can kind of spread my wings -- and I've got a great wingspan -- and I can fly as high as I want to fly and drop creative cool s*** on everyone's head. 
TheStreet: I know you have a young daughter, is she your inspiration when you create these characters? Or do you find inspiration everywhere?
Bennett: I steal from everybody. I'm very, very aware of the rooms I'm in, the people I'm with. Everybody becomes a character at some point. So, everyone I meet inspires me. There's stories just waiting to be told. But, my daughter does influence me a lot, you know the stuff that she watches, the stuff that she enjoys. 
TheStreet: So, besides books and TV shows, what else do you want to do? Movies?
Bennett: Yeah! Movies. Games, I want to make games for people to play with. I love the Nintendo Switch. I like to make things that I would want to play and the places I want to go. Nintendo's one of my favorite companies ever.
TheStreet: When did you know that you wanted to go into animation?
Bennett: When I was a kid. I just knew. I'm a cartoon kid -- I still watch cartoons -- so I wanted to create them. 
TheStreet: You mentioned Nintendo (NTDOY) - Get Nintendo Co., Ltd. Report . I'm wondering if you invest, and if you do, what you invest in?
Bennett: I do. I'm very vanilla with my stocks. The most recent company [that I invested in] was Line (LN) - Get LINE Corp. Report . The one thing I regret is that a couple of years ago, I wanted to buy Dreamworks stock and during the season I just kept pushing it back and pushing it back and then they sold for $3 billion! I was like 'why didn't I buy the stock?' So now I listen to myself.
TheStreet: So, in the market, Tilray (TLRY) - Get Tilray Brands, Inc. Report has had a crazy couple of days. Are you interested in investing in cannabis at all?
Bennett: I am! I invested in it already [Bennett laughs and smiles.] Yeah, the more I learn about it. Especially opening dispensaries and stuff. I wouldn't mind owning my own dispensary. I actually have a really cool idea for one, too.
TheStreet: Oh yeah? What's your idea?
Bennett: Someone might steal it [laughs]. It's called 'Weedy Wonka's.' It's only chocolate and candies that are sold -- only edibles. I would show movies -- my movies. Maybe even have a chocolate factory in the back. 
TheStreet: What about crypto? Are you interested in Bitcoin?
Bennett: No, I don't mess with that. To me -- I feel like there isn't any weight to it. Right? I don't feel the weight of it. Like the dollar, it may be messed up half the time [waves hand in air as if he was holding a dollar],but I know that it's there, it's real.