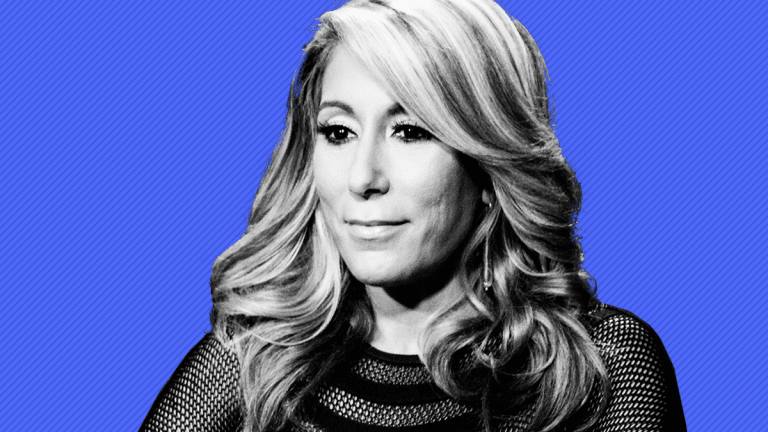 What Is Lori Greiner's Net Worth?
Made famous by her role on reality TV show 'Shark Tank' and her keen eye for investing, Greiner is said to be worth around $100 million. But how does the mogul make and spend her cash?
Perhaps best known for her role on the reality investment TV show "Shark Tank," Greiner has earned herself an empire worth about $100 million. While the retail expert earned her millions through business and entrepreneurship savvy, how much does Greiner actually make, and what does she spend it on?
What Is Lori Greiner's Net Worth?
Lori Greiner's net worth is estimated to be about $100 million, as of 2019. The entrepreneur has had successful businesses and a TV career since her debut business venture making jewelry organizers that produced $1 million in revenue the first year.
While Greiner's net worth may not match up to that of famous athletes or other business tycoons, her list of achievements certainly puts her on par with top influencers. 
Lori Greiner's Salary
Lori Greiner's salary is said to be around the $5 million mark. The American business woman boasts an impressive career of entrepreneurship, investing, TV and more.
Video: Why Shark Tank Star Kevin O'Leary Is Doubling Down on Internet Stocks
Lori Greiner's Career
Lori Greiner made her first million with her invention of a jewelry organizer that she sold on QVC. Operating on a $300,000 loan, the inventor managed to create a product that evidently appealed to a wide audience. Within the first year, Greiner's products sold $1 million, also selling on the Home Shopping Network and at J.C. Penney (JCP) - Get J. C. Penney Company, Inc. Report . The inventor first designed the model of the earring holder after pursuing a career in journalism at the Chicago Tribune during her college days at Loyola University Chicago.
Greiner boasts an impressive resume. The entrepreneur-turned-celebrity has 120 patents, over 700 products, a national best-seller book, and two TV shows to her name, according to her website. She has even appeared on FOX's (FOX) - Get Fox Corporation Class B Report "New Girl" (yes, you read that right.)
Apart from Greiner's famous first invention, the business woman has created products for the kitchen, mobile devices, traveling equipment and more. Greiner's company is For Your Ease Only, Inc.
In 2014, Greiner wrote her first book, "Invent It, Sell It, Bank It" by Random House, which ranked on the top 10 business books on Amazon, also claiming the title of a National Best Seller. The book serves as a guide to entrepreneurs on how to "turn an idea into a million dollar reality," according to Greiner's website.
Greiner's husband Dan Greiner serves as her company's CFO. Both Greiner and her husband have worked together for years, maintaining product sales on QVC and elsewhere. According to Chicago Business in 2009, the couple share a desk while running the multi-million dollar company.
Shark Tank
Perhaps what Lori Greiner is best known for is her recurring appearance on ABC's (DIS) - Get Walt Disney Company Report "Shark Tank" - a show that allows small businesses to come in, pitch their ideas, and hopefully get the investment of one or more tycoons. Greiner's role on the show has been a major source of her salary and net worth over the course of several years.
According to Forbes, Greiner has invested (or offered to invest) over $10.6 million as of 2016 on-air, investing $7.6 million solo and $3 million in group deals.
Still, fellow "Sharks" Mark Cuban and Kevin O'Leary have made very successful investments in their own right, investing together in GrooveBook, which later was sold to Shutterfly (SFLY) - Get Shutterfly, Inc. Report for a reported $14.5 million in 2014.
Although fellow tycoons and investors Daymond John, Mark Cuban, Kevin O'Leary, and Robert Herjavec have certainly made substantial contributions to the list, Greiner brags some of the show's most all-time successful investments - especially Scrub Daddy and Squatty Potty, according to Time.
Greiner first appeared on the show in its third season. The 48-year-old mogul is reportedly renewing her contract for the 10th season of "Shark Tank" in 2018.
Season 10 of "Shark Tank" premiered in October of 2018 and ended in May of 2019. Greiner again appeared on each episode.
'Shark Tank' Star Robert Herjavec: I Think Bitcoin Will Eclipse $19,000
Clever & Unique Creations by Lori Greiner
The business tycoon also boasts her own show on the QVC called "Clever & Unique Creations by Lori," which has been running for nearly 20 years since her break-out inventions.
The show earned Greiner her famous title of the "Queen of QVC," and sells products that range from jewelry storage and kitchen tools to home products and lighting.
Business Ventures
The business that kick-started Greiner's undeniable success was her jewelry organizer. Originally sold at J.C. Penney (JCP) - Get J. C. Penney Company, Inc. Report , the products soon made Greiner millions and opened the door for the rest of her career.
When Greiner is not inventing her own products and solutions to everyday life, the mogul invests in businesses. Greiner notably made some winning investments through her time as a judge and investor on Shark Tank. According to CNBC, Greiner claimed her best investment was Scrub Daddy, investing some $200,000 for a 25% stake in the company in 2012 - and, years later, the sponge company is one of Shark Tanks' most successful investments, earning more than $50 million in sales.
Greiner's other notable investments on the show include Wine Balloon, Bambooee, and Show No to name a few.
Greiner has been very intentional in investing back in other young entrepreneurs, writing a how-to guide back in 2014. The business woman is also famous for her nurturing of talent. Greiner frequently offers her own business philosophies to instruct others on their own paths to success, either through books or interviews.
"Whatever you do, don't stay up in a stuffy office away from people," Greiner told Time. "Show leadership by example. Get right in there, side by side with your employees. Get hands-on and show them there's no task beneath you."
Greiner's products have also been featured in magazines like O, The Oprah Magazine, InStyle and Woman's Day.
How Does Lori Greiner Spend Her Money?
Perhaps most notably, Lori Greiner invests some of her money in other businesses through her time on "Shark Tank." However, the entrepreneur manages to put some aside for other causes, including charities.
Charities
Coming from a self-proclaimed place of giving back what she's been given, Greiner is well known for giving to several charities.
Of note, Greiner partnered with Charitybuzz, a member of Charity Network, to raise over $126,000 to support several causes including the Trevor Project, Kind Project, and the Chicago Police Memorial Foundation as well as CASA for Children, according to Entrepreneur.