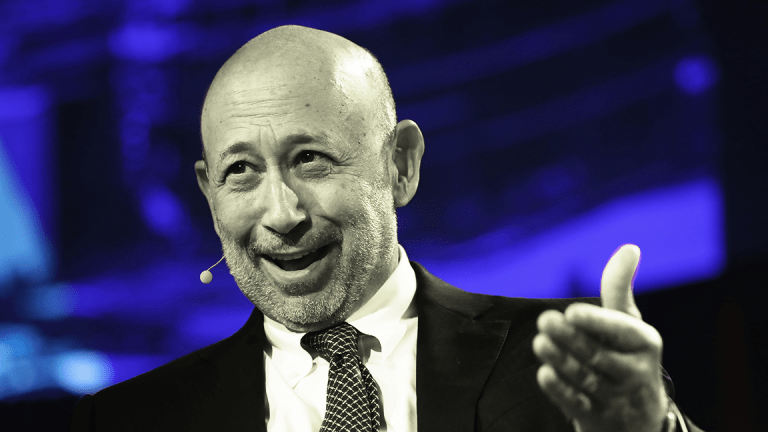 Lloyd Blankfein: How the Man Behind Goldman Sachs Made a Fortune
Arguably one of America's richest and most powerful executives is reportedly stepping down from his throne. But how did Goldman Sachs CEO Lloyd Blankfein make his more than $1 billion net worth?
There may not be a better example of the traditional "American Dream" than Lloyd Blankfein.
Raised in Brooklyn projects, the 63-year-old is now a billionaire - and, heading one of the biggest banks in history. But, how did the banker make his billion dollars, and now that he has declared retirement, what's next for Goldman Sachs (GS) ?
Who Is Lloyd Blankfein?
Although his reputation may precede him, Lloyd Blankfein outgoing CEO of Goldman Sachs - a position he held since 2006. The weathered banker has weathered the storm through financial crises and economic downturns - and has come out seemingly on top. However, despite his illustrious career at the helm of Goldman Sachs (that saw the bank through the darkest of times), Blankfein, a cancer survivor, announced he will be retiring. The Brooklyn native has grossed a net worth of more than $1 billion - begging the question: How did the rags-to-riches CEO make that billion?
Lloyd Blankfein Early Life
Growing up in the Linden Brooklyn projects, and born in 1954 to a working-class family, Blankfein was a far-shot from his eventual billionaire status. However, the young Blankfein went from allegedly selling hot dogs at Yankee Stadium to attending Harvard Law School on scholarship.
After college, the finance mogul got a job at J. Aron & Company as a commodities trader. In 1981, the company became a subsidiary of Goldman Sachs, which opened the door for Blankfein's climb up the proverbial ladder.
Lloyd Blankfein Career
Once J. Aron & Company was acquired by Goldman Sachs, Blankfein quickly rose through the ranks, eventually heading up the Fixed Income, Currency and Commodities (FICC) division. Over the next few years, Blankfein also served as president and COO of Goldman Sachs before taking the helm as CEO in 2006. Blankfein succeeded then-CEO Hank Paulson, who resigned to take up the seat of treasury secretary under President George W. Bush.
Still, the billionaire didn't always have laser-focus.
"If you had asked me, did I have everything nailed down and wired about what I wanted to do, and was I following some real plan? No," Blankfein told interns in 2016.
However, by 2015, Blankfein reportedly owned $450 million worth of Goldman, having over 2 million shares in his possession from the bank's IPO in 1999.
Goldman Sachs
While Blankfein was still at J. Aron under Goldman, the young banker allegedly designed a $100 million trade - the biggest that Goldman had ever handled at the time, according to Fortune.
Through his time at Goldman Sachs, Blankfein accomplished several astounding feats, including carrying the bank through the 2008 Financial Crisis, consistently reporting strong numbers, and sticking it out as one of only two bank CEO's from the 2008 Financial Crisis (the other is JPMorgan's (JPM) Jamie Dimon).
Still, in 2008 the banker accepted a $10 billion bailout from the Treasury Department, subsequently agreeing to convert then-brokerage firm Goldman Sachs into a bank - opening itself up to billions of dollars in emergency funding from the Federal Reserve.
In 2016, Blankfein headed an initiative to begin online banking, which offered personal loans and savings accounts. But Goldman's trading division's performance plummeted the following year (becoming worst-in-class). 
Blankfein devised a plan to increase annual revenue by $5 billion within three years - it's still in progress. Basically Goldman Sachs is trying to grow investment management as well as increase revenues with new and existing customers, and consumer lending.  
Blankfein can be credited with some of the bank's successes over the years, though. Notably, he was in charge during Goldman's 1999 shift from a partnership to a public company - during which Blankfein allegedly acquired 1.24 million shares of the company's stock, according to CNN.
The mogul accomplished several great feats during his reign as king of Wall Street - including turning the firm around from almost certain disaster.
According to Rolling Stone, Goldman Sachs in 2009 was a "great vampire squid wrapped around the face of humanity." Public opinion of Goldman plummeted after employees collected $16 billion in compensation, while the rest of the world reeled from 8 million Americans losing jobs, according to Bloomberg Businessweek.
Still, Blankfein remained resilient and used $500 million earmarked for bonuses to fund the bank's 10,000 Small Businesses program that helped young entrepreneurs, reports Bloomberg Businessweek. The banking mogul also reportedly created a business standards committee, hiring a former Democratic politician to help rehabilitate the brand, in 2012.
Additionally, Blankfein has been influential in increasing and fostering diversity at Goldman - something the bank seemingly lacked. In 2017, Blankfein led up a charge to increase diversity.
"Diversity is at the very core of our ability to serve our clients well and to maximize return for our shareholders," Blankfein wrote on the Goldman Sachs website. "Diversity supports and strengthens the firm's culture, and it reinforces our reputation as the employer of choice in our industry and beyond."
Still, it's not all smooth sailing for the bank.
Goldman recently failed the Federal Reserve stress test - although not really. The bank was allowed to continue payouts to shareholders through either dividends or stock buybacks, despite having only paid $5.7 billion of last year's sum and only planning to payout $6.3 billion of the requested $9.9 billion, according to The New York Times. Reportedly, the bank is allowed to pass due to considerations for its recent losses with the tax bill enacted by Congress.
However, this year Blankfein continued to show his support for diversity by adding former Harvard University President Drew Faust to Goldman's board, becoming the third female director and increasing gender diversity, according to Bloomberg.
Despite setbacks, Blankfein managed to double Goldman's money-management business, and give a total share price return to investors of around 57%, reports The New York Times.
Controversy
Still, the mega-CEO has not avoided controversy during his career.
Despite successfully delivering Goldman out of the fiery hell that was the 2008 Financial Crisis, Blankfein, along with the financial sector, was heavily criticized as being responsible for the crisis in the first place. The billionaire even appeared before Congress to testify during the aftermath - ending in Goldman Sachs paying millions in fines, according to CNN.
Still, Blankfein has been vocal about his dislike of some of Trump's policies, famously using his first-ever tweet on Twitter back in 2017 to slam the president's decision to withdraw from the Paris Agreement.
But, regardless of his defense of environmental issues, the king of Wall Street has had hefty opposition to overcome during his tenure as CEO.
While receiving heavy criticism, Goldman won big after buying in-trouble assets during 2009.
In 2010, the Securities and Exchange Commission allegedly brought a $1 billion fraud case against Goldman, claiming that the bank had sold doomed mortgages, according to The Guardian.
Even then-President Barack Obama fired away at Wall Street bankers.
"Some on Wall Street forgot that behind every dollar traded or leveraged, there is a family looking to buy a house, pay for an education, open a business or save for retirement," the president scolded to bankers at Cooper Union in 2010.
And, it was Goldman's seemingly opportunistic moves during the financial crisis as well as stellar earnings over the years that have earned it names like "The Evil Death Star of Capitalism," and Blankfein himself the "Dr. Evil" of Wall Street.
Lloyd Blankfein Net Worth
Blankfein was worth well over $1 billion as of 2017 - however, by now, it could be even more.
The finance mogul allegedly raked in around $20 million for the past several years, and has an ample amount of Goldman stock. Still, the billionaire is reporting that he will retire this year.
What Is Lloyd Blankfein's Salary? 
Blankfein's salary is reportedly pretty handsome. In 2015, the banker was paid $23 million, and the next year earned an impressive $22 million, according to CNN.
Apart from his salary, much of the banking mogul's earnings come from his hefty stake in the company itself, reporting owning millions of shares in Goldman.
Lloyd Blankfein Reportedly Stepping Down From Goldman Sachs
On Monday, it was announced that Blankstein was retiring from his cozy spot at the helm of Goldman Sachs.
Blankfein has long talked about his potential stepping down, even since 2011.
"This is a tough job to decline or turn away from," Blankfein told New York Magazine in 2011. "When things are going well, you don't want to leave. Because you're influential, it's exciting. You get to work around very smart, motivated people. When things are going poorly, you can't leave, because you get overtaken by your sense of responsibility. Your obligations to people whose careers you've sponsored, shareholders who have invested with you, board members who took that job because you've asked them to."
Still, it seems as though the time has finally come.
Blankfein has chosen, of all people, an unconventional candidate to say the least - David Solomon. While the banker is currently the president of Goldman Sachs, he is also amusingly known for his nighttime persona as Dj D-Sol, spinning electronic music late in New York, Miami, and the Bahamas when he gets a chance. The so-called "woke DJ" (dubbed poetically by Vanity Fair) Solomon has long been involved in the running of Goldman Sachs. The 56-year-old current president of Goldman Sachs was officially named the new CEO on July 17, set to begin his tenure on October 1, 2018.
Still, despite his somewhat controversial nature, the president seems to understand the business. Under Solomon's leadership, Goldman expanded commercial-loan booking to more than $100 billion up from $30 billion, according to Vanity Fair.
Goldman Sachs Stock 
Despite having several successful years of reporting strong numbers, Goldman Sachs' stock still falls behind those like Morgan Stanley (MS) , Citigroup (C)  and Bank of America (BAC) this past year.
However, Blankfein is optimistic.
"I'd say things are pretty good," Blankfein told "Mad Money" host Jim Cramer last year. "If you looked at things statistically, you looked at the numbers, you looked at the metrics, [the United States] at full employment, low energy prices, growth - a lot of the metrics are all positive."
And, shares have risen by about 40% since 2015, so there is reason for hope.
Currently, Goldman's (GS) stock is sitting at around $227 per share, climbing around 0.5% Monday.