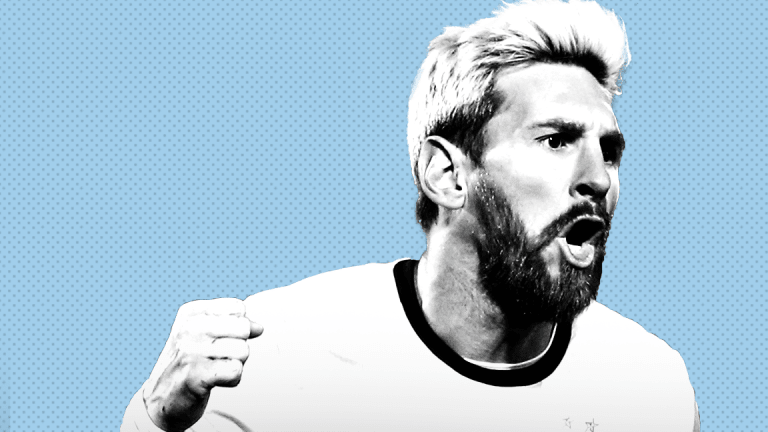 What Is Lionel Messi's Net Worth?
La Liga's all-time leading scorer, Lionel Messi is estimated to be worth $400 million. How much does he make, and how much of that is salary vs. endorsements?
Lionel Messi may have been a soccer phenomenon from a young age, but it wasn't an easy journey. Messi was diagnosed with a growth hormone deficiency as a child, and was saved by his athletic abilities; his potential led FC Barcelona to sign him at just 13 and pay for his growth hormone treatment.
Barcelona's decision paid off, and Messi was able to reach his potential. Now in his 30s, Lionel Messi has developed into one of the greatest forwards of all time. His Barcelona teams have won La Liga nine times. His teams with Argentina have won an Olympic Gold medal and made the FIFA World Cup finals. He's even the highest-scoring player in the history of La Liga - ahead of his rival, Cristiano Ronaldo.
Fittingly, Messi makes more money than Ronaldo. It pays to be one of the best, and as the star of Barcelona for over a decade, he has established himself as one of the best.
What Is Lionel Messi's Net Worth?
Celebrity Net Worth estimates that Lionel Messi's net worth is an astonishing $400 million. Currently the highest paid soccer player along with his impressive endorsement deals, he was ranked by Forbes as the second highest-paid athlete in the world in 2018.
Lionel Messi Salary
Messi's most recent contract extension came in 2017, to keep him with Barcelona through 2021. This extension allowed him to overtake Ronaldo as the highest-paid player in the sport. Messi averages an equivalent of about $33.6 million a year in this contract - or $646,000 a week.
It was inevitable. Eventually La Liga's all-time scorer would become its highest paid. And he isn't just the highest-paid athlete in La Liga; in 2019, he was named the highest-paid athlete in the entire world after making $127 million in a year - $92 million of which is from playing the game (the rest comes from his incredibly lucrative endorsement deals).
Lionel Messi Barcelona
Since the year 2000, at just 13, Messi has been a part of FC Barcelona in some capacity. Those first few years were spent in the team's youth academy. His play outstanding and his talent undeniable, Barcelona signed him to his first professional contract with the team. By 2005, he had managed to surpass expectations, and Barcelona extended him through 2010 - including a buyout clause of €150 million ($173.6 million in current USD) should a different team acquire him.
Messi became a fixture in Barcelona's starting lineup with the team's then-biggest star Ronaldo, soon surpassing him as the face of the franchise and increasing his paycheck dramatically. His 2007 contract extension had him making €100,000 ($115,780) a week. By 2008, he was the highest-paid player on the team.
Just a year later, Messi, inarguably the biggest star on the team, signed a new contract - this one through 2016, with a buyout clause of €250 million ($289.4 million).
The 2012-2013 season saw Messi break the Barcelona record for goals scored, and by the end of the 2014-2015 season, he was the all-time La Liga leader. At this point Messi was signed through 2018 and earning €13 million ($15 million) a year. It's no wonder he made his way to $33.6 million a year at that rate.
By 2018, Messi wasn't just the face of the Barcelona franchise but also their official team captain. With his new title, Messi helped Barcelona finish the 2018-19 season at the top of La Liga, and recorded 4 of the team's 5 hat tricks achieved during the season.
Lionel Messi Argentina
Messi may play in Spain most of the time, but he's a proud member of Argentina's national team as well. His tenure with Argentina hasn't had quite the same statistical success of his record-breaking career in La Liga. Still, the team has had some particularly exciting moments; in addition, to qualifying for the World Cup in 2018, the previous 3 World Cup teams he played on (2006, 2010, 2014) all made at least the quarterfinal. The 2014 team made it all the way to the final match, ultimately losing to Germany. Messi's 2014 World Cup started strong, but he was unable to score in the semi-final and final match, including a crucial missed free kick toward the very end of Germany's victory.
Argentina's 2018 World Cup started incredibly sluggish. After a 1-1 tie against Iceland where Messi failed to score a single goal, they proceeded to get shut out 3-0 by Croatia. There were doubts this team could make the Round of 16 after a disappointing start, but after a close 2-1 victory over Nigeria - where Messi scored the first goal - Argentina advanced to the Round of 16 to face France. They would fall in this match as France would advance and ultimately finish the tournament as champions.
Though Messi has yet to bring a World Cup to his home country, he has brought a gold medal. Argentina's team at the 2008 Olympics proved victorious in Beijing, bringing home the gold after a final 1-0 victory against Nigeria. That single goal was scored by Messi.
Lionel Messi Endorsements
Unsurprisingly, brands are really drawn to athletes who happen to be living legends in their field. Forbes claimed in 2018 that Messi makes $27 million from his various endorsement deals, nearly as much as his yearly Barcelona salary!
One of his biggest deals is with Gatorade, who he frequently appears in commercials for - most recently with Luis Suarez in advance of the 2018 World Cup. But his most lucrative deal is with Adidas, with whom he even has a line of soccer cleats. Having been sponsored by Adidas since the early days of his career, the deal is a yin to the yang of Cristiano Ronaldo's Nike deal.
Lionel Messi House
Messi is practically royalty in Barcelona, and he has a house to reflect it. Located in Castelldefells, Barcelona, the mansion - where Messi lives with his wife and three kids - has a massive garden, a swimming pool and a football pitch. That's right - despite living extremely close to where Barcelona actually plays, he made sure to have his own pitch on his property for practicing.
Lionel Messi Taxes
Messi has, however, had his share of financial troubles in the past. In 2016, Messi and his father Jorge were found guilty of tax fraud in Barcelona. They were each sentenced to prison (Lionel for 21 months, Jorge for 15) and fined (Lionel €2 million, Jorge €1.5 million). However, in 2017 the prison sentences were reduced to additional fines.