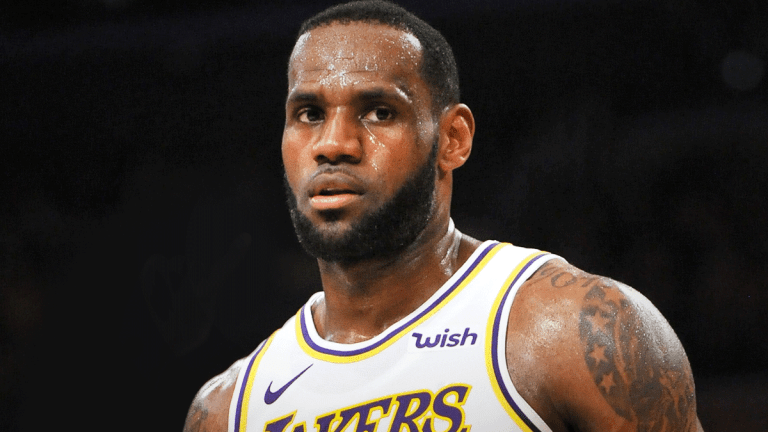 What Is LeBron James' Net Worth?
LeBron James is reported to be worth around $450 million. How much money has he made in the NBA, and how successful have his business endeavors been outside of basketball?
LeBron James is a living legend, the best player in the NBA basically from the second he stepped onto the court for the first time. He has a realistic chance of ending his career as the best to ever play the sport. His story of the hometown hero who turned heel and left, but came back to end the city of Cleveland's championship drought is the stuff of movies - except it was real.
James recently made the announcement that he will not be returning to the Cavaliers and instead signing with a new team - the Los Angeles Lakers. Unsurprisingly for LeBron, a generational talent who played in 8 consecutive NBA Finals, he got a massive contract to play there. It certainly wasn't his first.
How much has LeBron made over his career, and what is his net worth?
LeBron James Net Worth
In late 2018, Forbes estimated that LeBron James, thanks to basketball and his many business endeavors has a net worth of about $450 million. That would put him above the likes of NFL superstar Tom Brady and about on par with worldwide soccer phenom Cristiano Ronaldo.
How does one become worth that much money? Well, be the best player in your sport for a generation, and then also be likable and charismatic enough to get major endorsements and roles in movies. It's easy if you think about it that way.
LeBron James' Contract & Career
LeBron was destined for greatness ever since he was a child. That's not just hindsight - his high school career saw him receive not just awards and distinctions, but features in magazines as well. His ascendance to superstardom was predicted way back then, and he reached that potential to great financial rewards - Spotrac claims that LeBron has made over $269.6 million in cash earnings over the first 16 years of his career, and his 2019-20 salary will put him at nearly $307 million. By the time LeBron's contract with the Lakers expires, he will have over $387 million in career earnings from the NBA - and that may not even be the final contract of his career.
LeBron James Cavs
James chose not to play at college and declared for the draft instead, and in 2003 the forward signed with the Cavaliers, the local team for the Akron native. Soon after, he signed his first contract: 3 years, $12.9 million, with an option for a 4th year. That option was exercised after just one season.
A promising rookie year where he averaged nearly 21 points per game led to an even better second year where he made his first All-Star team. On the final year, he averaged over 31 points per game and took the Cavaliers to the playoffs, breaking a 7-year playoff drought.
For these efforts, James was rewarded in 2006 with a three-year contract extension worth $60 million. He rewarded the team in the 2006-07 season by nearly single-handedly bringing them to the NBA Finals, where they were swept by the Spurs. The next three seasons with the Cavs saw playoff appearances - as well as his first two league MVPs - but James' frustration with the team's inability to win a championship grew as free agency loomed.
LeBron James Heat
In his first free agency, LeBron left Cleveland to join the Miami Heat - and was such a superstar that he did it in an infamous live televised event called The Decision.
It wasn't popular with fans, but LeBron's choice to do a sign-and-trade, where the Cavs traded him to the Heat for draft picks after signing him to a 6-year, $110 million contract, worked out. He went to win a championship, and those first four years with the Heat saw a Finals appearance every time - with two Finals victories.
In those four years, LeBron also won two more MVPs and made the All-Star Game each year, and Spotrac estimates he made nearly $64 million in those seasons in salary.
LeBron James Cavs Return
Still, in 2014 James decided to take advantage of the opt-out in his contract and become a free agent again. After deliberating, he signed a 2-year, $42.2 million contract to return to the Cavaliers, explaining in an emotional letter in Sports Illustrated that he wanted to win a championship for his city.
The Cavs struggled in LeBron's four years away, but he maintained his superstar stats and immediately brought them back to the Finals - where they lost to the Steph Curry-led Warriors.
But in 2015, in a rematch against a record-breaking Golden State Warriors team, James took a Cavaliers team that was down 3-1 in the series and led a stunning comeback, winning a nail-biter of a Game 7 to bring the team its first ever championship. It was the city of Cleveland's first since 1964. LeBron, unsurprisingly, was Finals MVP.
His mission was accomplished, but he signed a 3-year, $100 million contract with Cleveland afterward. The team made the Finals the first two years of this contract, but saw a fall to the Warriors, now playing with superstar Kevin Durant, each time.
LeBron James Lakers
James was rumored to want to go to multiple teams even before he opted out of his contract - the Spurs, the Rockets, and the 76ers were all mentioned repeatedly. But it was a different team he had been linked to, the Lakers, that won out. It was announced on the night of July 1, 2018 that LeBron had agreed to a mega-deal with Los Angeles: 4 years, $154 million.
LeBron passed several career milestones in his first year in a Lakers uniform, but he also dealt with multiple injuries over the course of the year, a rough year for the Lakers saw them fail to make the playoffs. It was the first time in 9 seasons that LeBron hadn't made the NBA Finals, and the first time since the 2004-05 season that the entire playoffs didn't have LeBron - back when he was just 20 years old.
LeBron James' Endorsements
James' stardom lent itself to endorsements from a very early age, and he remains a spokesman for several notable companies. He is a brand ambassador for Kia, even partnering with them for a luxury "King James Edition" K900 car. He has partnered with Beats in the past, a partnership that proved lucrative after Apple purchased the company. In addition, he has had endorsement deals with Coca-Cola and Dunkin Donuts.
LeBron James Nike Deal
His longest and most lucrative endorsement, though, is Nike. LeBron signed with Nike in high school before he was even drafted - 7-year, $90 million in 2003.
Over the years he has had multiple lines of shoes with Nike while acting as a major ambassador to the brand. He was rewarded at the end of 2015 with a Nike lifetime deal; it came out later that this lifetime deal was worth around $1 billion. Michael Jordan and Cristiano Ronaldo are the only other players to receive this extraordinary deal with Nike.
LeBron James' Movies
LeBron's likability has catapulted him not only to endorsement success, but movie success as well. In 2015, he appeared in the Amy Schumer vehicle Trainwreck, playing himself in a major supporting role. James surprised critics with his not-terrible performance, and the film was a hit, making over $140 million worldwide.
He'll also get his chance to star in a major motion picture. After years of rumors, Warner Bros. announced in 2014 its intention to make a sequel to the live-action/animation hybrid Looney Tunes film Space Jam, starring LeBron instead of Michael Jordan. As his most recent free agency approached, rumors appeared saying that a trailer for the sequel could be coming soon. In the summer of 2019, it was announced that production had officially begun on the film.
LeBron James' Businesses
Part of James' partnership with Warner Bros. is also a 2015 deal partnering with his production company, SpringHill Entertainment. James co-founded the company with his business manager Maverick Carter. SpringHill has worked on several projects, and perhaps most notably is producing an upcoming remake of the 90s hit comedy film House Party.
James has multiple business endeavors. In 2012, he invested in Blaze Pizza, a pizza chain of which he owns several franchises. He owns nearly 10% of the company, and the investment has worked out tremendously for him; by 2017, it had become the fastest-growing chain restaurant in the U.S.
LeBron James School
LeBron may have left Cleveland for Los Angeles, but that hasn't stopped him from using his wealth to help the Ohio community. In late July of 2018, James opened the I Promise School, a public school his charity - the LeBron James Family Foundation - created for at-risk children in his hometown of Akron. LeBron and his foundation worked in tandem with Akron Public Schools to create the I Promise School, and its school year lasts longer than the average public school year to help children who are lagging in their studies catch up.
LeBron James' House
With the myriad financial successes James has had in his career, it's no wonder he likes to live in luxury when he can. TMZ recently found that he has been spending the offseason so far in a private mansion in Anguilla that costs $75,000 per week.
James also has two massive houses in Brentwood, Calif. - one he purchased for more than $20 million in 2015, one for $23 million in 2017. The first one boasts 6 bedrooms and 8 bathrooms (for him, his wife and their 3 kids). The second one goes even further, with 8 bedrooms and 11 bathrooms. The house, newly constructed, has a wine cellar and an indoor/outdoor gym.
It would be easy for LeBron to just sign with an LA team since he already has two estates there. If he goes elsewhere, he'll likely just add another mansion to his collection.