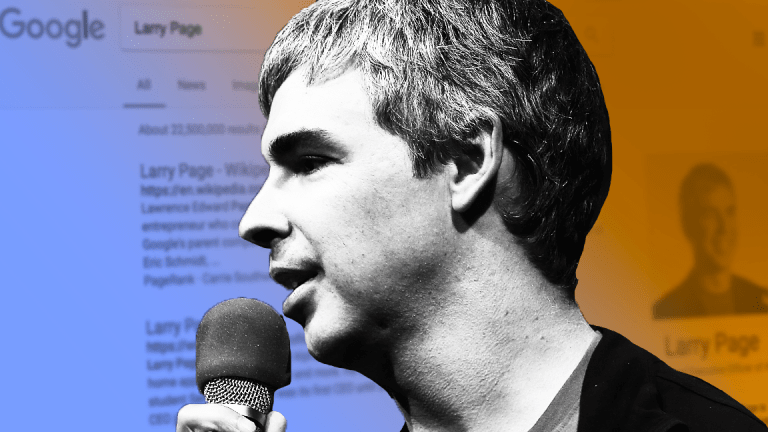 What Is Google Founder Larry Page's Net Worth?
The co-founder of Google is currently worth over $52 billion. How did he get there and what is his salary?
In the age of social media, the successful entrepreneurs who made some of the biggest websites became a celebrities themselves, whether it was Mark Zuckerberg getting a movie made about his life or Reddit co-founder Alexis Ohanian marrying Serena Williams.
Yet not everyone necessarily knows the names of the founders of the most important website to the development of the internet, Google. The search engine was founded in 1998; 21 years later, it's the most ubiquitous website in existence, its namesake having become not just a domain but a verb as well. One co-founder was Sergey Brin. The other is current CEO of Alphabet Inc. (GOOGL) - Get Alphabet Inc. Class A Report , the parent company of Google: Larry Page.
Page, as the co-founder and current CEO of Google, is easily one of the richest people in the world. But how much is he actually worth?
Larry Page's Net Worth
Larry Page is, as of March 4, 2019, said to be worth approximately $52.4 billion, at least according to real-time information from Forbes. Per the most recent Forbes 400, Page ranked sixth among the richest people in the country. Page only trailed Jeff Bezos, Bill Gates, Warren Buffett, Mark Zuckerberg and Larry Ellison.
Interestingly, Page is worth slightly more than Brin, his co-founder who currently works as the president for Alphabet Inc. As of this writing, Forbes estimates Brin is worth $51.3 billion.
Larry Page's Career
Larry Page grew up in a computer-heavy household decades before they were common household objects. Born in 1973, Page's parents were some of the earlier people to work in computers, each eventually becoming professors at Michigan State University.
From a young age, with computers in the house, Page became obsessed with learning about them, and much like his father decided to center his education around them. His undergraduate studies were at the University of Michigan, majoring in computer engineering. From there, he went to California to complete his master's at Stanford University.
Larry Page and Google
Stanford is where the first seeds of Google began. Page needed a theme for his dissertation, and decided to focus on the internet, and more specifically how web links work and function together. In doing this, he would end up partnering with a fellow Stanford grad student in his classes: Sergey Brin. This research project came to be known as "BackRub."
Because Page's focus on web linking was on the mathematical elements of it, he saw the structure of links as a graph. He created a web crawler for back links, and then he and Brin developed an algorithm to determine the importance of links and websites. This algorithm, PageRank, is still one of the algorithms used in Google today.
Page and Brin saw the project's potential as a search engine by how it could determine the most useful website for a query. After tinkering with it to improve it and having it hosted on Stanford's website, in 1998 the two officially incorporated Google, Inc. Over the next few years, Google grew and expanded rapidly as one of the biggest successes of the dot com boom. The algorithm indexed more and more websites, and the site grew as much as the company did.
Page was the first CEO of Google and assumed that role through 2001. To assuage the fears of some new investors putting tens of millions of dollars into the company, Page agreed to step down as CEO and become President of Products. Page was replaced by then-Chairman Eric Schmidt, who had more experience in the role of CEO in his career. Though he was no longer CEO, Page still had a great deal of input in the company's operations as one of the original founders. And no longer being CEO certainly didn't stop Page from becoming a billionaire, which he did upon Google's IPO in 2004.
In addition, in his new position Page still had say in decisions that became incredibly successful for the company. For example, he was integral to Google's acquisition of Android, which went on to become one of the primary mobile operating systems in the world. During this decade Google also acquired a relatively new video-hosting website named YouTube.
After a decade, Schmidt stepped down as CEO, and Page took over the role once again in 2011.
Larry Page's Salary
Page is, of course, one of the richest men in the world. And like many other CEOs that rank among the richest in the world, Page doesn't make money from his actual salary. His Google salary is reportedly $1.
Of course, it's very easy to do that when you own a sizable chunk of one of the most successful companies in the world as Page does. He continues to own tens of millions of shares of Alphabet.
Larry Page's Investments
Like so many others in his position, upon making his billions Page spread some of his wealth out into investments. Though the money he makes from these investments is infinitesimal compared to his Google earnings, he has had a hand in some interesting companies.
The most notable company Larry Page has been an investor in is Tesla (TSLA) - Get Tesla Inc Report . Page invested $40 million in Elon Musk's auto company in the mid-2000s, years before Musk became a household name.
Cars seem to be a real passion of Page's when he looks toward investment. Even more specifically, he's developed a real interest in flying cars. This includes investing in Kitty Hawk and backing a different start-up called Opener.
Larry Page's House
In 2005, Page purchased a home in Palo Alto for around $7 million. The home is over 8,000 square feet, and for several years after Page would buy up properties around the house, ultimately using that space to build a 6,000-foot eco-friendly house with solar panels.
And if you're the sort of person interested in the large, expensive things rich people love to buy, you're in luck; in addition to getting to go around in flying cars, Page is reported to have spent $45 million on a luxury yacht called "Senses." Measured at 193 feet, this superyacht has a helipad, six decks, a gym and luxury suites. You know, just in case he gets bored with his two giant houses.