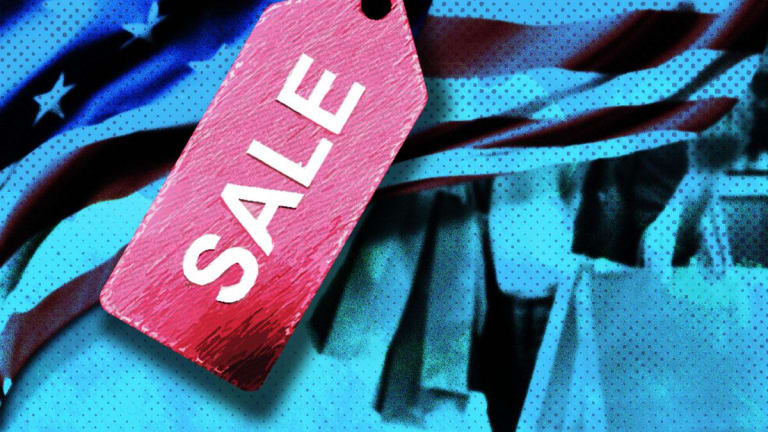 Best Labor Day Sales 2019: Clothing, Furniture, Laptops and More
Looking for deals on apparel, home appliances or electronics this Labor Day? Here's where to go.
If you're lucky, Labor Day is a long-awaited 3-day weekend and a chance to enjoy summer with friends and family as it nears its end.
Many retailers, thanks in no small part to the online shopping boom, see an opportunity to offer exclusive sales over the long weekend. If you're looking for an end-of-summer sale and missed out on some of the back-to-school sales, this is your chance. Here are some of the Labor Day sales you can look to this year.
Clothing
These are some of the sales that clothing retailers will be offering:
Macy's
With over 65,000 items for sale online for Labor Day, Macy's (M) - Get Free Report has one of the biggest Labor Day clothing sales (as well as jewelry and dinnerware) of the year. Select items are available at discounts, including their brand of Liquid Torch men's shirts for as low as $21, Alfani suit separates as low as $45 and Bali smoothing bras for $14 (a 64% discount). This Labor Day sale also includes bedding, with deals as low as approximately $40.
Old Navy
Prior to Labor Day, Old Navy is currently at the tail end of a 4-day deal ending Aug. 28, an online-exclusive where everything is available at a 40% discount. If you learned that too late, you're still in luck: from Thursday Aug. 29 through Labor Day (Monday Sept. 2 this year), all jeans, dresses and tees will be available at 50% off.
JCPenney
Act fast with JCPenney (JCP) - Get Free Report . Currently, they have a deal where you can get $25 off a $100 or higher purchase of select items any way you pay, as well as 20% off select items purchased with a JCPenney credit card, but these end Aug. 28. Even without these deals there are still discounts on individual items, such as a Maya Brooke 3-pc. pants set for $76.99, 45% off. Should JCPenney roll out another Labor Day coupon for the weekend, we will update with the information.
Kohl's
There are a number of coupons at Kohl's (KSS) - Get Free Report that coincide nicely with Labor Day for deals on apparel, homeware, cookware and more. These deals include:
15% off on in-store or online purchases via any method of purchase through Aug. 28 with promo code HEATWAVE
Earning $10 in Kohl's Cash for every $50 spent from Aug. 29-Sept. 3
Discounts on select styles of men's clothes for the End of Season Men's Sale through Sept. 10
Food and Drink
Need to prepare for your upcoming Labor Day get-together? There are deals for that as well.
Target
The ad for Target (TGT) - Get Free Report the week Labor Day approaches includes select back-to-school items, some advertised under $3 and others advertised as under $1. But their specific Labor Day deals center on having affordable items available for your upcoming barbecue! This includes:
Fresh pork back or spare ribs for $2.49 a pound
25% off select ground beef
4-count trays of sweet corn available 2 for $5
50% off all fresh berries in-store
2 for $5 deal on select hot dogs
$12.99 for select 18-packs of beer, $13.99 on select 12-packs of hard seltzer
These prices are available through Aug. 31.
Home and Furniture
Labor Day sales are a particularly good opportunity to find furniture and home appliances at a discount. Here are some of the retailers with sales.
Walmart
As one of the biggest retailers in the world, Walmart (WMT) - Get Free Report has plenty of savings on home and furniture items this Labor Day. Select Homesvale sofas are discounted as much as 41% off. Furniture for your living room, bedroom and patio can all be found for similar deals.
Wayfair
With a particularly extensive Labor Day sale on furniture, Wayfair is advertising discounts as low as 75%. The highest discounts are on bedding items, but living room seating (couches, loveseats, ottomans, recliners and more) are also on sale for as much as 65% off, as are dining and outdoor furniture. Bedroom furniture is also on clearance for as low as $89, and all office furniture on clearance can be found under $300.
Home Depot
With a sale beginning Sept. 1, Home Depot (HD) - Get Free Report is promising big savings on big items. Through Sept. 11, select refrigerators, wall ovens, ranges, microwaves, dishwashers, washers and dryers will be up yo 40% off. Some range hoods and floor care items (vacuums and carpet cleaners) will be up to 30% off, and certain mini fridges and wine and beverage coolers will be up to 25% off.
In addition, kitchen packages will be on sale allowing you to save as much as $2,300, and multi-piece refrigerator and laundry packages will be discounted at 26-27% off.
Lowe's
Similarly to Home Depot, Lowe's (LOW) - Get Free Report has big deals on major home appliances and furniture through Sept. 11 for Labor Day. Among these discounts are:
Up to 40% discounts on select refrigerators, microwaves, ranges, dishwashers, washers and dryers
Up to 35% discounts on select wall ovens and cooktops
Up to 30% discounts on select freezers and ice makers
In addition, discounts on select grills, outdoor tools, patio furniture and lawn and garden items will be available, and a number of bath furniture and essentials will be available for up to 40% off as well.
Best Buy
Yet another deal that runs through Sept. 11, Best Buy's (BBY) - Get Free Report Labor Day sale focuses on home appliances as well by offering up to 40% discounts on select products. Washers and dryers can be found as low as $399.99, while dishwashers are as low as $294.99. Some kitchen packages are as low as $1,899, and even packages that cost more are as much as $1,428 off.
Ashley Furniture
For their Labor Day sale, Ashley Furniture is offering select items for up to 30% off. These deals are available for select:
Bedroom furniture (beds, mattresses,dressers, nightstands, etc.)
Dining room furniture (dining room sets, tables, chairs, stools, counters, etc.)
Living room furniture (sofas, sectionals, coffee tables, loveseats, etc.)
Home office furniture (desks, desk chairs, bookcases, credenzas, etc.)
Outdoor furniture (patio sets, patio chairs, patio tables, benches, doormats, etc.)
Mattress Firm
It's being advertised that you can save up to $600 on select items during the Mattress Firm Labor Day sale. Select king size mattresses are available for the price of a queen, while select queen mattresses are available for the price of a twin size mattress. In addition, if you make a mattress purchase of $499 or more, you are eligible for a free adjustable base with it if you use the promo code ELEVATE.
Outdoors
Are you looking for a deal on items for some of your favorite outdoor hobbies from camping to fishing? Here is where you may want to look.
Bass Pro
Bass Pro does something a bit unusual for the holiday. While there will be items for fishing, hunting, camping and more available for clearance, for several hours on Saturday and Sunday of Labor Day weekend (noon-5 p.m. on Saturday, 12-4 p.m. on Sunday) they have a Labor Day Festival. Among the activities for the festival are free games, crafts, face painting and hot dogs.
REI Co-op
Through Sept. 2, REI Co-op is offering big deals on outdoors apparel, bikes, camping equipment and more. Summer clothing is available for up to 50% off, while select hiking, climbing and trail-running shoes are up to 25% off. Camping enthusiasts can find select tents and sleeping pads at a discount of up to 30%, while casual shoes and sandals are up to 40% off.
Electronics
Whether you need a laptop, PC or 4K TV, there are places to find them at a discount this holiday.
Dell
Dell's (DELL) - Get Free Reportmassive Labor Day sale offers no shortage of electronics at a discount. Laptops are available for as much as 20% off, with savings as much as $300 on certain models. Gaming PCs are also available at discounts of hundreds of dollars, as much as 33% off. 4K TVs are also up to 33% off in this deal, saving you as much as $1,100. Desktop PCs, monitors, keyboards, mice, headphones and Roomba devices are also available at discounts this Labor Day.
eBay
Another sale for those in the market for electronics is eBay, which has Samsung Note10 phones for up to 10% off, while older cell phone models like the iPhone 6 or 7 are as much as 80% off. Laptops can be found for up to 62% off while select Smart TVs are as much as 51% off.