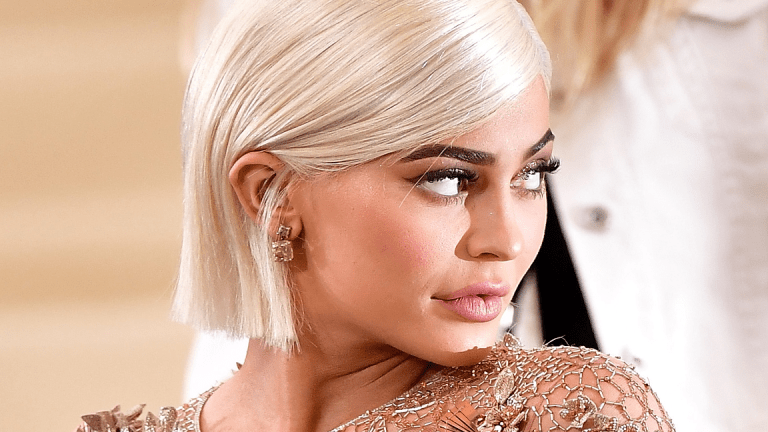 What Is Kylie Jenner's Net Worth?
Kylie Jenner is the world's youngest newly-minted billionaire. Here's how she accumuated her vast wealth.
Kylie Jenner is, at 21 years of age, the youngest billionaire in history, according to Forbes' list of global billionaires.
Previously, the youngest billionaire on the Forbes list was Mark Zuckerberg, founder of Facebook (FB) - Get Free Report , who hit the $1 billion level at age 23 in 2008.
How did Kylie Jenner earn $1 billion by age 21 and what, if anything, did her close family ties have to do with a historic accumulation of wealth?
It turns out that Kylie Jenner had the most to do with her financial success, although she did get help from the Kardashian brand. Here's how she climbed the ladder to a net worth of $1 billion, and what role her last name played in her spectacular business and finance success.
Kylie Jenner's Career
Born on Aug. 10, 1997, Kylie Kristen Jenner is the youngest child of Kris and Bruce Jenner (now Caitlyn Jenner).
Kris Jenner was a local television personality and Bruce Jenner won a gold medal at the 1976 Olympics in Montreal in the men's decathlon, setting a world record for points accumulated in the event.
Her early life was fairly conventional for the daughter of two relatively famous parents. She attended Sierra Canyon School where she received good grades and was a member of the school's cheerleading team.
The Jenner family opted for homeschooling during Kylie's middle school and high school years, with Jenner receiving her high school diploma from an at-home education program tied to Laurel Springs School in Ojai, Cal.
Jenner began her entertainment career right at home, too. The television show "Keeping Up with the Kardashians" began filming in 2007, with 9-year-old Kylie joining her siblings Kendall, Kourtney, Khloe, Kim, and Rob, along with her parents on the show.
The show turned out to be a hit and the Kardashian name, already famous from patriarch Robert Kardashian's role as an attorney during the 1995 O.J. Simpson murder trial, rose to new heights.
Kylie Jenner also made frequent appearances on other family-related shows, including the multiple "Kourtney and Kim Take..." shows in Miami, New York and the Hamptons. She has also appeared on the television show "America's Next Top Model."
While meeting with fashion and accessory designers on those shows, Kylie developed a keen interest in skin products. In 2013, she received her first-ever product endorsement for the Nicole by OPI nail polish brand, receiving $100,000 for her endorsement.
Later the same year, Kylie began branching out wither own skincare lines, including a deal with PacSun and Glamhouse that included her sister Kendall. Kylie followed that up in early 2014 with a shoe and handbag line of products in a partnership with Steve Madden's Madden Girl brand. In 2015, she broke more new ground, touting Nip + Fab's skincare line. Jenner followed that up with a new clothing line launched once again with her sister Kendall (called Kendall + Kylie), in a partnership with U.K.-based Topshop.
Later in 2015, Jenner finally stepped out on her own, introducing her own lipstick brand called the Kylie Lip Kit, which sold several thousand kits in its first year.
Business really accelerated in early 2016, when Kylie and Kendall Jenner renamed the brand "Kylie Cosmetics" and landed a big endorsement deal with Puma (PUMSY) , the athletic shoe and clothes retailer.
At 19 years old, Kylie Jenner's wealth grew to an estimated $41 million annually, according to Forbes, making her one of the highest-paid celebrities in the world. A new sunglasses line, with Quay Australia, earned tens of millions more for Kylie, with an estimated $630 million in sales by 2018.
With an impressive Midas touch in the skincare and accessories market, Kylie launched her own product brand in May 2019, called Kylie Skin, which has become one of the top skincare brands on the market, earning $360 million alone in 2018.
A new deal with the fashion retailer Ulta (ULTA) - Get Free Report further boosted the Kylie Jenner brand, helping build Kylie Skin into a near-billion dollar company, and helped make Kylie Jenner's personal wealth hit the $1 billion mark as she owns 100% of her own company.
Meanwhile, Jenner continues to rake in cash from social media posts and her family's television brand.
Endorsements
Besides her deal with Puma, Kylie Jenner has also inked endorsement pacts with Fashion Nova, SugarBearHair Vitamins and other companies, earning her millions more in direct product advertisements.
But it's on social media where Kylie Jenner really accumulates cash.
A single Kylie Jenner Instagram post to one of her estimated 128 million followers, touting a particular product or service, for example, can earn between $200,000 and $1 million. In 2016, Forbes pegged Kylie Jenner's income from social-branded posts at $18 million, a number that has risen annually as the Kylie brand becomes more valuable to companies looking for high-profile influencers.
Low or No Controversy
Kylie Jenner has largely escaped major controversy, easily settling into family and business life. By all accounts, she is completely dedicated to her business interests and recently had a baby that has kept her even more focused on her family and business interests. Consequently, Jenner is rarely raked over in the tabloids, unlike other members of the Kardashian family.
Various media efforts to stoke up negative sentiment over Kylie's family background and her view that she's a self-made businesswoman haven't amounted to much. In fact, Kylie's family vigorously defends her as a hard-working business owner and devoted mother and family member.
As Kris Jenner aptly noted in an interview with ET, "She made her own money for over a decade, she put it in the bank, she saved every nickel. And then, when she decided on what she wanted to do, she spent her money on a venture that could have gone south or north, and it did really well."
It's a defense that has largely worked, as Kylie Jenner is rarely highlighted in the tabloids - at least in a negative light - as she continues to work on her company, her family, and her personal brand and avoid the party scenes that has ensnared so many other young celebrities over the years.
Kylie Jenner has also largely escaped the various scandals and controversies that have occasionally dinged the famous Kardashian brand. While her father's celebrated gender change sparked its fair share of media glare, for example, Kylie embraced her family, supported her father, and went about her business as one of the world's wealthiest young businesswomen.
How Does Kylie Jenner Spend Her Money?
For starters, Kylie Jenner spends millions of dollars paying her hundreds of employees at Kylie Skin, and pays an estimated 10% of her business income to her mother and business manager, Kris Kardashian.
Jenner does splurge on big-ticket items, like classic and high-end vehicles. She owns a $400,000 orange Lamborghini Aventador, a $200,000 Land Rover which she purchased for her 19
th
birthday, a $320,000 Rolls-Royce Ghost and a Mercedes-Benz G550 4x4 SUV in maroon, valued at $227,300, among other luxury cars and SUVs.
Her reported passion for fine jewelry has led to, among other purchases, a $53,000 Rolex watch and several Cartier diamond rings valued at around $9,000. Travel is another big expense - Jenner frequently flies coast-to-coast on a private jet that costs around $60,000 per flight.
She also lives well in her 1.4 acre and 13,000 square-foot Hidden Hills, Calif. mansion, purchased for $12 million in 2016. The compound reportedly includes Jenner's own purse closet, tons of baby accessories, and plenty of room for her growing collection of luxury automobiles.
Kylie Jenner has also invested $40 million in a number of additional properties in the past few years, including a Beverly Hills mansion. She also paid millions for a plush home office adjacent to her Hidden Hills home.
Introducing TheStreet Courses:Financial titans Jim Cramer and Robert Powell are bringing their market savvy and investing strategies to you. Learn how to create tax-efficient income, avoid mistakes, reduce risk and more. With our courses, you will have the tools and knowledge needed to achieve your financial goals. Learn more about TheStreet Courses on investing and personal finance here.