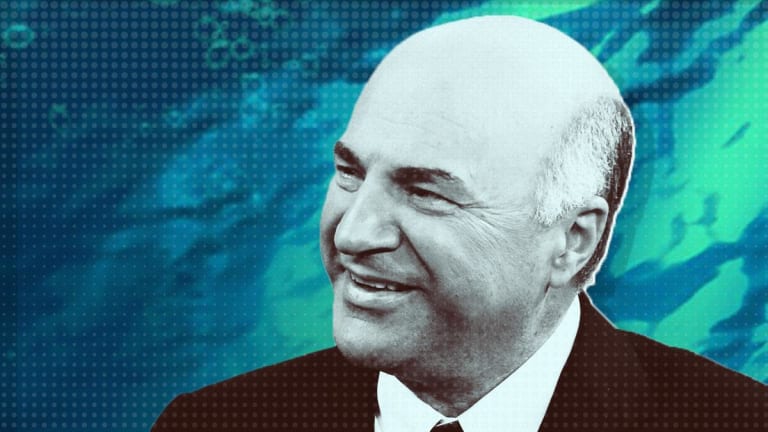 What Is Kevin O' Leary's Net Worth?
The Canadian businessman and "Shark Tank" personality often preaches frugality. But how much is Kevin O'Leary worth?
If you're interested in ideas, particularly innovative business or investing ideas, you've probably seen the Canadian businessman, investor, television personality and politician on "Shark Tank," or perhaps read one of his best-selling personal finance books. But what is Kevin O'Leary's actual net worth?
Kevin O' Leary's Net Worth
Kevin O'Leary, 65, has an estimated net worth of $400 million, as of 2019. How did he amass such wealth? 
Early Life
Terrence Thomas Kevin O'Leary was born in Montreal, in the province of Quebec, Canada. He was one of two sons of Georgette Bukalam, a small-business owner and investor, and Terry O'Leary, a salesman. His mother's family, from Lebanon, had very little upon arrival in Canada, but built up a clothing business. His father was Irish, and had been the top salesman at the clothing business. His brother is Shane O'Leary and, because of his father's origins, Kevin O'Leary has Irish citizenship.
O'Leary's parents divorced when he was young, and his father died soon after. 
O'Leary's mother eventually married an economist, George Kanawaty, who worked with the United Nations' International Labor Organization. Because of his stepfather's work, O'Leary lived and grew up in a number of foreign locales, including Cambodia, Tunisia and Cypress.
He attended Stanstead College and St. George's School, both of which are in Quebec.
O'Leary's mother was a shrewd investor, and invested a third of her weekly paycheck in interest-bearing bonds and large-cap, dividend-paying stocks, and achieved high returns on her portfolio. But O'Leary had no idea about it until she died, in 2008, when her will was being executed.
O'Leary went to the University of Western Ontario to pursue an MBA; he obtained it making a documentary for his thesis, illustrating what he'd learned while studying there. It was good enough that the University used it for recruitment purposes, with his permission.
Career
The experience, and his life-long love for photography and film, was instrumental in starting his first venture: Special Event Television, which he set up with two fellow students who had helped with his MBA documentary.
After producing several films, including a series with Don Cherry called "Don Cherry's Grapevine," the company was sold by the partners and Kevin took his share to make a down payment on a house in Toronto, and to purchase an early "home computer."
That purchase, around 1986, changed his life. O'Leary started a software business. Within 10 years, O'Leary and two new partners, Scott Murray and Michael Perik, made a lot of money.
The company made software available on CD-ROM for Windows and Macintosh computers during the late 1980s and 1990s. But at one point, when O'Leary and his partners planned to expand, an investor who had pledged $250,000 to the business suddenly decided to not go through with it - which forced O'Leary to ask his mother, who was still alive, for a $10,000 loan. That loan enabled O'Leary and his partners to build their software company - SoftKey Software Products Inc. -- into close to $1 billion in sales.
SoftKey then grew by purchasing rivals, and eventually moved its headquarters to Boston, where it took the name of one of its acquisitions: The Learning Company.
Eventually, Mattel Inc. purchased the company for $4.2 billion in 1999. But the company lost money, and faced several shareholder lawsuits, after the acquisition. O'Leary was fired, with a $5 million severance. 
The bulk of his wealth appears to stem from that early venture. 
Since that deal, O'Leary,sarcastically nicknamed "Mr. Wonderful," because of his seemingly straight-to-the-heart assessments on television, has successfully continued making money.
In 2003, he invested in the storage facility industry. He purchased a director's stake in the company StorageNow Holdings for $500,000, four years later selling his shares for over $4.5 million.
In 2006, he was invited to join the cast of "Dragons' Den," a Canadian investing "reality show," which was essentially the basis of the U.S. show "Shark Tank."
Essentially intrigued by investing, by 2008, O'Leary started his own mutual fund company, O'Leary Funds Inc., which he sold in 2016. The company focused on global yield investing. He formed the company with his brother, Shane.
In 2009, he joined the panel on the U.S. "reality" television show "Shark Tank," where entrepreneurs hope to convince venture capitalists to invest in their ideas. He currently owns the holding company "Something Wonderful," which manages his "Dragons' Den" and "Shark Tank" investments.
He also has O'Leary Books, and O'Leary Fine Wines, in addition to O'Leary Ventures, a private equity fund for startups.
O'Leary has authored several best-selling finance books: "Cold Hard Truth: On Business, Money & Life," and its sequel, "Cold Hard Truth on Men, Women and Money." His third book is "Cold Hard Truth on Family, Kids, and Money."
In 2017, he campaigned to be leader of the Conservative Party of Canada. Though a frontrunner in polls, he dropped out in April of that year, citing a lack of support in his home province of Quebec.
How Does O'Leary Spend His Money?
One thing Kevin O'Leary (who preaches "frugality" as a means of accumulating wealth) spends his money on is food. 
According to a CNBC television interview, O'Leary admitted to spending about $1,000 a day on meals - because he frequently has to attend business meals three times a day, five days a week. He also frequently picks up the check. 
He also likes to collect, as an investment, watches. He buys them, reportedly, to mark milestones. And as an investment. But he notes that if you don't wear a watch you own for 90 days, you should probably not own it. With that as a prerequisite, he has amassed a collection of about 40 watches. He owned a vintage Cartier Panthere that was stolen from him a few years ago. He was wearing it when he signed the deal to sell The Learning Company to Mattel. 
Added this year to his collection was a $30,000 Patek Philippe 5711/1A. O'Leary told CNBC it was not only the "crown jewel" of his collection, which he has sought for years, but a great investment - because even now, collectors are willing to pay up to $80,000 for it in the secondary market -- meaning in purchasing it, he'd just made $50,000. 
In addition to collecting watches, O'Leary collects guitars, having an extensive collection of Les Paul guitars, including one signed by the legendary musician and guitar designer himself. 
He also has owned cars, including a $26,500 Audi A3, a $47,000 BMW 4 series, a $36,000 Ford (F) - Get Free Report Kuga, and a $46,600 Ford Mondeo. 
And, in addition to food, he likes wine. He now has his own brand, and has said he hates drinking bad wine.
Kevin O'Leary's House
Kevin O'Leary's main house is in Toronto. He also owns a luxury condo on Marlborough Street in the Back Bay area of Boston, near the Charles River, as well as a cottage on Lake Joseph in Muskoka, Ontario, Canada, and a vacation home in Geneva. 
While he owns four properties, O'Leary has bought and sold a total of nine of them.
Introducing TheStreet Courses:Financial titans Jim Cramer and Robert Powell are bringing their market savvy and investing strategies to you. Learn how to create tax-efficient income, avoid mistakes, reduce risk and more. With our courses, you will have the tools and knowledge needed to achieve your financial goals. Learn more about TheStreet Courses on investing and personal finance here.