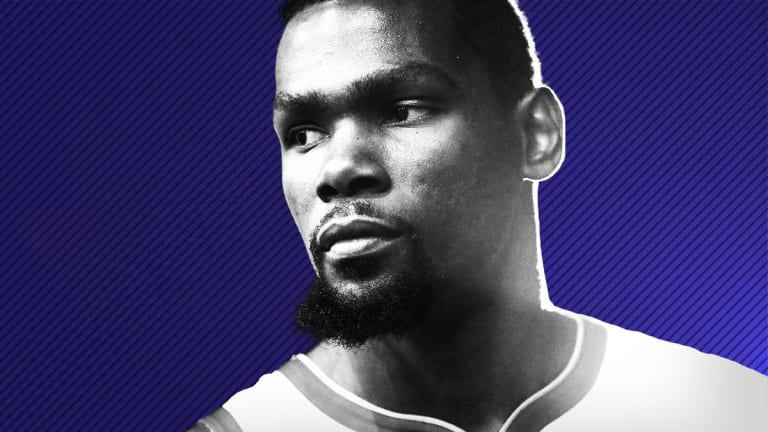 What Is Kevin Durant's Net Worth?
It has been estimated that Kevin Durant could be worth as much as $170 million. Here is how his career, endorsements and investments have netted him so much.
It's possible the talent in the NBA has never been better than it is right now. Basketball's most public face, by a long shot, may be LeBron James, but there are many other elite players out there that are helping make it one of the biggest sports in the country.
Perhaps the best non-LeBron player in the NBA over the past decade has been Kevin Durant. Big things were expected from Durant as early as high school -- and he has more than made good on that potential as a nine-time NBA All-Star and one-time league MVP. He's consistently been one of the most popular, though recently polarizing, players in the game.
He's also easily one of the richest. As he settles into his newest contract, how much is Durant worth?
Kevin Durant's Net Worth
Durant is estimated by Celebrity Net Worth to be worth approximately $170 million. That would put him exponentially above other Americans his age. The superstar, 30, is worth a ton, and it's hard to be surprised after watching him play at such a high level his entire career.
Kevin Durant's Contract
Durant and absolutely delivered in his first contract with the Warriors, winning Finals MVP two years in a row. For his efforts, Durant turned his initial payday with Golden State into an even bigger payday.
He declined the option on his contract in the hopes of more money -- and got it. In July of 2018, Durant signed a new two-year deal with the Warriors worth $61.5 million. According to Spotrac, Durant made a $30 million salary the first year, with a $31.5 million salary for the 2019-2020 season. But that second year had a player option, and after the first year Durant opted out
Despite the knowledge that injury would likely be keeping Durant out for the entire 2019-20 season, he had plenty of suitors, and rumors ranging from a reunion with the Warriors to him becoming a New York Knick. But neither of these happened. Instead, it was announced that Durant would be heading to the Brooklyn Nets in a sign-and-trade deal; the Warriors signed him to a 4-year contract worth over $164 million, and traded him to Brooklyn for a draft pick and three players (including D'Angelo Russell).
Spotrac estimates his past contracts over 12 years have given him cash earnings of over $187 million. This upcoming season, though Durant likely won't see any playing time, will push his career earnings up over $225 million. The remaining three seasons on his contract (should he play all of them, as there is a player option on the final year) would bring that all the way up to $351.4 million.
Kevin Durant's Career
Durant came to the NBA during a time of major change. After a phenomenal freshman year playing at the University of Texas, he declared for the draft in 2007. Portland drafted Greg Oden first overall, and then Durant was drafted by the Seattle Supersonics.
If that doesn't sound familiar to particularly young basketball fans, it's because that hasn't been a team in over a decade. Durant averaged over 20 points per game his rookie year with Seattle, and won NBA Rookie of the Year. But after that season, the team broke the hearts of Sonics fans and moved to Oklahoma City, renaming themselves the Thunder.
Kevin Durant and the Thunder
The move broke Seattle's heart, but Durant flourished as a player in Oklahoma City. The team's first year as the Thunder was not a successful one, but Durant improved to 25.3 points per game -- and improved in shooting percentage as well.
In the 2009-2010 season, Durant established himself as the brightest young star in basketball. Partnering with a young Russell Westbrook to create a scary Thunder offense, Durant had over 30 points per game for the first time in his career, started every game of the season and made the first of, so far, nine consecutive All-Star Games. In addition, the Thunder improved by 27 games that season and snuck into the playoffs as the eight seed in the Western Conference.
The playoff run was short-lived, as the team fell in the first round to the Lakers. But Durant's Thunder was just getting started. Durant was great once again in 2010-2011 -- and this time the team made it all the way to the Western Conference Finals, losing in five games to the eventual champion Dallas Mavericks.
Durant continued to improve, particularly in shooting percentage, in 2011-2012 -- and helped the team take a monumental jump: making the NBA Finals just four years after moving the team to a new city. They faced the Miami Heat, stacked with LeBron James, who were too much for them. The Thunder fell to the Heat in just five games. Not for lack of effort from Durant, though: He averaged 28.5 points per game in the playoffs that year.
The Thunder looked to defend their title the next year and finished the regular season as the top seed in the Western Conference, but were upset in the second round by the Memphis Grizzlies.
The 2013-2014 season was a high point, with Durant averaging 32 points a game as he led the Thunder back to the Western Conference Finals. They were defeated by the Spurs, denying them another chance to face the Heat in the finals, but Durant was named league MVP. He was recognized as one of the absolute elite players of the game.
If that was the height, 2014-2015 was a disappointing crash back to earth. Durant played at a high level... when he played. For the first time in his career, Durant was plagued with injuries. He started just 27 games, and without their MVP, the team faltered -- failing to make the playoffs after five straight appearances.
The 2015-2016 season showed great promise toward the end for Durant and the Thunder. His phenomenal play in the playoffs had Oklahoma City one game away from a major upset, taking down a record-setting Warriors team. But they collapsed, losing three straight games and failing to make the finals again.
Kevin Durant and the Warriors
After nine years with the same team, Durant still had not won a championship. He and the city had become frustrated. As a free agent for the first time in his career, Durant made a controversial decision: he went ring-chasing.
Not long after the 2015-2016 NBA finals, Durant announced that he would be signing a two-year deal with the Golden State Warriors. The Warriors had just set a record by going 73-9, but suffered a stunning defeat in the NBA Finals at the hands of LeBron and the Cavaliers. It was not a popular move, and Durant, once seen as one of the golden boys of the NBA, was suddenly accused of being unable to win without elite teammates around him.
Whether that's a fair or unfair characterization of his decision to sign with the Warriors, his first two years with Golden State saw them make the NBA Finals once again. But rather than be one part of a well-oiled machine, Durant dominated those finals, demolishing the Cleveland Cavaliers in both of them. In each playoff run, Durant lead the team in points per game. In 2017-2018, he was particularly dominant: averaging 29 points per game, 3.5 more than teammate Steph Curry. And a 43-point Game 3 from him essentially buried the Cavs.
Durant, in his first two championships with the Warriors, was NBA Finals MVP in each of them.
Durant started 78 games in the regular season in 2018-19 and the first 11 games of the playoffs for the Warriors. But it was the games he didn't play that people remember. In game 5 of the Western Conference semifinals against the Houston Rockets, Durant left the game with a calf strain. This would keep him out of game 6, which the Warriors won to close out the series, and the entirety of the Western Conference Finals, in which the Warriors easily swept Portland. And he missed the first four games of the NBA Finals against the Raptors, where a normally powerful Warriors team suddenly looked outmatched. Down 3 games to 1, Durant returned for Game 5 but left early after a devastating injury left him with a ruptured Achilles tendon. The Warriors fell to the Raptors in 6 games, and Durant was suddenly out for what looked like all of the 2019-20 season.
Kevin Durant and the Nets
Even injured, Durant was highly courted in free agency. And it didn't take long for him to make his decision: upon the beginning of the NBA free agency period it was announced that Kevin Durant would be joining the Brooklyn Nets on a 4-year contract. He would be joining former Celtics star Kyrie Irving, who also signed a 4-year deal with Brooklyn.
However, due to the severity of Durant's injury, it's almost certain that NBA fans won't see him and Irving playing on the court together until 2020.
Kevin Durant's Endorsements and Investments
Kevin Durant has been a superstar, no matter what city he has played in. Brands like that in an athlete. It's no wonder Forbes estimates that he makes $32 million a year in endorsements.
An elite NBA player like Durant working with Nike (NKE) - Get NIKE, Inc. Class B Report is hardly a surprise. He first signed with them before his rookie year on a seven-year contract. Once that contract ended, he was the reigning NBA MVP -- and Nike was quick to re-sign him for another 10 years, through 2024.
In addition, Durant has endorsement deals with Alaska Airlines (ALK) - Get Alaska Air Group, Inc. Report and Beats Electronics. He has also dove headfirst into the world of investing -- with the Durant Company, co-founded by him and his agent Rich Kleiman. The Durant Company's portfolio includes Coinbase, Postmates and The Players' Tribune.
Kevin Durant's House
Durant offered a sneak peek into his house in Oakland, Calif. when he first started his YouTube channel in 2007, with a video called My First Livestream!
Of course, someone building their wealth like Durant does is bound to have more than one house. Earlier in 2018, Durant bought property in Malibu, Calif. -- a massive four-bedroom, six bathroom estate that cost over $12 million.
Malibu is quite a drive from Oakland. But since Durant and Kleiman also co-founded Thirty Five Media -- a production company working to make YouTube content, it makes sense for Durant to own property in southern California as he becomes as much an entrepreneur as an athlete.