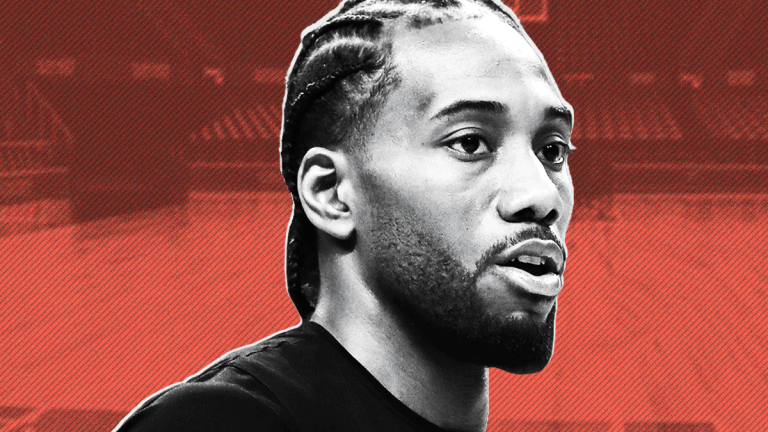 What Is Kawhi Leonard's Net Worth?
The Clippers superstar and two-time NBA Finals MVP has been estimated to be worth $35 million.
The Golden State Warriors made five consecutive NBA Finals, and won three of the first four. All four of those were against the Cleveland Cavaliers. The fifth was against the Toronto Raptors, who were able to dismantle the dynasty and take home the championship. And perhaps the biggest reason for that was their superstar Kawhi Leonard.
In Leonard's lone year as a Raptor after several with the Spurs, he took them to the playoffs and fought through nagging injuries to drive the team past Orlando, Philadelphia and Milwaukee to make the Finals. His teammates picked up their level of play when it came time to play Golden State, but after their series win in 6 games it was Leonard holding the Finals MVP trophy.
After what Leonard has done for the Raptors this year, everyone wondered who would be giving him his next contract. And the Los Angeles Clippers were happy to do it. But even before his new contract kicks in, he has still made a significant fortune, and is in the prime of his career. How much is Leonard worth?
Kawhi Leonard's Net Worth
It has been estimated that Kawhi Leonard is worth as much as $35 million, per Celebrity Net Worth's estimations. And that figure can be expected to grow a lot, sooner than later. Having only just turned 28, Leonard has a lot of basketball left in his career and has established himself as one of the most complete players in the NBA.
Kawhi Leonard's Career
Kawhi Leonard's potential was apparent even when he was a standout playing high school basketball in southern California. The 4-star recruit decided to stay local for college, attending San Diego State University to play for the Aztecs.
Leonard played two seasons with SDSU, taking them to the NCAA tournament each time. His freshman year, they fell in the first round, but in his sophomore season the team impressed by advancing all the way to the Sweet Sixteen, where they would lose to the UConn Huskies. Playing in the Mountain West Conference, Leonard was named to the All-MWC First Team both years, and established himself as a defense standout.
Spurs
Leonard declared for the NBA Draft after his sophomore season at San Diego State, and in June of 2011, he was drafted 15th overall. Interestingly, it was by the Indiana Pacers, a team he would never end up playing for. Later that night, the Pacers traded Leonard, among other players, to the San Antonio Spurs for George Hill.
Leonard's rookie season with the Spurs started late due to the NBA lockout. He started 39 games and appeared in 64 overall, averaging 7.9 points and 5.1 rebounds per game. This was enough to get him a spot on the NBA All-Rookie First Team, and the Spurs remained one of the best teams in basketball. They finished with the top seed in the Western Conference, but fell to the Thunder in the Western Conference Finals.
Leonard took a step forward in his sophomore year with the Spurs, up to six rebounds a game while averaging over 30 minutes per game. The Spurs once again had one of the best records in the Western Conference, and this time made the NBA Finals to face LeBron James and the Miami Heat. Leonard played outstanding basketball in these 2013 playoffs, averaging 13.5 points and nine rebounds in 21 games. But the Heat were able to come back from the brink of defeat and win in seven games.
As Leonard continued to improve, so did the Spurs. In his first three seasons, the Spurs went from 50 wins to 58 wins to 62 wins. They made the NBA Finals for a rematch against the Heat, and this time the Spurs maintained the upper hand thanks to a dominant series by Leonard. Shooting 61% while maintaining his usual fantastic defense, Leonard was named Finals MVP as the Spurs took the series in 5 games. Just 22 years old, Leonard was already a champion and Finals MVP.
The 2014-15 Spurs regressed and ultimately lost to the Clippers in seven games in the first round of the playoffs. Leonard, however, continued to grow. Up to 7.2 rebounds a game and leading the league with 2.3 steals per game, Leonard was awarded the NBA Defensive Player of the Year award - this despite missing 18 games in the season.
All the while during this time, the Spurs continued to pick up the options on Leonard's rookie contract. After the 2014-15 season, Leonard was signed to a 5-year maximum contract with San Antonio worth $94.3 million. After signing his new deal, Leonard proceeded to win his second consecutive Defensive Player of the Year award and make his first All-Star Game after improving to become as much a shooting threat as a defensive threat. He averaged over 20 points for the first time in his career. Leonard was named to the All-NBA First Team for the first time in his career, and the Spurs won 67 games. They failed to advance past the second round after being upset by the Oklahoma City Thunder.
2016-17 saw Leonard increase all the way up to 25.5 points per game as he made yet another All-Star Game and All-NBA First Team. Despite high hopes for these Spurs, they made it to the Western Conference Finals and ran headfirst into a Warriors team that had added Kevin Durant in addition to stars like Steph Curry and Klay Thompson. The Spurs were swept easily.
Leonard would appear in only nine games of the 2017-18 season, due to an injury and subsequent disagreement between Leonard and the Spurs on how to handle it (Leonard sought a second opinion from his own doctors after the Spurs staff cleared him to play). The relationship got tense between Leonard and the team, and soon there were reports that he wanted out of San Antonio.
Raptors
In July of 2018, Leonard was traded to the Toronto Raptors (as was Danny Green) in exchange for DeMar DeRozan, Jakob Pöltl and a first round draft pick.
Prior to Leonard's debut with Toronto, the Raptors had spent the past few years excelling in the regular season but struggling to advance past LeBron's Cleveland teams. With LeBron in L.A. and Leonard in Toronto, they progressed. Leonard established a career high in points per game (26.6) and rebounds per game (7.3) and made his third All-Star Game in four years.
Leonard would prove to be the difference maker for the Raptors; after defeating the Orlando Magic in the first round, a hobbled Leonard nearly single-handedly led the Raptors past the 76ers in the second round; his buzzer-beater shot in Game 7 sent them to the Eastern Conference Finals, where they would take down the Milwaukee Bucks in six games to make their first NBA Finals appearance.
His injury was apparent in the Finals, but Leonard continued to play at a high level and got improved play from teammates like Kyle Lowry, Pascal Siakam and Serge Ibaka. The Raptors were able to stifle a hobbled Warriors team defensively, and after six games, Toronto had their first ever NBA championship. Leonard was the recipient of the Finals MVP award - the second of his career.
Clippers
Leonard proved that he was able to play at a ridiculous level even through injury and take a team all the way to a championship. Toronto wanted him back, but it was clear he would have other suitors.
Ultimately, Leonard wanted to return to his home of southern California, but only for the right team. The Los Angeles Clippers, sensing an opportunity they couldn't pass up, enticed Leonard to the team by successfully trading for Oklahoma City star Paul George. Leonard agreed to a 3-year contract with them, providing the Clippers with an incredibly impressive duo to be the respective faces of the franchise.
Kawhi Leonard's Contract
According to Spotrac, in his nine seasons in the NBA Kawhi Leonard has earned over $84 million from his rookie contract and subsequent deal.
Leonard finished the 2018-19 season with a player option for the next season that would have paid him approximately $21.3 million. Unsurprisingly, he declined that to seek a longer deal in free agency. More surprising, though, is that the deal he decided he wanted wasn't as long as one might have thought.
Leonard's deal with the Clippers is just 3 years, and the final one is a player option he can opt out of after the 2020-21 season if he chooses to. In effect, he has a two year contract unless he wants the third year. In total, the 3 year contract is worth over $103 million: $32.7 million in year 1, $34.4 million in year 2 and, if he picks up the option, $36 million in year 3. But if Leonard can bring the Clippers a championship in the first two years of the contract, perhaps Leonard will once again look elsewhere for his next title.
Kawhi Leonard's Endorsements
Upon getting drafted into the NBA, Leonard quickly signed an endorsement deal with Nike (NKE) - Get NIKE, Inc. Class B Report . When that deal expired in 2018, he chose not to re-sign with the company, and a few months after the contract expired it was announced Leonard would be signing an endorsement deal with New Balance with his own special edition run of shoes.
In June of 2019, Leonard filed a lawsuit against Nike, alleging that the company had filed a copyright registration for a logo he had authored without his consent.
It's never too late - or too early - to plan and invest for the retirement you deserve. Get more information and a free trial subscription toTheStreet's Retirement Dailyto learn more about saving for and living in retirement. Got questions about money, retirement and/or investments? We've got answers.