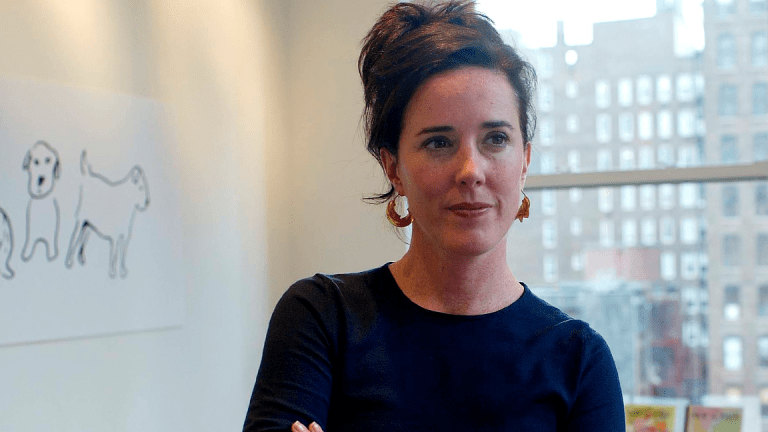 Publish date:
5 Surprising Facts About Kate Spade's Life and Net Worth
Famous designer Kate Spade has passed away at the age of 55.
Famous designer Kate Spade has passed away at the age of 55.
Kate Spade, designer of some of the most iconic handbags and apparel in the world, tragically died on June 5, in her home, due to an apparent hanging. She was 55.
Spade's rapid, incredible success in the world of fashion was a testament to her vision and work ethic. She was an inspiration to aspiring designers -- one of the first and most notable women to head a line of designer products.
Her handbags were an ideal combination of stylish and affordable, bucking the trend of elite European luxury brands by making them accessible to a wider group of people. Her designs - bright and colorful, made to look good without sacrificing the functional purpose of the bag - were a hit among many groups of women; they became a look not only for young women just starting their careers, but superstar celebrities.
In the wake of Spade's passing, celebrities like Chelsea Clinton and Mindy Kaling mourned the loss of the fashion legend. Her legacy lives on in her designs and the still-thriving brand of Kate Spade.
Spade's net worth was not confirmed. The Richest claims it's $150 million, while Celebrity Net Worth estimates it at $200 million. Regardless of the actual number, Spade's success was massive. She found a much-needed niche in the market, and deftly took advantage of it. Here are some facts about Spade's life and career that you may not have known.
1. Kate Spade Hadn't Been Involved With the Company Since 2007
The first Kate Spade handbags were made in 1993. And while there were early financials struggles as she and business partner/husband Andy Spade sought to make the dream work, they were making a profit just 3 years later. It didn't take long for the industry to see potential in Spade and her product.
After her first trade show, Spade had secured deals with Barneys and Fred Segal to sell her handbags. Soon after, they could be found in Neiman Marcus and Saks Fifth Avenue stores as well, and sales skyrocketed. They began opening boutiques of their own.
The Spades, though, were not involved with the Kate Spade brand for its entire run. In 1999, they sold a 56% stake of the company to Neiman Marcus for a whopping $33.6 million. In 2006, the rest of Kate Spade was sold to Neiman Marcus for $59.6 million. By then, the company was making nearly $100 million in annual revenue.
In 2007, Kate and Andy decided to step down from their roles in the company, explaining that they decided they wished to spend more time with their daughter, Francis Beatrix Valentine Spade, born in 2005.
Neiman Marcus would sell Kate Spade to Liz Claiborne, which rebranded first to Fifth & Pacific before becoming Kate Spade & Company. In 2017, long after the namesake left the company, Kate Spade was sold for $2.4 billion in 2017 to Tapestry - the company then known as Coach.
2. Her Extended Family Included Celebs Like David Spade and Rachel Brosnahan
Kate Spade's status in the fashion world no doubt expanded her network of noteworthy contacts and acquaintances. But she was also related to some surprising, notable celebrities that remained in her life.
Spade, then known under her birth name Katherine Brosnahan, attended Arizona State University in the 1980s. During that time she met Andy Spade, who she would marry in 1994. Andy's brother is none other than famous comedian and actor David Spade.
In addition, Spade's niece is Rachel Brosnahan, the Golden Globe-winning star of the Amazon series "The Marvelous Mrs. Maisel." Both Spade and Brosnahan each took to Instagram after Kate's passing to memorialize her. David Spade called her "so sharp and quick on her feet," while Rachel Brosnahan described her aunt as "exceedingly kind, beautifully sensitive, insanely talented, funny as heck and one of the most generous people I have ever known."
3. She Worked as a Journalist Prior to Designing
Kate Spade's early career involved fashion, but not from a design standpoint.
After majoring in journalism and backpacking in Europe, Kate and Andy moved to New York. She got a temp job at Mademoiselle Magazine in 1985 and stuck around, working her way up to Accessories Editor at the fashion publication.
Not sensing a future with the publication, she quit in 1992. But working in the accessories department of the magazine meant she saw the most current and trendy purses of the era, and her frustrations with them led to the suggestion that she start designing her own. Her tenure at Mademoiselle laid the foundation for what Spade would do with her designs.
4. Kate Spade Brand Expanded to Far More Than Handbags
The Kate Spade brand became synonymous with handbags. Her designs were a hit. But there needed to be more as Kate Spade stores expanded to numerous outlets (currently there are more than 140 Kate Spade stores in the U.S. alone, and more than 175 worldwide). And so Kate Spade began making apparel, which has been worn in public by stars as notable as Kate Middleton, the Duchess of Cambridge.
Now, the Kate Spade brand lends its name to far more products. Their website also offers footwear, athletic wear, jewelry, and even home décor products like dining sets, cookware, candles and stationary. They've also expanded far beyond purses in terms of accessories with sunglasses, wearable tech and travel gear.
5. Iconic Kate Spade Sam Bag Made Recent Comeback
What was it about Kate Spade's products in 1993 that led to Barneys and Fred Segal putting her products on their shelves? The key was one of her first designs, the "Sam" bag, that stood out.
The Sam bag was a sensation. Boxy and made of nylon, the bag was sleek yet practical, meeting Spade's goal. They sold fantastically, and the subtle Kate Spade New York symbol on the outside became its own fashion statement.
Kate Spade's Sam bag may have been a '90s staple, but it continues to exist today. In the spring of 2018, Kate Spade New York announced that the bag would be revived - with some modern updates like new material, but still retaining the classic Sam bag look.
That an iconic staple of its era is timeless-looking enough to be revived today speaks to the success Spade had in carrying out her vision, and the legacy she has in the worlds of fashion and design.
If you or someone you know is in need of help, please call the National Suicide Lifeline's number at 1-800-273-8255.