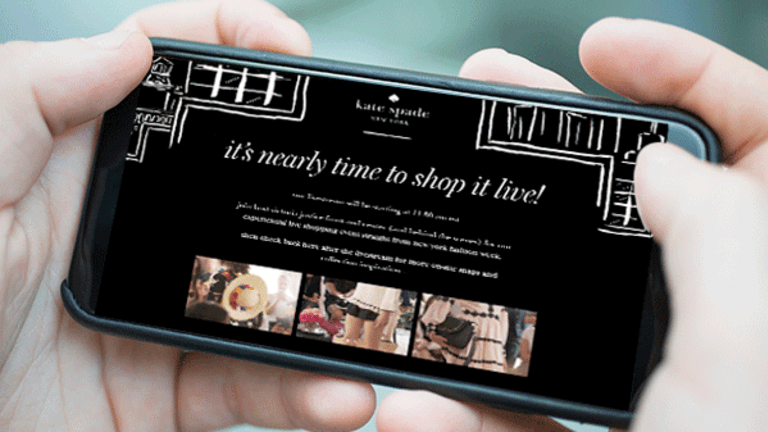 Kate Spade Created an Experiential Live Shopping Event for Its NYFW Presentation
It was so incredibly awkward.
Is social, real-time shopping the future of fashion? 
In order to compete with fast fashion and possibly even ensure brands like Zara and H&M don't rip them off before they even have a chance to get their styles out on the floor, higher-priced brands might be on the right track by allowing fans to shop right off the runway.
Kate Spade (KS) hopes to combat fast fashion by live streaming its "experiential live shopping event straight from New York Fashion Week" on its Facebook  (FB) - Get Facebook, Inc. Class A Report page. The live format also allows users to comment in real time, which in theory allows the brand to see what looks were hits or misses, but should (hopefully) allow for some unfiltered, unintentionally hilarious comments. Unfortunately, if anything went awry (other than the brand's show being 15 minutes late) the social media manager was quick enough to delete anything off-brand. 
In short, the presentation was so, so awkward because it was unedited live video. Hosted by Victoria Justice at New York's iconic Russian Tea Room, it was like watching a cocktail party where people secretly hated each other but didn't want to be alone on a Friday night. Dorothy Parker would have had a field day with it. 
Some of the more scintillating snippets of conversation include, "you have amazing skin" and lots of commentary about the dreary New York winter weather in comparison to the Moroccan-themed Kate Spade line.
It wasn't novel the first time we heard about it, and it sure wasn't thrilling by the time if was mentioned a fourth time. 
My personal favorite moment was when Victoria encountered Leighton Meister, the illustrious Blair Waldorf from CW's former hit show Gossip Girl.
All of the people Victoria was speaking to were clearly being sponsored by the brand and outfitted in head to toe with elements from the collection, which is great in photographs but disconcerting when you're forced to see your favorite actress have an awkward angle on unfiltered video.
She's not allowed to have flaws!! 
My other favorite moment was when Victoria casually said in passing to another actress, "I just saw you at Just Jared's Super Bowl party." And she responded with "Oh I didn't see you, but I was there."
I live for subtle disses, and that was pure gold. 
In terms of the actual presentation, it was nice to see the clothes in their natural habitat (on thin, good-looking people), but edited video and photography will always trump real-life streaming. Consumers want to buy an illusion, and watching one of their favorite actresses try to hide her disdain or attempt soul-crushing forced polite conversation shatters said illusion. 
Kate Spade has always been at the forefront of incorporating popular bloggers into its marketing strategy, and it was nice to see Naomi and Nicolette (two prominent bloggers) living it up among A-list celebrities. One of the other reasons that Kate Spade and other brands will inevitably have to keep live streaming their shows is that bloggers will be doing it anyway, and the brand will have to provide its own live content to control some part of the conversation.
While I was meh about the execution of the video, I'm I'm loving the design layout, photography and copy on the shoppable part of the Kate Spade website. The clothing and accessories are lovely and I hope to someday afford it. 
It'll be interesting to see if the novelty of being able to shop the fashion show boosts sales from the target audience (older Millennials with money). But the brand has become so diluted by outlets, department store markdowns and frequent online flash sales -- Kate Spade has one up to 75% off going on right now -- that some people might feel strange throwing down $400 for a KS dress.  Michael Kors (KORS) has expressed interest in purchasing Kate Spade, so we'll see what's on the horizon there.
Of note,  Calvin Klein (PVH) - Get PVH Corp. Report began live-streaming its fall 2017 collection earlier Friday morning and  Bloomingdale's (M) - Get Macy's Inc Report is also advertising that its fashion directors are wearing Snapchat spectacles during New York Fashion Week to shows and parties to give the brand's fans a backstage look.