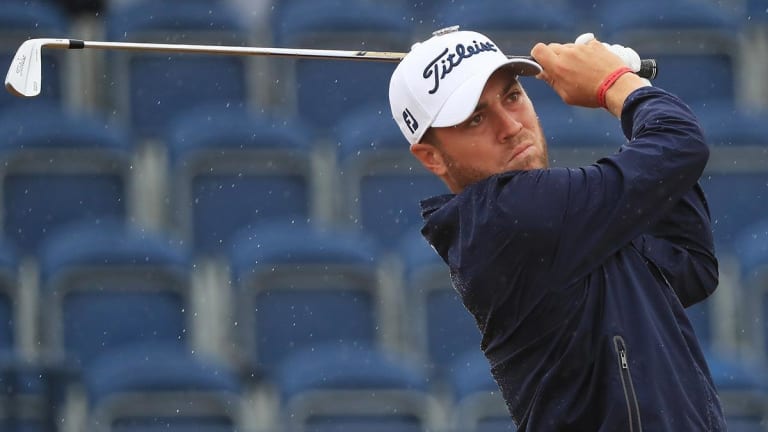 What Is Justin Thomas' Net Worth?
Justin Thomas has wins like the 2017 PGA Championship and 2018 Honda Classic to his name, and is reportedly worth over $30 million.
Currently just 26 years of age, Justin Thomas had a breakout year in 2017, winning the PGA Tournament. In 2018, he played with the best of them on the course of the British Open. And, despite a somewhat disappointing year so far in 2018, Thomas seems to show big talent by setting records. But how much is the up-and-coming golfer worth, and what does he spend his newfound cash on?
What Is Justin Thomas' Net Worth?
As of 2019, Thomas is worth more than $30 million, according to Celebrity Net Worth. With career earnings topping $22 million, the young golfer seems well on his way to making a killing. While his earnings may pale in comparison to titans like Tiger Woods or even Serena Williams, it's not too bad for a fairly new pro.
Having increased his official earnings each year since 2015 by about $2 million apiece, the 25-year-old pro is quickly making his mark on the sport.
Justin Thomas' Salary
The pro golfer reportedly earns around $7 million a year. But, his earnings from 2017 in official money rests at just under $10 million - not too shabby.
But Thomas has been consistently making millions for the past couple years. In 2015, Thomas earned an impressive $2.3 million in official money, while he nearly doubled it the next year in 2016 by raking in a cool $4.1 million in official money from tournaments.
And, after notably winning The Honda Classic this year in 2018, Thomas has earned $6 million so far in official money.
Justin Thomas' Career
The Kentucky native had his start playing golf in college at the University of Alabama, going pro in 2013.
Thomas has had a pretty impressive career since 2014. Among his accolades, he boasts 7 PGA Tour wins, including the PGA Championship, as well as earning a No. 2 spot in the Official World Golf Ranking. Thomas also holds the No. 2 spot on the FedEx Cup Rank, as well as winning the CIMB Classic in 2016.
The 25-year-old golf pro boasts a 69.415 scoring average, with a career low round of 59 (the youngest player to achieve this) at the Sony Open in 2017, according to the PGA Tour website.
In fact, the golfer has earned some impressive records, as the PGA Tour Communications tweeted out.
So far in 2018, Thomas has raked up three of the Top 3 Finishes and seven Top-10 Finishes, but has been having a somewhat "off" year compared to his powerhouse performances last year.
Thomas recently whiffed at the 2018 British Open after failing to make the cut alongside other prominent pros like Dustin Johnson. However, it's not the first time the golfer has had a lackluster performance in an Open. In fact, Thomas missed two cuts and placed in the top 53 in his past three Opens.
In 2017, Thomas missed the cut again at the 146th British Open, but stayed to support long-time friend and rival Jordan Spieth, who won the tournament.
The two pros have reportedly been friends on and off the course since childhood, but have both supported each other. In fact, Thomas has been vocal about Spieth's accomplishments, noting to reporters at last year's British Open that "nothing he does surprises me anymore," according to Golf.
But Thomas is making a reputation for himself for great sportsmanship. In fact, the golfer even recently tweeted high praise for this Sunday's British Open winner Fransesco Molinari.
Still, the young golfer had a chance to redeem himself and defend his PGA championship title on Aug. 9, 2018.
Thomas spoke to Bellerive (the course where the championship will take place) members and sports media earlier this summer after getting a chance to play the course where he would be defending his title, according to reports.
"It's a great course. You can tell it's a very driving golf course," Thomas said. "Driving is going to be premium. The holes have great shape to them. A lot of them kind of go out and then dogleg. ... If you're going to want to challenge it and go further up, you're really going to need to be precise. Getting this round in today was big just because when I come in here for the PGA, I'm not going to be totally fresh or unknowing of what the course is."
Still, Thomas has faced a couple of challenges recently. Aside from his recent losing streak, Thomas was harassed by golf fans while sharing the course with Tiger Woods earlier in 2018.
According to Golf Week, a fan reportedly yelled "get in the bunker!" - right after Thomas swung.
Thomas later reportedly called for the fan to be ejected from the tournament, telling the fan to "enjoy your day buddy."
While some were critical of Thomas' strong stance, many claim the player was in the right. The golfer clarified his remarks later.
"It's those certain fans that are choosing to yell at the wrong times or just saying stuff that's completely inappropriate," Thomas explained in a pre-tournament press conference at The Honda Classic. "There's really no place for it anywhere, but especially on a golf course ... I feel like golf is pretty well known as a classy sport."
During the actual 2018 PGA Championship, Thomas got off to a slower start than many of his competitors, and ultimately was never able to have the sort of round that could separate him from the pack. After scoring a 68 on his final round, he finished the tournament at 10 under par, good for a tie for 9th place.
Thus far, 2019 has seen Thomas struggle to capture another championship at a major. So far his best finish was at The Open Championship, where he tied for 11th place. He tied for 12th in the Masters, while failing to make the cut at the U.S. Open.
Endorsements
Adding to his impressive earnings in the millions, Thomas boasts endorsements from some of the biggest names in golf (or even sports). The golfer is sponsored by the likes of Titleist (GOLF) , FJ, Polo Ralph Lauren (RL) , Citi (C) , NetJets, Woodford Reserve and Beats by Dr. Dre.
And, according to Fox Business, Thomas earned more than $2 million in off-the-course earnings in 2016 alone.
How Does Justin Thomas Spend His Money?
After his stellar wins in 2017, Thomas bought a new custom Range Rover (which can range upward of $285,000, although Thomas' Rover's price is unknown).
Still, despite his seemingly well-deserved expenditures, Thomas also is partnered with numerous charities, including the Boys & Girls Clubs of Kentuckiana, The First Tee, Folds of Honor, Kentucky Golf Foundation and Convoy of Hope.