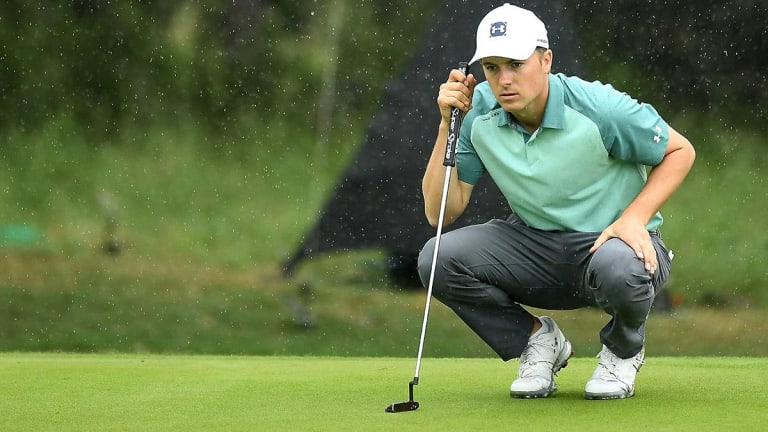 What Is Jordan Spieth's Net Worth?
Jordan Spieth has made tens of millions in his career via golf tournaments and endorsement deals, making him one of the richest athletes in the world.
As the 2019 Masters Tournament approaches, golf fans eagerly await for some of the biggest names in the sport to tee off. This includes some all-time greats like Tiger Woods and Phil Mickelson, as well as some of the more recent Master's champions, like Patrick Reed or Sergio Garcia.
One of the biggest young stars in the sport that fans will be looking forward to watching is Jordan Spieth. Over the course of the 2010s, Spieth has established himself as one of the biggest names in golf, and at just 25 looks to have plenty of career ahead of him.
Spieth has become one of the most recognizable names in golf with some of the most notable endorsement deals, but he's looking for his first Master's win in 4 years. How much has his career netted him?
Jordan Spieth's Net Worth
Jordan Spieth, according to Celebrity Net Worth, may be worth as much as $100 million, and according to Forbes made a combined $41.2 million in earnings in 2017-18 in winnings and sponsorship deals.
If these numbers are even remotely close it's an astonishing figure for someone not even 26 - and certainly for a golfer who, despite 11 PGA Tour victories to his name, hasn't won one since 2017.
Jordan Spieth's Career
Spieth became a golf phenomenon not just before turning pro, but before he even turned 19. In 2009, he won the U.S. Junior Amateur Championship, and then won it again in 2011, making him the first to win the tournament multiple times since Tiger Woods. Pretty decent company.
Just a year after his second amateur championship, Spieth turned pro. Though his first professional year saw little in the way of major victories, a tie for 21st at the U.S. Open in the summer of 2012 proved that Spieth had the potential to compete with the biggest names in the sports, even though he was still a month away from turning 19.
2013 was a breakout year for Spieth. He went from five PGA events the year before to 23, making the cut in 18 of them. He had two top 10 finishes in March, including a second place finish in the Puerto Rican Open. He had five top 10 finishes by the time July rolled around, when he won his first-ever tournament. Finishing at 19 under par and outlasting two other golfers in sudden-death playoff, Spieth finished as the Champion of the 2013 John Deere Classic, still not yet 20 years old. By the time the year had ended he finished second in two additional tournaments, and was shooting up the Official Golf World Rankings.
Spieth built on his 2013 record with an equally impressive 2014, making the cut in 24 of his 27 tournaments. His most notable achievement was during the Masters Tournament that year, where he held his own against the elites of the game and came close to a championship before ultimately tying for second as Bubba Watson proved victorious. That September, he participated in his first ever Ryder Cup.
It was 2015 that saw Spieth go become the brightest young star in golf, taking home five PGA Tour Championships. After thoroughly dominating the tour for the first few months of the year, Spieth returned to the Masters he had very nearly won the year previous. This year, though, there was never a doubt from the beginning that Spieth would be victorious, as he utterly throttled the competition and finished 18 under par, once again tying a Tiger Woods record. Though he had won other tournaments, this was his first victory at a Major tournament.
Spieth wasn't done, though. Just a few months later, he participated in the U.S. Open. Coming down to the wire (a far cry from his dominant Master's performance), he held on in an intense competition at the last minute to pull out another victory in a Major, one of the few golfers to ever win both tournaments in the same year. Spieth followed this up with another John Deere Classic victory, and by the end of the year there was no doubt that he was one of the absolute most elite players in the sport.
2016 saw a couple more tournament championships for Spieth - the Hyundai Tournament of Champions in January and the Dean & DeLuca Invitational in June - and another second place Masters finish. However, that doesn't tell the whole story of the 2016 Masters. Spieth dominated for the majority of the tournament, but completely collapsed in the back nine during the final round, as a 5-stroke lead turned into a 3-stroke deficit by the end, and Danny Willett finished in first instead. Spieth briefly struggled to recompose himself after this, failing to crack the top 25 at the U.S. Open. But he finished the year strong, rejoining the U.S. on the Ryder Cup and helping lead them to victory.
2017 actually saw a slight increase for Spieth in tournaments won, including another major tournament victory. In July, just a month after a first place finish at the Travelers Championship, Spieth played in the Open Tournament and shot 12 under par overall, though in another final-round struggle he had to climb back to the top in a nail-biter against Matt Kuchar.
That championship gave him 11 in his career, but is also the last one he has seen in his career up to now. He finished third in the 2018 Masters Tournament, and failed to even make the cut at the U.S. Open.
Jordan Spieth's Career Earnings
Per the PGA Tour website, Spieth has made nearly $38.3 million from his placements in their tournaments over his career. And Spieth has also participated in tournaments internationally, including a victory in the 2016 Australian Open.
Jordan Spieth's Endorsements
Even before his first PGA Tour championship, it was clear to many that Spieth was a special talent. Included in "many" were the executives at Under Armour (UAA) - Get Free Report , who signed him to a deal in early 2013 when he was still just a teenager. By 2015, they had redone his deal and turned it into a 10-year deal.
Spieth is one of the highest-paid golfers in terms of endorsements; Forbes estimates he makes $30 million from them alone. Per his own website, Spieth has partnerships with major companies like AT&T (T) - Get Free Report , Coca-Cola (KO) - Get Free Report , Titleist and Rolex.
Jordan Spieth's House
Jordan Spieth is a Dallas native, and even though he travels the world for his career, he didn't stray far when picking a house. Dallas News reported that in 2015 he had bought a mansion for $7.1 million from golfer Hunter Mahan. The massive house is 10,000 square feet with five bedrooms and six bathrooms - and that's just the main house. Combined with its underground garage and indoor basketball court, the property is about 16,000 square feet.