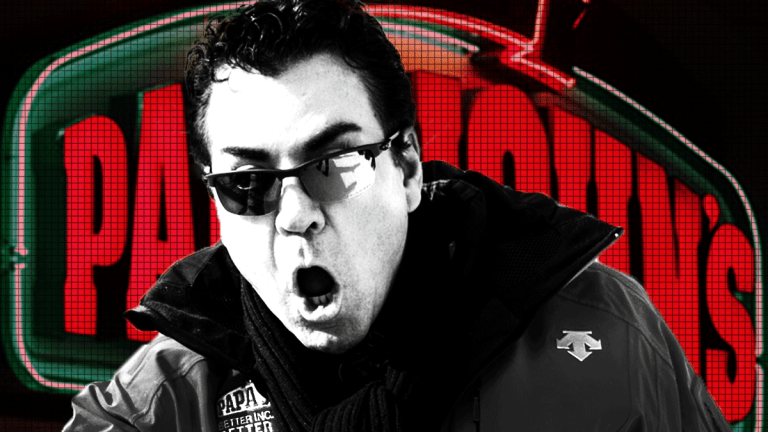 John Schnatter's Controversial Career and Net Worth
Papa John's former chairman of the board is no stranger to controversy, but is still estimated to have a net worth of a cool $1 billion. But how has John Schnatter made his dough?
As of Wednesday, Papa John's (PZZA) founder resigned from his post as chairman of the board of the pizza company (though he will keep a seat). Following a leaked conference call where the founder allegedly used the n-word in May, the pizza mogul tendered his resignation. Earlier in 2017 following more controversial comments, he resigned as CEO. 
But despite a career fraught with controversy, John Schnatter has managed to accumulate a net worth of a staggering $1 billion. That's a lot of dough.
Still, how did the controversial founder make his billion?
What Is John Schnatter's Net Worth?
According to Forbes, Schnatter is worth an estimated $1 billion. The pizza mogul, who founded Papa John's pizza in 1985, has built his brand for decades. As a self-made billionaire, Schnatter has catapulted his company to the third-largest pizza company in the world, with over 3,300 locations in the United States and over 1,700 abroad.
John Schnatter's Salary
In 2015 alone, Schnatter earned a hefty $3.6 million during the fiscal year, despite comments that executive salaries were "immoral."
The pizza entrepreneur told Business Insider in 2017 that he has refused a raise for the past four years, noting that he is allegedly paid around 20% less than he should be for chairman of the board, according to Fortune.
"It's an immoral arrangement," Schnatter told Business Insider. "It's wrong. And that's why corporate America has got a bad name."
But despite his comments, the 56-year-old has still made the billionaire's list.
John Schnatter's Career
According to the company's website, Schnatter was inspired by his father Robert and grandfather "Papaw" Ackerson to work his way up from dishwasher to pizza maker at his first job at Rocky's Sub Pub at the age of 15.
After graduating from Ball State University, the billionaire began making pizzas in a broom closet at his father's pub in 1984. And, by 1985, Schnatter opened the first Papa Johns in Jeffersonville, IN. Schnatter reportedly made every pizza delivery himself during their first year in business.
Since its opening, the famous pizza company has seen enormous growth to rival that of others like Pizza Hut (YUM) and Domino's Pizza (DPZ) . As the third-largest pizza company in the world, sales quadrupled in 2017, increasing by 58%, according to Forbes. In 1993, Schnatter took the company public, trading as "PZZA" on Nasdaq.
Having started with just around $1,600 worth of equipment in his father's pub's broom closet, the entrepreneur worked his way up to generating over $1 billion in sales annually in the past years.
"In 1991 I didn't have $2,000 to go on vacation," Schnatter told CNBC. "In 1994 the company was worth $200 million. We literally went from nothing to literally having a lot of blessings in a short period of time."
However, Schnatter isn't above singing his own praises.
"I am the American Dream," Schnatter told Entrepreneur in 2017.
"Better Ingredients. Better Pizza. Papa Johns."
The pizza mogul adopted the slogan "Better ingredients. Better pizza. Papa Johns" for his company. However, the slogan was in contest in 2000 when competitor Pizza Hut won a court order claiming that the slogan was misleading and false advertising. Papa John's contested. The litigation supposedly was going to cost between $10 million and $12 million.
However, the controversy over the Papa John's slogan didn't end there. In 2013, reporter for US News and World Report Melanie Warner claimed she was shut down by the company when trying to investigate the famous pizza's ingredients.
Warner directly referenced the "better ingredients" part of the slogan when she investigated, but with no luck.
"Those 'better ingredients': Good luck finding out what they are," Warner wrote. "Unlike the packaged products you buy at the supermarket, restaurant food isn't required to list ingredients."
The lack of transparency has caused some concern.
"By not disclosing what's in its food, Papa John's is revealing that it doesn't think too much of its customers," Warner concluded in her article.
Controversy
No doubt Schnatter is no stranger to controversy. While the pizza maker has faced many public outcries over the years, his most recent PR snafu has landed him in big trouble - and, warranted his resignation as chairman of the board of his own company.
Fallout from 2018 Conference Call
The world was blissfully unaware of the mogul's latest racist comments - that is, until Tuesday.
Forbes broke the news that, on a conference call in May, Schnatter used the n-word. The call was reportedly with marketing agency Laundry Service, where the pizza entrepreneur allegedly attempted to minimize his previous comments about the National Football League by claiming, "Colonel Sanders called blacks n-----s," Forbes reported.
Schnatter released an emailed statement on Wednesday afternoon.
"News reports attributing the use of inappropriate and hurtful language to me during a media training session regarding race are true," Schnatter said. "Regardless of the context, I apologize. Simply stated, racism has no place in our society."
Following the statement, the billionaire resigned from his position as chairman of the board.
Although the context was allegedly a role-playing exercise, (wherein Schnatter also made comments about African-Americans being dragged from trucks until they died, according to Forbes), the comments instigated a huge media uproar.
The fallout from Schnatter's now-infamous conference call in May continues to come to light. Fox News reported that Mike Moore, mayor of Schnatter's hometown of Jeffersonville, IN, took the entrepreneur's name off of a gym on Thursday. And, the mayor even reportedly mailed back a $400,000 donation (of a pledged $800,000) to the building that Schnatter had donated to. The mayor expressed disapproval of the Papa John's founder's actions.
"The city of Jeffersonville represents a very diverse community," Mayor Moore said, according to the Louisville Courier Journal. "It was a tough decision, but I believe it was the right decision."
To make matters worse, Major League Baseball suspended their Papa Slam promotion (which has been a collaboration since 2016), according to Yahoo Sports.
Still, countless others are reacting to the latest Papa John's controversy - notably, the stock exchange. Stocks in the company rode a roller-coaster between Wednesday and Thursday morning, dropping and then suddenly spiking back about 11% Thursday morning.
Resignation as Chairman of the Board
Schnatter tendered his resignation as chairman of the board on late Wednesday in 2018 following his controversial, racist remarks. However, he will reportedly stay on the board.
"You may have read the media reports today tied to our company culture. We want to make it clear to all of you that racism has no place at Papa John's," a memo stated, obtained by Bloomberg News.
The company will reportedly appoint a new chairman, but until then, Olivia Kirtley is to act as lead independent director, according to a statement released by Papa John's.
Continuing Controversy
Still, the fire storm is long from over. On Thursday, Forbes released a huge expose on the already-disgraced former-chairman and CEO. In the piece, allegations by a reported "37 current and former Papa John's employees," which included executives and board members, shed new light on the pizza king's activities, according to Forbes.
Throughout months of investigation, Forbes uncovered alleged sexual harassment law suits, favoritism - as well as internal corruption - despite most of the sources remaining confidential.
The former-chairman has allegedly fostered a community of a "boys' club" at Papa John's, and has promoted friends or loyalists to places of power - notably placing fellow Jefferson High School friend Tim O'Hern as international president.
And, according sources who spoke with Forbes, Schnatter even asked a female employee about her bra size, made crude jokes, and conducted business on disposable phones (which Schnatter confirmed).
Still, Papa John's released a statement in response to the piece, which failed to address the allegations therein.
"As previously announced, a special committee of the board of directors, comprised solely of independent directors, has retained an outside firm to oversee an audit and investigation of the culture at the company and to make recommendations for whatever changes may be necessary," the company said in a statement. "We take this matter seriously. If anything is found to be wrong, we are determined to take appropriate action."
NFL
This isn't Schnatter's first rodeo with the press.
Papa John's suffered a bad breakup with the NFL following politically charged comments made by the founder.
As a slew of NFL players protesting police violence and racial inequality kneeled during the national anthem, NFL TV ratings dropped. For Papa John's, this translated to less people to order pizza while watching TV or seeing their ads.
And, as an understatement, Schnatter was not pleased. During a conference call announcing third-quarter earnings, the founder expressed his frustrations.
"The NFL has hurt us by not resolving the current debacle to the players' and owners' satisfaction," Schnatter said during a conference call in 2017. "Leadership starts at the top, and this is an example of poor leadership. NFL leadership has hurt Papa John's shareholders."
Schnatter even suggested the NFL should have "nipped it in the bud," leading white supremacist website The Daily Stormer to dub the company "the official pizza of the alt-right," topping it off with a picture of a pizza with a swastika-shaped pepperoni design. Unsurprisingly, public outrage ensued.
Politics
Despite continual public relations issues, Schnatter has continued to stay involved in politics as well.
In 2012, during the Obama administration, Schnatter vocalized his disapproval of the Affordable Care Act, claiming it would be a "lose-lose" for Papa John's employees and franchises, Business Insider reported. The founder claimed it could cost the company almost $8 million annually and raise pizza prices, and his upfront bashing of Obamacare attracted boycotts - causing stock to drop about 4.2% according to Forbes.
And, despite not being especially vocal about his approval, Schnatter even donated $1,000 to then-presidential-candidate Donald Trump in 2016.
Papa John's Stock
The pizza chain's stock has had a rocky past, reportedly causing investors concern. In fact, Schnatter once told Purdue University in an interview in 2016 that he told the investor "'...take your Papa John's stock, put it under your pillow, and over the next two to three years we'll do you a good job.'"
Still, the pizza chain's stock has occasionally dipped over the years, notably after the founder's various controversies (dropping 4.2% after comments about Obamacare). 
However, reports claim that Papa John's stock is back up following a drastic dip (around 5%) after Forbes reported the scandal on Wednesday. Papa John's stock was back up by 11% since Wednesday, earning back the $96.2 million it lost in market value following the media storm over Schnatter's comments.
The pizza businessman's stake of the company's stock dropped to around $479 million from about $622 million in March. The stock closed Friday down 10 cents to $53.57.