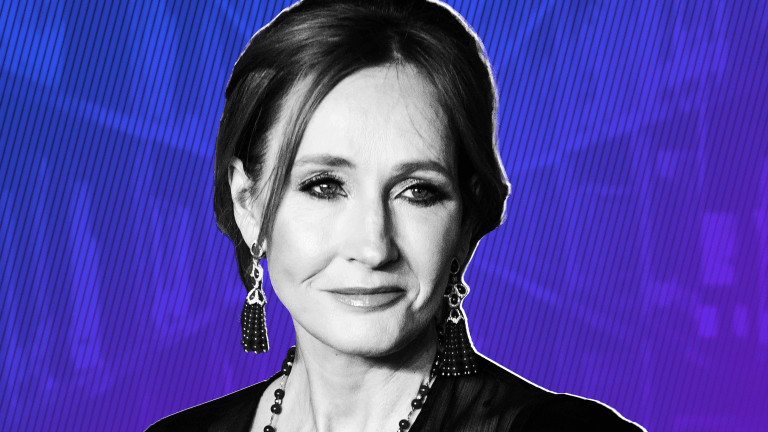 What Is J.K. Rowling's Net Worth?
Back when she first obtained a literary agent, J.K. Rowling was told she'd never be able to make money writing children's books. More than two decades later, she remains the wealthiest living writer.
J.K. Rowling has been famous since publication by Scholastic Corp.'s Arthur A. Levine Books imprint of "Harry Potter and the Sorcerer's Stone," her first book about the young Hogwarts School of Witchcraft and Wizardry student Harry Potter in 1998, with an initial print run of 50,000 copies. She has since published seven Harry Potter books, and according to Scholastic, more than 500 million copies of Harry Potter books have been sold worldwide.
Rowling recently announced plans on her Pottermore website to release four new Harry Potter-related e-books on the site in June 2019, and a third in the "Fantastic Beasts" series of movies is set for release in 2020.
Rowling, like others, is also famous for having struggled for years before having her talent recognized.
Her agent allegedly warned her she would never be able to make money writing children's books.
The first publisher of Harry Potter was in the U.K., Bloomsbury Children's Books. It accepted the book in 1996, and paid her an advance of $4,000 for it, after several publishers rejected it as being too long and too slow for children. In 1997, Scholastic (SCHL) won an auction for the U.S. rights to the series, and gave Rowling a $100,000 advance. Scholastic published that first book, originally titled "Harry Potter and the Philosopher's Stone," as "Harry Potter and the Sorcerer's Stone," in 1998.
In June 1997, Bloomsbury printed 500 copies of the book. To attract young boys to read the series, despite it being written by a woman, the publisher recommended she use her initials instead of her first name, Joanne. She added her grandmother's name, Kathleen, to make her initials J.K. Rowling. The book became an instant success.
What Is J.K. Rowling's Net Worth in 2019?
She now has an estimated net worth of just under $1 billion as of May 2019, when the Sunday Times estimated her net worth at GBP 750 million ($953 million).
In addition to publishing books, she has benefited from eight movies being made from her books, as well as a Broadway play and amusement park attractions based on the Harry Potter series.
She launched "Fantastic Beasts and Where to Find Them," an original screenplay that became the first in a film series for Warner Brothers, in 2016.
And, in addition to publishing the young adult Potter series, she has also published crime fiction under a pseudonym: Robert Galbraith. The first three of those books sold 1.2 million copies, earning her an estimated $9.9 million.
In April, the New York Times (NYT) estimated Rowling's Harry Potter novels have made at least $7.7 billion in sales. If she took the standard author's royalty of 15%, she would have made at least $1.15 billion - before the movies, which have also grossed $7.7 billion. Meaning with a 10% participation cut from the movies, she would have earned $770 million from them.
Her last Harry Potter novel, "Harry Potter and the Deathly Hallows," published in July 2007, became the fastest-selling fiction book of all time.
Early Life
Joanne Rowling was born July 31, 1965, at Yate General Hospital near Bristol, England. Her father, Peter Rowling, was an aircraft engineer at the Rolls Royce factory in Bristol and her mother, Anne, was a science technician at the Chemistry Department at Wyedean Comprehensive School and College, where the young author went to school.
She grew up in England and southeast Wales.
Rowling's mother was diagnosed with multiple sclerosis when Rowling was a teenager. Her mother died in 1990, before the Harry Potter books were published.
Surrounded by books and an avid reader when she was growing up, Rowling wanted to be a writer from an early age.
She wrote her first book at age 6, according to her website, and at age 11, she wrote her first novel, about "seven cursed diamonds and the people who owned them."
Rowling went on to study at Exeter University, where she wound up spending a year in Paris studying French and classics.
After obtaining her degree, Rowling moved to London and worked in a series of occupations, including as a researcher at Amnesty International.
She moved to Portugal to teach English. In 1992, she married journalist Jorge Arantes, with whom she had a daughter, Jessica, in 1993. The marriage ended later that same year, and she returned to the U.K., settling in Edinburgh, Scotland, where she trained as a teacher and began teaching in the local schools.
Career
Rowling first conceived of the Potter series while sitting on a delayed train from Manchester to London's King's Cross in 1990, mapping out the entire seven-book series over about five years.
After completing the first manuscript, she sent the first three chapters - which she had begun in 1993 - to literary agents.
After publication of the first book in England by Bloomsbury, and the subsequent publication of it in the U.S. by Scholastic, the series saw huge success among young readers, and even their parents.
The series itself consisted of seven books: "Harry Potter and the Sorcerer's Stone," (1998); "Harry Potter and The Chamber of Secrets" (1998); "Harry Potter and The Prisoner of Azkaban" (1999); "Harry Potter and The Goblet of Fire" (2000); "Harry Potter and the Order of the Phoenix" (2003); "Harry Potter and The Half-Blood Prince" (2005); "Harry Potter and The Deathly Hallows" (2007).
Warner Bros. released its film adaptation of the first book in 2001, followed by six more book adaptations.
Warner Bros. concluded its film adaptations with the release of its eighth film, "Harry Potter and The Deathly Hallows Part 2," in 2011.
Rowling wrote two small companion volumes, the titles of which first appeared in Potter's school books throughout the series, "Fantastic Beasts and Where to Find Them,'" and "Quidditch Through the Ages," in 2001, in aid of the Comic Relief charity.
Those books were followed by a third volume, "Tales of Beedle and The Bard," was published in 2008 in aid of Rowling's own international children's charity, Lumos.
In 2007, Warner Brothers Entertainment and Universal Orlando Resort announced plans to create The Wizarding World of Harry Potter at the Florida amusement park.
Rowling created a digital company, Pottermore, in 2012, for fans to enjoy news, features and articles related to Harry Potter, and content from the author.
The same year, Little, Brown published Rowling's first novel for adults: "The Casual Vacancy." The novel was adapted for television by the BBC in 2015.
Little, Brown is also the publisher of Rowling's crime novels, under the pseudonym of Robert Galbraith. The first, "The Cuckoo's Calling," was published in 2013. "The Silk Worm" followed in 2014, "Career of Evil" in 2015, and "Lethal White" in 2018. The first three, according to Rowling's website, have been adapted for a television series for BBC One by Bronte Film and Television.
Also in 2015, Rowling's 2008 commencement speech for Harvard was published as an illustrated book: "Very Good Lives: The Fringe Benefits of Failure and the Importance of Imagination," by Sphere.
In 2016, Rowling collaborated with playwright Jack Thorne and director Paul Tiffany on an original new story for the stage: "Harry Potter and The Cursed Child Parts One and Two," first performed at London's Palace Theatre in the West End, and at the Lyric Theatre on Broadway in New York. The play opened at Melbourne's Princess Theatre in Australia in February 2019.
Little, Brown published the script's book in 2016.
Also in 2016, Rowling made her screenwriting debut, with the film "Fantastic Beasts and Where to Find Them," essentially a prequel to Harry Potter. Her second in that series, "Fantastic Beasts: The Crimes of Grindelwald," was released in November 2018.
The "Fantastic Beasts" series is planned as a five-film series.
The screenplays were published the same years as the movies were released, by Little, Brown.
Controversy
Rowling's career has not been without controversy.  
Trouble actually started not long after the first Harry Potter book's U.S. debut. In 1999, U.S. author Nancy Kathleen Stouffer sued Rowling for copyright and trademark infringement over two of her works, "The Legend of Rah and the Muggles," and "Larry Potter and His Best Friend Lilly." Stouffer's books were first published in 1984. She sued Scholastic, Rowling, Time Warner Entertainment Co., and Mattel (MAT) and Hasbro (HAS) , as Time Warner had the movie rights, and Mattel and Hasbro had licenses to market related merchandise. Scholastic, Warner Bros. and Rowling countersued, seeking declaratory judgment, and won. Stouffer appealed the ruling, but it was upheld by the Second Circuit Court of Appeals in 2005. Stouffer's case was dimissed with prejudice, and she was fined $50,000 for what the judge termed her "pattern of intentional bad faith conduct."
More recently, a backlash of sorts has occurred over Rowling's lack of explicitly making it clear that the character Dumbledore in her series - headmaster at Hogwarts - was gay, and in a long-time love relationship with Grindelwald, a character in her "Fantastic Beasts" series.
In 2007, she declared he was gay. But he has not been explicitly described as such, not in any book, nor any movie. Twitter (TWTR) fans took her to task trying to make the series progressive retroactively, as when she also once suggested Hermione, another central character in the Harry Potter series, could be black.
How Does J.K. Rowling Spend Her Money?
As might be well imagined, Rowling has gone from being a single mother on U.K. state benefits following her return from Portugal and living with her sister, Dianne, in Edinburgh, Scotland, to riches since her success. 
She first purchased the top half of a Victorian house, in Edinburgh's Merchiston area, for GBP425,000 in 1999. Eventually, she bought out her downstairs neighbor and converted the property back to a single detached home in 2001. She also gained permission to build two giant tree houses for her children in the garden of the property, and to buy and flatten an adjoining home for 1 million pounds so she could extend her garden. She sold that property, according to Edinburgh Live, for 2.2 million pounds. 
She purchased an old 19th century estate house, Killiechassie House, located on the banks of the River Tay, near Aberdfeldy in Perth and Kinross, in Scotland, about 74 miles north of Edinburgh, in 2001.
She also owns a $57 million Georgian house in Kensington, West London, on a street with 24-hour security. Rumors circulated in 2011 that she had purchased a home in Tasmania, but were quickly debunked. 
So, how else does the woman often referred to as the richest writer in the world spend her money? 
She likes designer clothes, particularly by Oscar de la Renta
Visiting the Hamptons
She owns a $15 million yacht.
She has two secretaries to handle fan mail, and two personal assistants to schedule her calendar.
And she reportedly spends up to $150,000 a year on private bodyguards.
She gives to charities, particularly the international children's charity Lumos, which she founded. She also set up a charitable trust, Volant, in 2000 to make grants to support Scottish charities, particularly concerned with women, children and young people at risk.