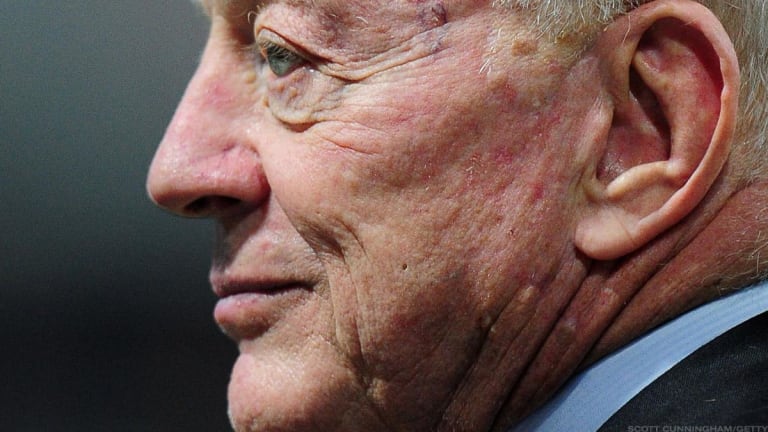 What Is Jerry Jones' Net Worth?
The polarizing and very loud Cowboys owner is worth $6.8 billion. How did he make enough money to buy the Cowboys, and how did he turn them into a billion-dollar operation?
The Dallas Cowboys haven't won a Super Bowl in nearly 23 years. They have gone 4-10 in the playoffs in the years since, and that's when they've made the playoffs at all. And yet, somehow, their nickname is still America's Team.
That's due to the marketing of the team owner, Jerry Jones. Ever since he purchased the team in 1989, Jones has forced his way into the spotlight whenever possible, making the Cowboys as much a brand as a football team. In doing so, he successfully rebuilt a struggling 1980s Cowboys team into a 3-time Super Bowl champion in the 1990s. He has also been the center of a number of controversies. In a way, he has been the true face of the franchise.
How much is Jerry Jones worth after everything he's done for Dallas, and how did he get the money needed to buy them in the first place?
Jerry Jones Net Worth
Forbes claims that as of this writing, Cowboys owner Jerry Jones is worth $6.8 billion. That was good enough to get him listed at #75 on the Forbes 400 in 2018, while ranking 224th on the list of billionaires in the world in 2019.
It has been an impressive climb for Jones, particularly in the past several years. As recently as March 2014, Forbes estimated his worth at $3 billion. By September of that year, they estimated it $4.2 billion.
Jerry Jones' Early Life & College Career
Though Jones was born in Los Angeles, California in 1942, by 1945 the family had relocated to Little Rock, Arkansas, which would remain his home throughout his childhood. There, his parents were the owners of a small supermarket chain.
Though he had to wait until his late 40s to own the Cowboys, football was a part of Jerry Jones' life from a young age. He attended nearby University of Arkansas and played for what would become a legendary Razorbacks team. Though undersized for the position, by senior year at Arkansas, he was playing right guard on the offensive line and starting every game.
That 1964 team went undefeated and won the National Championship. At its most impressive, the team shut out five consecutive opponents, defeating them by a combined score of 116-0. Also on that team was future Cowboys head coach Jimmy Johnson.
What Did Jerry Jones Do Before Owning the Cowboys?
Right after college, Jones sought help from a couple of people with money to spare. One was his father, who had moved on to become the chairman of Modern Security Life Insurance Company -- and was making millions. Jerry worked under him right after college.
The other person who gave Jones a hand was Jimmy Hoffa, head of the Teamsters Union. In his attempt to return to the world of football, Jones, at the time 23, attempted to purchase the San Diego Chargers of the American Football League (AFL). He sought Hoffa's help in borrowing money to purchase the team, but was ultimately talked out of it by his father.
Unable to purchase a football team and no longer content to work under his father, Jones made his money in oil for the next two decades. Not that he was totally free of his father's help -- by this time, Pat Jones had sold Modern Security Life Insurance in a multi-million dollar deal to help give Jones a head start. Jones Oil and Land Lease became a massively profitable venture, with Jones showing a knack for finding oil and gas. After making nearly $175 million from the sale of his company to Arkla, Inc., Jones set his sights back on football.
Jerry Jones' Cowboys
When Jones decided to purchase the Dallas Cowboys for $140 million in 1989, they were an irrelevant team that didn't resemble the Super Bowl-winning 70s Cowboys teams at all. Jones decided the team needed a fresh start and immediately let Tom Landry go. At that time, Landry was the only head coach the Cowboys had ever had.
Jones hired his old teammate Jimmy Johnson, then the head coach for the University of Miami, to be the new head coach. The duo drafted Troy Aikman with the first pick in the draft, but promptly had the worst season in the history of the franchise, going 1-15. But they continued to rebuild, taking running back Emmitt Smith with their first pick of the 1990 draft.
Aikman and Smith, as well as wide receiver Michael Irvin, would create the core of a team that ascended very quickly. One year after ending 1-15,  the team went 7-9, and in 1991 they went 11-5 and made the playoffs, losing in the second round. And then in the 1992-93 season, the Cowboys defeated the Buffalo Bills to bring home their first Super Bowl championship since the 1977-78 season. They defeated the Bills again the next year to repeat as champions.
Jones, in addition to helping build a championship team, created a brand new image for the team, bringing back the glory days of referring to the Cowboys as "America's Team" while also giving them more of a brash reputation than the workman-like nature of the Tom Landry, Roger Staubach-led Cowboys of the 1970s.
Still, cracks began to show. Despite winning two consecutive Super Bowls, friction between Jones and Johnson led to Jimmy Johnson resigning. Barry Switzer took over as head coach, and two years later the Cowboys beat the Pittsburgh Steelers for their third Super Bowl win of the decade. That was their last Super Bowl win to date. Two years later Switzer stepped down as head coach after a disastrous 6-10 season in 1997.
The past couple of decades have proven to be a struggle for the Cowboys to reach the heights they did in the 1990s. Tony Romo's career came and went without so much as an NFC Championship Game appearance. The new-look Cowboys, led by Dak Prescott at quarterback, have made the playoffs two of three years but also have yet to reach the NFC Championship Game.
Where they have succeeded, arguably, is lining Jerry Jones' pockets and increasing the valuation of the Cowboys. Dallas players are consistently near the top of jersey sales year after year, as each generation gets its newest star player from Emmitt Smith to Ezekiel Elliott.
And in 2009, Jones successfully opened the team's new stadium, then Cowboys Stadium. The massive stadium can hold over 105,000 spectators and houses several other sporting events, including college bowl games -- and even WrestleMania in 2016. In 2013, he successfully sold a sponsorship deal to AT&T for naming rights, changing it to AT&T Stadium.
Jerry Jones' Family
Jones's family also contributes to the valuation of the Cowboys; all three of his children work in leadership positions for the team.
His eldest son, Stephen, is the team's current CEO and Executive Vice President, as well as Director of Player Personnel. Stephen's decisions can, at times, even overrule his father's -- such as in the infamous incident where he made the decision not to draft quarterback Johnny Manziel despite his father's insistence.
The middle child, Charlotte Jones-Anderson, acts as Executive Vice President and Chief Brand Officer. The youngest, Jerry Jones Jr., is also an Executive Vice President as well as Chief Sales and Marketing Officer.
Jerry Jones' House
Jones turned the Dallas Cowboys into a billion-dollar operation, and he has been able to live quite lavishly as a result, with a massive villa in the Highland Park area of Dallas, worth around $20 million. His eldest son Stephen lives in the same suburb, as well.
Jerry Jones Controversies
Jerry Jones's attitude has made him a polarizing figure even among Cowboys fans, some of whom like his braggadocio and some of whom think he has a tendency to butt into matters he shouldn't -- just for the publicity.
His most recent controversy stems from his reaction to NFL players protesting police brutality by kneeling during the National Anthem. Jones made the statement that he expects players to be on the field and standing for the Anthem, and Stephen Jones went a step further by implying that Cowboys players who knelt would be released.
For someone demanding order during the National Anthem, though, Jones had trouble meeting his own standards, as he was seen in a preseason game wearing his hat and talking as the National Anthem was played -- two acts generally seen as disrespectful.
When asked about the incident, Jones, in an exceptionally rare move for him, declined to comment.