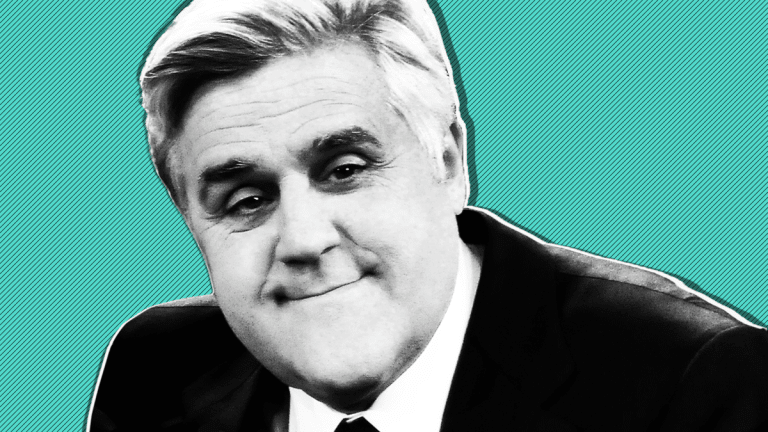 What Is Jay Leno's Net Worth?
Most people know Jay Leno as a late-night television show host, but he is also a model of financial conservatism. Find out how he made his money and what he spends it on.
Jay Leno is one of the most famous comedians in the U.S. He is known for saving his hard-earned cash, but how much is Jay Leno's net worth exactly? Find out more about Leno's net worth and how he spends his money.
What Is Jay Leno's Net Worth?
The long-time comedian and entertainer has transformed himself into a household name. Though he is best known as a long-time host of "The Tonight Show," Leno has continued to grow his net worth since retiring from the position in 2009. According to Earn the Necklace, Jay Leno's net worth is $400 million as of 2019. Leno has earned a reputation of being a shrewd saver, which has no doubt contributed to his financial success.
Early Life
Though he is best known today as Jay Leno, he was originally born James Douglas Muir Leno on April 28, 1950 in New Rochelle, New York. His parents were both familiar with the challenges that immigrants face. His mother came to the U.S. from Scotland when she was a child, while his father was born into a family of Italian immigrants.
Leno attended Andover High School in Massachusetts. School was a struggle for him, as he suffered from dyslexia, a little-recognized learning disability at the time. In fact, a school guidance counselor recommended that he drop out of school altogether. However, Leno not only graduated from high school, but he went on to graduate from Emerson College in Boston with a bachelor's in speech therapy.
Jay Leno's Career
During his time at Emerson College, Leno established a comedy club in 1973. He also did stand-up in numerous night clubs throughout Boston to make extra money. After graduating, he moved to Los Angeles to pursue a career as a comedian. He had minor roles in several shows and movies, including an episode of "Good Times." He also appeared on "Late Night With David Letterman" on many occasions. The two late-night hosts developed a great working relationship during this time.
The 'Tonight Show' Era
Leno first appeared on "The Tonight Show" in 1977. Later, in 1986, Leno began serving as a guest host for Johnny Carson when he was away on vacation. He eventually took over as the show's host in 1992. This generated some controversy, as David Letterman was considered by many to be the show's natural successor. In fact, Carson named Letterman as his pick for the position. Letterman left NBC and joined CBS (CBS) - Get CBS Corporation Class B Report , making "Late Night With David Letterman" Leno's direct competitor for Leno's entire run on "The Tonight Show."
Leno served as a host on "The Tonight Show" for two decades. Leno had continued to serve as a standup comedian throughout his time hosting the late-night talk show, though he has always been best known for his role on "The Tonight Show."
On the show's 50th anniversary in 2004, Leno announced that Conan O'Brien, who occupied the time slot right after "The Tonight Show" on "Late Night with Conan O'Brien" would be hosting the show. Leno actually retired from his position on "The Tonight Show" twice. His first retirement took place on Friday, May 29, 2009. O'Brien took the helm the following Monday.
Though his run on "The Tonight Show" was over, Leno did not walk away from late-night television altogether. Instead, he hosted the new "Jay Leno Show," which carried over many of his acts and material from his run on "The Tonight Show." The first episode aired in September 2009.
Return to 'The Tonight Show'
Unfortunately, O'Brien's run on "The Tonight Show" was not producing the viewership that NBC expected. On Jan. 10, 2010, the network announced that they intended to bump The Tonight Show an hour, putting O'Brien back into the late-night time slot. The Jay Leno Show would fill in the slot formerly occupied by "The Tonight Show."
O'Brien publicly denounced NBC's decision in a public letter, threatening to leave "The Tonight Show" if they followed through with their plan. The network struck a deal with O'Brien, giving him and his staff a healthy payout in exchange for his departure from the show. O'Brien's last night hosting was  Jan. 22, 2010. In March, Leno returned as the host of "The Tonight Show." As a result, "The Jay Leno Show" was canceled in February 2010 -- less than a year after its premiere.
While it is unknown what role Leno had in the network's decisions, he faced widespread criticism for returning to the show taking O'Brien's place as host. Famous Leno detractors during this period include Patton Oswald, Rosie O'Donnell, Bill Burr, and Howard Stern. Unsurprisingly, former rival for "The Tonight Show" host position David Letterman was also critical of Leno. Throughout the whole ordeal, Leno insisted that he had nothing to do with NBC's decisions and that he was simply following the instructions of his supervisors.
Unfortunately, Leno was unable to reproduce the success he had experienced on his first run hosting "The Tonight Show." Ratings had dropped by over a million viewers. However, the program still led the pack -- garnering more viewers than other late-night shows in the same time slot. He eventually passed the seat along to Jimmy Fallon. Leno's final episode aired on Feb. 6, 2014.
After 'The Tonight Show'
Since "The Tonight Show" ended, Leno has dedicated himself to stand up comedy. On average, he spends more than half of the year performing on tour. He regularly appears as a guest on numerous late-night shows across networks. In 2015, Leno was awarded the Mark Twain Prize for American Humor. He was the 17th person to receive the award.
He also began hosting "Jay Leno's Garage" that same year, a reality show on CNBC that reviews classic and restored cars. Leno's passion for cars has kept him busy post-"Tonight Show." He regularly writes about automotive topics in Popular Mechanics, as well as writing occasional sports car reviews for The Sunday Times.
How Does Leno Spend His Money?
Leno has become well-known for his passion for vintage cars. He is said to own almost 300 vehicles total, composed of 169 cars and 117 motorcycles. Though the famous comedian is known for his fiscal conservatism and ability to save, he isn't afraid to splurge on vehicles. According to Earn the Necklace, his collection is valued at $52 million.
Some highlights of his collection include two Doble steam cars owned by Howard Hughes, the iconic 1963 Jaguar XK-E, and several early forms of electric cars. He restores many of the cars to the former glory and even takes concept cars and finds ways to make them road-ready. Currently, Leno houses the majority of his collection in his sprawling, hangar-like garage in Burbank, Calif.
Jay Leno's Home
Leno owns two homes on opposite coastlines: one in Beverly Hills, Calif., and another in Newport, R.I. He and his wife purchased the $13.5 million oceanfront Newport estate in 2017. The 15,851-square-foot main house is perched on a finely groomed nine-acre estate that includes a private beach, pool, tennis court, carriage house, and gardens. The home also includes a six-car garage for Leno to house a few of his prized vehicles. The home was originally built in 1936 by an architect who was known for his restoration work on the Statue of Liberty.