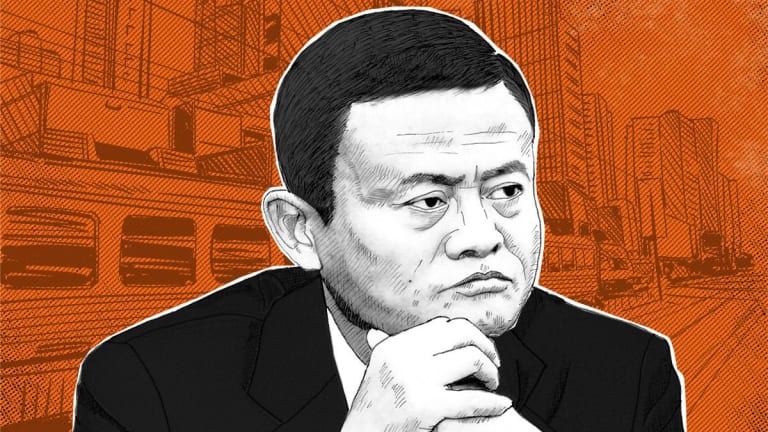 What Is Jack Ma's Net Worth?
Jack Ma, founder of Alibaba, grew rich on the internet and China's embrace of technology. Here is his story.
Jack Ma is reportedly worth $38.7 billion as of 2019.
As the founder and executive chairman of China-based Alibaba Group (BABA) makes his way into retirement, the multi-billionaire can expect that amount of money to grow substantially in the coming year.
That's what happens when you lead one of the largest e-commerce companies the world has ever seen - even if you retire, as Ma is doing this month.
Here's the story of Jack Ma's wealth and his rise as the founder of Alibaba, one of the largest companies in the world, which set the record as the biggest public stock offering ever, at $25 billion, only five years ago.
It's a story where Ma gets to found his own worldwide business empire and leave his own unique personal stamp on the proceedings every step of the way.
The Rise of Jack Ma
Jack Ma, once an English teacher and later a struggling entrepreneur, walks away from Alibaba Group Holding Ltd. as the 19th wealthiest individual in the world, and lands just behind India's Mukesh Ambani as the richest person in all of Asia.
It was only 20 years ago that Ma was laboring out of his small apartment to bring Alibaba to life, which he did in monumental fashion, creating a business-to-business technology behemoth worth $460 billion.
Since Ma owns a 5.3% stake in Alibaba, his wealth will continue to expand, and any stock he owns, or even sells, will likely add to his substantial wealth.
That surely wasn't the future Ma or his family envisioned when he was born Sept. 10, 1964 in Hangzhou, China. Ma was a dedicated student right off the bat, taking the time to learn English at a young age, and began his entrepreneurial career as a local tour guide who used his pay to take more classes, learn more English, and save for college.
His initial goal was to become an English teacher in Hangzhou, as the demand for learning the language from the Chinese locals expanded at a significant pace in the 1970s and 80s. After some fits and starts, Ma graduated from the Hangzhou Teacher's Institute and found work right away as an English teacher, a position that didn't last long as Ma set his sights on higher business goals.
In short order, Ma applied for a job as a manager at Kentucky Fried Chicken, which was expanding into China. Despite the availability of 23 management positions for 24 candidates, Ma didn't get the job.
He then set his sights on Harvard University, where he applied 10 times for admission to the prestigious Ivy League school. Each time, he received a rejection letter.
But fate has a way of intervening and while Jack Ma was traveling in the U.S. with an eye on Harvard, he began experimenting with the emerging internet and noticed the lack of a presence for Chinese-based companies, technologies and online commerce platforms.
Soon Ma opened his first company, Haibo Translation Agency, but his interest in the internet never waned. He decided to create a website that focused on China businesses and opportunities, and found that multiple investors from his home country were interested in the venture and wanted to become partners.
Intrigued, Ma opened his second company, called China Pages, registering the internet domain name in the U.S. Business grew and within three years the company was worth almost $1 million.
That was all Ma needed to know about the power and potential of the internet and in 1999, he opened Alibaba in his home city of Hangzhou. With Alibaba, Ma began pushing the concept of a China-based business-to-business online platform that connected buyers and sellers of all kinds of products and services, and soon was rewarded with a venture funding injection of $35 million.
Ma and Alibaba never looked back and by 2014, the company was worth $25 billion, as a result of the largest initial public offering in Wall Street History.
Alibaba grew in size and scope, and by 2018 had become the premiere online market place in China. The same year, Jack Ma announced he would retire in September, 2019, and be succeeded by Daniel Zhang, now the current chief executive officer at Alibaba.
Just how big is Alibaba as Jack Ma leaves the company this year? Put it this way: China's Singles Day has surpassed Black Friday as the world's biggest shopping day of the year, spurred higher by the impact Ma's company has had on the burgeoning Chinese economy.
Public and Private Investments
Jack Ma also blended a series of public and private investments into his wealth accumulation strategy.
In 2010, he established his own venture capital company, called Yunfeng Capital, with four partners. That gave Ma and his partners, known as the "Zhejiang Five" after their native province, the ability to focus his investments on exactly where he wanted them to be - on Chinese companies.
The firm quickly began seeding young, up-and-coming companies, especially in the healthcare, insurance, technology, and clean energy sectors, where Ma saw the most potential.
Ma also began making private investments through holding companies and private equity fund groups, mainly in commercial and residential real estate properties in Asia and Europe, along with select investments in private companies through Ma's Hangzhou Yunxi Investment Group (he owns 99% of the company.)
Ma also steered some of his ample capital into the Chinese entertainment sector, a favorite target, given Ma's personal propensity for music and film. One partnership, with Huayi Brothers, a theatrical film producer, gave Ma access to dozens of mainland film releases that he could profit from over the five-year timetable of the deal.
How Does Jack Ma Spend His Money?
One reason Jack Ma called it quits was that he said he wanted to spend more time on his charitable passion - the Jack Ma Foundation.
It's there where Ma spends most of his money. The foundation's charter is to beef up education, the environment and public health across the globe, a process that's well underway.
For example, the Jack Ma Foundation launched the Netpreneur charity that provides a charitable grant of $1 million to 10 different African entrepreneurs, so they can pursue the same dreams Jack Ma did. The Foundation has also set aside $14.6 million for educational needs in Tibet, and Alibaba's own foundation paid for the erection of over 1,000 new homes in Nepal after a devastating earthquake.
Ma does send some time and money on one of his favorite pastimes - performing live as a musician and entertainer. For Alibaba's 18th birthday celebration, Jack Ma rocked the house in a tribute to Michael Jackson. Ma also funded his own kung-fu movie, where he appeared as himself along with a host of celebrities, including Jet Li and Donnie Yen.
Jack Ma is also well known for his personal extravagance, especially when it comes to his time with Alibaba.
To celebrate his retirement from the company he founded, he held a huge "going away" party at a 60,000 seat soccer stadium.
Additionally, every year on "Ali Day," Ma presides over a mass marriage ceremony of over 100 couples who work for Alibaba. The ceremony doesn't give the marriages a "legal" stamp - it's just Ma's way of confirming the weddings of his employees and allows him to encourage the couples to be prosperous, have lots of kids, and live the Alibaba way.
No doubt, Jack Ma is a multi-faceted individual, and with Alibaba, he's left his personal stamp on the corporate landscape, while making tens of billions of dollars that he's taking with him as he departs from the business stage - for now.
It's never too late - or too early - to plan and invest for the retirement you deserve. Get more information and a free trial subscription toTheStreet's Retirement Dailyto learn more about saving for and living in retirement. Got questions about money, retirement and/or investments? EmailRobert.Powell@TheStreet.com.