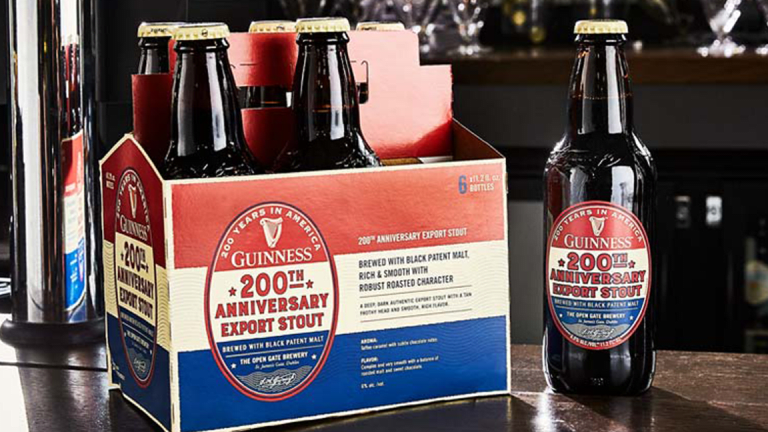 Irish Beers Worth Trying For St. Patrick's Day
Guinness gets all the publicity around Saint Patrick's Day, but Ireland's growing craft beer industry has a lot to offer as well.
Guinness gets all the publicity around Saint Patrick's Day, but Ireland's growing craft beer industry has a lot to offer as well.
St. Patrick's Day is a celebration of all things Irish, which makes it odd that only one Irish beer typically lays claim to the holiday
While walking through the Guinness brewery at St. James Gate in Dublin in October, it was easy to see why Guinness grabs much of the spotlight at U.S. pubs around St. Patrick's Day. A chat with Guinness archivist Eibhlin Colgan during the 200th anniversary of Guinness' first export to the U.S. made clear that migration in the early 1800s and throughout Ireland's Great Famine from 1845 to 1852 helped Guinness establish a strong foothold here in the U.S.
Though Diageo (DEO) - Get Report -owned Guinness still has the largest presence of any Irish brewer here in the U.S. -- selling more than 2.2 million barrels here, according to Beer Marketer's Insights -- there's a lot more to Irish beer than just that brewery. According to the Irish Brewers Association, Ireland is the 33rd largest beer producer in the world and is the 12th largest in the European Union. It brews 2% of Europe's beer despite hosting only 0.8% of its population.
It also brews much bigger than its weight as well. Despite having a population of fewer than 6.4 million, Ireland brews nearly 7 million barrels of beer each year. That's more than a barrel for every man, woman and child in Ireland. Demand isn't quite that great in Ireland, but it's still substantial: Every Irish adult drinks 24 gallons of beer per year, on average, with 70% of that beer made in Ireland itself.
It's also made by an increasingly diverse group of brewers. After watching Guinness and spirits company Grand Metropolitan merge into Diageo in 1997, and Dutch multinational brewer Heineken, which had already purchased the Cork-based Murphy's Brewery in 1983, and Danish brewer Carlsberg pick up Scotland-based Scottish & Newcastle and its Cork-based Beamish and Crawford brewery in 2008, the Irish slowly began to put together a thriving craft beer industry.
Those craft breweries have multiplied from 12 in 2012 to 72 last year, according to Bord Bía (The Irish Food Board). That is fewer breweries than exist in the cities of Chicago and San Diego (more than 100 apiece) and roughly equal to the number of breweries in Portland, Ore., but Ireland's craft breweries produced more than 150,000 barrels of beer last year. They also exported about 22% of that total.
So why restrict a taste of Irish beer on St. Patrick's Day or any other day to any one Irish beer? There is no "official beer of St. Patrick's Day." Even if St. Patrick's Day did have an official beer, it's not what Guinness might like you to believe. As much as beer drinkers may love what the nitrogenated dry stout has done for Irish-style pubs and low-alcohol drinking sessions, it makes up less than 1% of the U.S. beer market and is about a third of the beer drunk in Ireland after Ireland's "Celtic Tiger" economy of the mid-'90s and early 2000s made lager a (now waning) status symbol.
When you go to pubs like O'Neill's in Dublin, Tigh Neachtain in Galway or even the modest Tigh Joe Wattys on the Aran Islands, you now see several Irish craft beer and cider brands on the taps beside Guinness, Heineken and Carlsberg. We're going to feature just 10 of them here, including one from Guinness that isn't the one you'll see most on Saint Patrick's Day.
O'Hara's Stout
Carlow Brewing, Carlow
The citizens of the town of Carlow in Ireland's Barrow Valley malt region have been brewing beer since the 1800s, but it took a craft brewery to get them back into practice.
Founded in 1996 just as overseas companies set their sights on big Irish breweries, O'Hara's had to do a lot of its own promotion, grow through word of mouth and export its beer to willing markets. It made its way to the U.S. in 2001 and set roots in Irish-expat and Irish-American strongholds like New York, Boston and Philadelphia. It also produced a 4.3% alcohol-by-volume (ABV) Irish stout that lacks the bitterness of the style, but is creamy and rich in espresso flavor. Talking with founder Seamus O'Hara a couple of years ago, we found that O'Hara's secret to bringing a new Irish stout to a niche already dominated by Guinness was to avoid Guinness altogether.
"We automatically, I suppose, as an Irish brewery with a stout, are compared to Guinness, but we don't really go out there going after Guinness accounts or even to compare our products," O'Hara said. "We tended to look for beer bars, generally, and we've found that they have lots of appreciation for the products."
Irish Pale Ale
Galway Hooker Brewing, Oranmore
At the Tigh Coili pub in Galway, U.S. and British tourists still get a laugh out of telling the bartender to "get me a Galway Hooker." It's a nominal joke the first time, but when you're sitting at the bar and someone says it eight times, it's torture.
Fortunately, the beer itself isn't nearly as grating. At a mild 4.3% ABV, which isn't unusual for Irish craft beer, this pale ale is a bit citrusy with a dry finish and performs in a way that a traditional stout just can't. For example, stout with a plate of oysters or mussels at any of the seafood restaurants along Galway Bay is a divine experience. But stout with just about any other shellfish or fish? It doesn't work as well as this crisp pale ale that would be well-received in the states, but is perfectly at home along Ireland's west coast.
Oyster Stout
The Porterhouse Brewing Company, Dublin
Since 1989, Porterhouse Brewing has been spreading some of the craft beer spirit around Guinness' backyard by fooling around with Belgian recipes and tweaking beloved Irish styles. Porterhouse has since expanded to brewery and four brewpubs in Ireland, another brewpub in London and yet another at the New York pub -- Fraunces Tavern -- where George Washington had a few beers with his officers to celebrate their victory over the British.
For its 4.6% Oyster Stout that we had the pleasure to taste both in New York and at the Temple Bar location in Dublin, it, the Porterhouse uses oysters shucked right into the tank to sweeten things up a bit and filter out some of the alcohol bite.
Heatsink
Metalman Brewing Company, Waterford
Born in 2011, Metalman Brewing is named after navigational aids -- quite literally metal men -- strewn along the Waterford coast in Ireland's sunny southeast. We found their Heatsink porter on a cask, and the slightly warmer pour allowed the coffee, chocolate and even spicy Cayenne pepper notes to come through. During dreary, slate-gray October days in Ireland, this 5% ABV beer provided some lovely inner warmth.
Rebel Red
Franciscan Well, Cork City
This used to be impossible to find in the U.S., but it's since made some friends in high places.
This craft brewery in Cork City, Country Cork, has been around since 1998 and is built on the site of a Franciscan monastery and well dating back to 1219. Known for producing stout aged in Jameson Irish Whiskey barrels, Franciscan Well also takes it the other way with a mild red that sits at a manageable 4.3% ABV. Middle Fuggle and East Kent Goulding hops keep the aroma and flavor at bay, while the malt makes its as smooth a drink as its style implies.
MolsonCoors (TAP) - Get Report snatched up the brewery and its brands in 2013, which means it makes the occasional cameo here in the U.S.
The Full Irish Single Malt IPA
Eight Degrees Brewing, Mitchlestown
We don't mean to dwell on County Cork, but this Mitchelstown brewery bears mentioning.
Founded by a New Zealander and an Australian in 2010, Eight Degrees found its inspiration in Washington State and the U.S. craft beer scene. While it applied that U.S. craft ethic to traditional Irish styles like stout and red ale, the best example of its efforts is this 6% ABV India Pale Ale. Stocked with familiar U.S. West Coast hops like Amarillo, Centennial and Citra, this beer uses all Irish malt to provide a pale color and mild backbone to those hops' tropical fruit and citrus flavors.
It may not be what Americans think of when they think of Irish beer, but it's certainly representative of what Irish brewers are doing now.
Remix India Pale Lager
Trouble Brewing, Kill, County Kildare
If you snuck into a U.S. brewery like Stone, swabbed a bit of DNA from its walls and tanks and cloned it in Ireland, you'd have Trouble Brewing.
From the brash marketing (including a bomb logo, jabs at foreign ownership and hatred of fluoridated water) to the constant rotation of small-batch styles, Trouble Brewing has followed the U.S. craft beer template to the letter since opening in 2010. However, this County Kildare brewer's strength lies in the mildness beneath all of that bombast. Its core lineup of beers never exceeds 5.5% ABV, which would make it fairly low-octane by U.S. standards. However, this 4.9% ABV take on a German lager that squeezes tropical fruit flavors out of Australian Summer and U.S. Mosaic hops is both inspired and easy drinking.
Rustbucket Rye Ale
Kinnegar Brewing Company, Letterkenny
Formerly located near Kinnegar Beach and surrounded by sheep pasture in County Donegal, this young brewer just upsized to a larger brewing facility last year. Though its beers aren't made on farmland anymore, the brewery still sticks to farmhouse styles more common in Belgium. This 5.1% ABV blend of rye and barley malts and citrusy hops has the spice of a true farmhouse ale, but a mildness more suited to Irish pub sessions.
Helvick Gold Irish Blonde Ale
Dungarvan Brewing Company, Dungarvan
Another Waterford brewer, Dungarvan, first appeared in 2010 and went right for the traditional Irish styles with its Black Rock Irish Stout and Copper Coast Irish Red. That's fine, but there are no shortage of either style in Ireland. An easy-drinking, warm-weather blonde ale with less than 5% ABV is a little tougher to find. While there are some U.S. Cascade hops in the mix, the English hops keep it mild enough to enjoy when it gets slightly warmer than stout or red ale weather. 
200th Anniversary Export Stout
Guinness, Dublin
Launched in November, this stout brewed in Dublin is the best approximation of the Guinness stout that founder Arthur Guinness' son, Benjamin, brewed in 1817 with the brewery's roasted black patent malt. That's the malt now used in the flagship Guinness Draught, but this formulation pours dark red instead of Guinness black. It also has less of the flagship Guinness' coffee bitterness and more of the malt's chocolate notes. Finally, it also lacks the nitrogen bubbles of draught, which means no frothy, milky head and no place for the mellow flavor to hide. At 6% ABV, its a stiffer drink than its counterpart. That said, it's also worth having either for comparison or to get a sense of what Guinness tasted like in U.S. pubs long before they saw Saint Patrick's Day and Irish heritage as marketing tools.
This article is commentary by an independent contributor. At the time of publication, the author held no positions in the stocks mentioned.