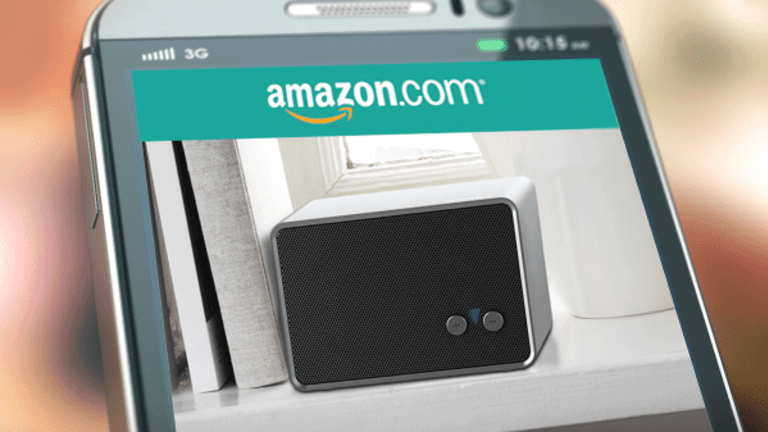 Being the Millennial I am, now that I can listen or watch whatever I want on my mobile devices, they obviously need to be louder. Just because we're looking at smaller screens doesn't mean we want smaller sound.
Recently, I got a chance to try out the AUKEY Bluetooth speaker and was pleasantly surprised. It may not be the best speaker in the world, but its affordability makes it a great value. 
Price:
At $14.99 on Amazon, it's a good fit for most budgets (I can almost afford it).
Packaging
It lacks the bells and whistles of other brands, but it comes in pretty hassle-free eco-friendly packaging. So I suppose it's nice to listen to a tune or two without the guilt of contributing to an impending ecological disaster.
Look
Calling the AUKEY a mini speaker is certainly honest. At under half a pound, it's extremely light, making it the perfect portable sound system. Despite the small size, it does have an inkling of style. Its basic streamlined look is slightly reminiscent of a 1960s style radio, minus the dials, antenna and radio aspects.
The on switch on the back is a little old-fashioned, but it gets the job done, with a blue LED light flashing when a device is connected and playing.
The one clear fault is the absence of more advanced audio control buttons. From the AUKEY, you can only adjust the volume. Though you're perfectly capable of doing it from your device, a backup would be nice for those terrifying moments when your phone ends up on the other side of the room.
Sound
It certainly isn't movie theater quality, but the single three watt cone speaker easily amplifies the standard iPhone or iPad with surprisingly clear sound. I used it when running on the treadmill in my girlfriend's parents' basement (as one does), and I could hear Netflix clearly over the sound of my screaming.
As for the tunes, though the AUKEY certainly isn't "all about that bass," it delivers clear sound with only occasional crackles compared to devices of a similar price. 
Battery Life
Although the charger is extremely short and doesn't include an outlet plug (a common pet peeve of mine), it gets the job done. The blue LED light will flash red when the device is charging and turn off when it is fully charged. 
The battery lasted about a week of occasional use, letting out a piercing ring when it was in the final stages of life. After draining the battery down to E, like my gas tank, it took about an hour and a half to get back to full charge, which isn't terrible, given I'm extremely impatient. 
Connectivity
On my first use, it was extremely easy to connect my iPad to the Bluetooth. I took more issue when connecting my iPhone (partially due to my refusal to read directions), but upon turning my iPad's Bluetooth off, it was pretty simple to get the Hamilton soundtrack blasting.
I was also pleasantly surprised with the Bluetooth connection. The speaker continued to play tunes, even when I headed into my basement, leaving my phone on the first floor, proving more effective than my Bluetooth headphones.
As an added bonus, if you're still rocking a non-Bluetooth device, you and the other cavemen aren't excluded. You can plug into the speaker with an included micro USB to 3.5mm audio cable.
Overall, I thoroughly enjoyed the AUKEY. It probably won't be my speaker of choice, but for the price, it really does make a great companion for a workout, the office or even a shower.
But don't take my word for it; try it yourself. Get it here.
Disclosure: TheStreet has advertisers and partnerships; we may get a share of the revenue from your purchase.