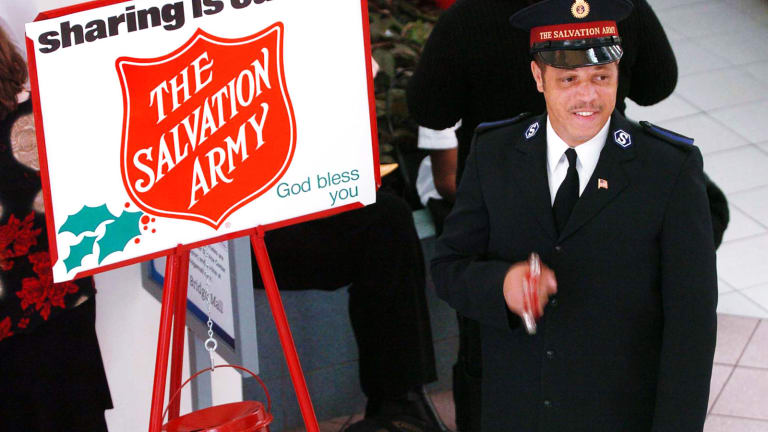 How to Get Your Holiday Charity Donation Into the Right Hands
Lots of charities are lining up for your donation this holiday season, but they aren't all equally charitable. Here's how to separate the good from the grinches.
Holiday charity is valuable -- but only if your money reaches those it helps.
Simply making a donation still has benefits for those doing the giving. Before Dec. 31, donors have the opportunity to itemize their gifts before the recent change in tax law takes effect:There's no capital gains on appreciated stock, and you'll be able to deduct the stock's market value on 2017 taxes.
But be sure to pay attention to the charity's numbers, too.  
Crowdfunding service Patreon backed off announced plans to tack a surcharge onto every donation after a huge public outcry, and earlier this month, Comedian Steve Harvey, Congresswoman Corrine Brown (D-FL), and former National Basketball Association player Kermit Washington were connected to charity scams this year, while charity fraud related to this year's string of Gulf Coast hurricanes has been astonishingly prolific.
How can you know if a charity is legitimate, and that most of the money it collect actually goes to those it says it helps?
Do your own due diligence, says Friedman LLP partner Amish Mehta. The real issue is "a lack of oversight by donors. They haven't done their homework and their due diligence."
There are several steps to take:
Begin with the charity's Form 990, which all registered charities must file with the Internal Revenue Service.
Focus on the charity's administrative and operating costs (the cost of salaries, events, fundraising, etc.). The New York State Attorney General's office considers administrative and operating costs of 35% or less ideal, but Mehta recommends 30%, or even 20%, as a guideline.
Then "look at efficiency, effectiveness and innovation," says Rebecca Pavese, a certified public accountant, financial planner and portfolio manager with Palisades Hudson Financial Group in Atlanta. "Letting raw emotion drive your charitable giving can lead you to be less effective or even counterproductive."
For that information, turn to the sites that track charities and comb through their Form 990 reports which all registered charities are required to file with the IRS.
Good sources are Philanthropic Research Inc. (now known as GuideStar), which offers data on 2.5 million IRS-recognized nonprofits; Charity Navigator, which uses GuideStar data and also information from 1.6 million nonprofits to evaluate charities; and The Clear Fund (also known as GiveWell) and GlobalGiving, which help charities and crowdfunding efforts.
Donors tend to gravitate toward big-name charitable organizations like UNICEF or the Red Cross, says Pavese, without asking some fairly simple questions:
How well does the organization manage the donations it receives?
How well does does the organization address the issue it combat?
How does the organization compare with other organizations working on similiar issues?
If you're checking into a charity you've never heard of or have doubts about, a charity's biggest red flags are either not registering as a 501(c)3 tax-exempt institution, or having that designation revoked. Contacting the IRS and performing simple online searches can reveal that information.
Also check on an organization you've heard of, to see how it rates.
And finally, check for any complaints with the Better Business Bureau. 
Charity Navigator gives Doctors Without Borders, The National Council of YMCAs, The Rotary Foundation of Rotary International and Direct Relief within its Top 10, with the latter two getting perfect scores for bringing donations to where they are most needed, but ranks the American Red Cross and World Vision much lower, at 83 and 80, respectively.
Some little known organizations (Amigos For Christ, Navy SEAL Foundation, Last Chance For Animals) receive an impressive 100 rating, while obscure "charities" (the Disabled Police and Sheriff's Foundation, Cancer Survivor Fund and The Association for Firefighters and Paramedics) dedicate 80% to 90% of their budget to fundraising, while reserving less than 9% for the causes they claim to support.
A survey by Fidelity Charitable found that most (81%) of those surveyed had concerns about the impact of their donation, and two out of every three in that group (65%) would give more, they said, if they knew their money would find way into the right hands.
Thoroughly vetting a charity can help make whatever amount you donate go further, says Mehta. 
Diversifying your donations as you do an investment portfolio is another smart step. Giving to a handful of charities instead of one or two offers some protection, says Mehta, if one charity turns out to be a fraud or changes its mission. 
"There are many ways that people can create 'found money' for giving in their budgets," adds Matt Nash, senior vice president of donor engagement at Fidelity Charitable. How? Take advantage of the full tax benefits of giving or establish automated, reoccurring gifts.
More of What's Trending on TheStreet:
This article is commentary by an independent contributor. At the time of publication, the author held no positions in the stocks mentioned.