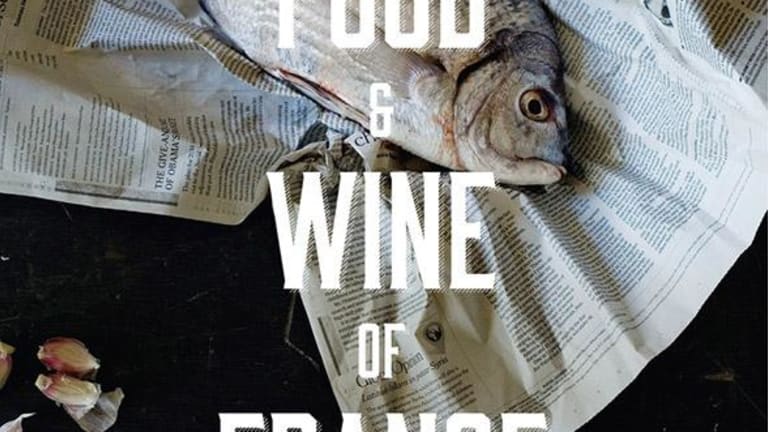 How to Find the Perfect Croissant in Paris
In his book 'The Food and Wine of France: Eating and Drinking from Champagne to Provence,' Edward Behr goes on a quest to evaluate French cuisine.
A dozen years ago, Edward Behr writes in his new book The Food and Wine of France: Eating and Drinking from Champagne to Provence, he visited almost 20 Paris bakeries in search of good croissants. He went to places any self-respecting foodie would have heard of - Pierre Hermé, Eric Kayser, Ladurée - but also spots like Le Palais d'Or, a small, unheralded shop on a non-descript street in the city's outer reaches.  
There, Behr purchases a croissant with "a brown surface, a rich butteriness, and an optimal balance of textures," a piece of handiwork that inspires him to invite himself to spending a morning watching owner Michel Gerstenmeyer ply his craft. The baker describes how he makes his dough and tells Behr details such as the provenance of the substance of the stone counter where he rolls out his dough (Comblanchien limestone from Burgundy) and of the apples in his chaussons, or fruit-filled croissants (a farmer in Chateau-Thierry, northwest of Paris). 
Gerstenmeyer makes "perfect croissants," Behr writes, ones whose "outermost leaves are shattering arcs, as thin as the thinnest paper. You take a bite and then you see in the cross section the distinct rolled outer layers disappear into the larger quantity of soft, bubbled, fairly elastic insides, although you can trace curves to the very center."
Behr's eight-page essay on croissants, one of 32 in the book, is as quietly extraordinary as the food it describes, as one would expect from perhaps the best food writer in America. Many of the pieces in The Food and Wine of France first appeared inThe Art of Eating, the food and wine magazine that Behr has edited and written for since 1986, and they reflect his longtime engagement with his subject. As the great French chef Paul Bocuse tells him, "Simple is not the same as easy," and Behr seeks out artisans like Gerstenmeyer al over France.   
Behr has a particular affinity for bread, cheese, and wine, the holy trinity of French cuisine, and he is particular attuned to the complexities of baking, the subject of several of the book's best chapters. His technical knowledge is matched by a visceral appreciation of food on full display in his description of his first taste of Banon, a goat's milk cheese from Provence: "It had no precedent in my memory. The flavors were part of the otherness one seeks in traveling. They challenged a little. They were pleasing without being immediately, fully likable. The taste was earthy, rich, sensual. I've had Banon often enough since then to have grown to have a complete liking and even affection for it."
The flip side of encomium is lament, and Behr often mourns the decline of the cuisine he celebrates. At the high end of French gastronomy, he cites Alain Passard's shrewd observation that the young chefs who cook in his kitchen are "formed by the cuisine of Arpege," Passard's avant-garde restaurant in Paris, and not by what they grew up eating, the way chefs of a prior generation would have been. 
At the low end, Behr dismisses the "overlight, little-flavored, quickly staling modern bread" that many French now consume. It's a fair critique, and an exceptionally concise and well-written one, but Behr never takes the next step to ask how French food, and France, have changed in recent decades - a curious oversight, given the centrality of debates over French identity to the country's politics and, more humbly, the ubiquity of Vietnamese, Moroccan and West African restaurants in cities all over France. How would he write about a great tagine or bahn mi, French foods in the same way pizza and tacos are American foods?
But as Behr writes in his introduction, the flood of information about all aspects of food overwhelms chefs, writers and consumers alike. He's spent 30 years learning all he can about traditional French cuisine, and his essays are a worthy tribute to it.