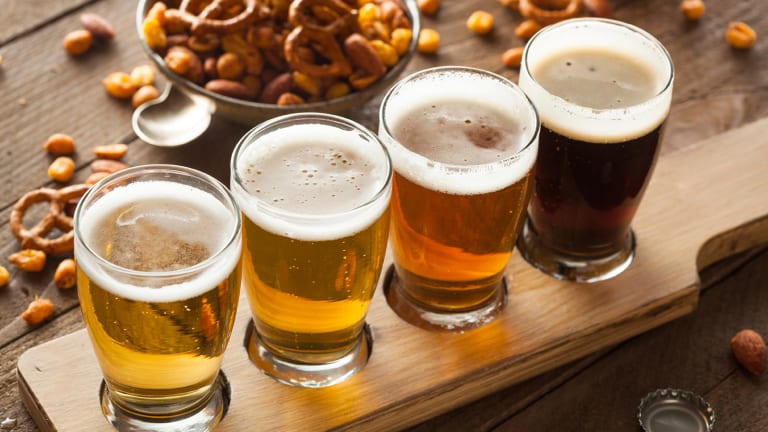 How to Bring Great Beer to the Holiday Party or Dinner
Picking the right beer around the holiday season is a challenge, even when tastes haven't shifted to cocktails or wine. Here's how to do it without looking like a cheapskate or a snob.
Picking the right beer around the holiday season is a challenge, even when tastes haven't shifted to cocktails or wine. Here's how to do it without looking like a cheapskate or a snob.
With roughly 6,000 breweries in the U.S., there's nothing simple about a holiday beer run.
Sales at some of the largest craft brewers -- including Boston Beer Company (SAM) - Get Report and its Samuel Adams brand, Sierra Nevada, Yuengling, Craft Brew Alliance (particularly its Redhook and Widmer Brothers brands) and Dogfish Head -- have stagnated or slumped since the start of 2016. Mexican lager brands, on the other hand, including Heineken's Dos Equis and Constellation Brands' (STZ) - Get Report Corona and Modelo, have seen big gains in recent years, with gains ranging from 6% for Corona and Dos Equis in 2016 to 18% for Modelo during the same span.
So how do you bring beer to a party, when fewer people are drinking beer? If you're afraid the snobs will sniff at your cans of light lager, but more laid-back drinkers will shun costlier, more-experimental offerings, there are ways to split the difference.
Chris O'Leary, a Brooklyn-based marketer and beer writer who edits the beer blog Brew York, finds fertile middle ground among craft beer's more established breweries. Nearby Brooklyn Brewery (founded in 1987), Boston's Harpoon Brewery (1986) and Downingtown, Pa.-based Victory Brewing (1996) have long track records and rank among the Top 40 craft breweries in the country by size, according to Beer Marketer's Insights. All also all cost about $35 for a case, just below the industry average of $36, according to market research firm IRI.
"(Such a choice is) familiar enough to be approachable for the occasional craft drinkers and of good enough quality to appease the snobs," O'Leary says. "The price is pretty nice, so I usually spring for two six-packs: one that's on the 'hoppy' side (like Harpoon IPA), and one that's more approachable (like Victory Prima Pils)."
But craft beer brands, even those owned by larger brewers, also deploy a secret weapon around holiday party season: Variety packs. William Helzlsour, the Lancaster, Pa.-based host of the It's Friday Somewhere beer podcast, notes that those cases can cater to a broad array of tastes at a somewhat reduced cost. He's gone with the Anthology mixed pack from Troegs Brewing in Hershey, Pa. ($20 for a 12-pack at the Total Wine outlet in nearby Claymont, Del.) and Dogfish Head's IPA For The Holidays ($21.99 for 12), because both are economical and inoffensive.
"I feel like having variety of beers available makes value proposition higher for those types of beers," he says. "It also saves me from buying a bunch of different six-packs."
The key, in any situation, is to read the room before shopping. Carla Jean Lauter, a beer writer from Portland, Maine, notes that when she's going to a party in mixed beer company, she uses a two-pronged approach to gauging people's interests:
Find a variety of local "winter seasonals" like spiced, alcohol-heavy winter warmers or chocolate-and-coffee porters and stouts.
Bring favorites, and also one bottle that everyone will talk about; nothing super-special or rare: Just interesting.
"Maybe a beer brewed with peppermint or cranberries or some other seasonally-appropriate adjunct, or even beer with a funny holiday-themed name or label might do the trick," Lauter says. "If your choice is about making sure that anyone might be interested to try -- and enjoy -- the beer, rather than bragging about how difficult it was to get, that's the better way to go."
But what if you aren't bragging? What if you just want to bring a beer that you'll enjoy, which happens to be from another country and isn't available at the local supermarket? Well, there ways of doing that without making a big production of it. Jeff Alworth, beer blogger and author of "The Beer Bible" and "The Secrets of Master Brewers," notes that Belgian brewers have long made Biéres de Nöel that are, essentially, stronger and more-flavorful versions of year-round beers. Brands including St. Feuillien, Delirium and Scaldis are easier to find and, at $12 to $20 per 750-milliliter bottle (according to Total Wine), are priced like lower-end bottles of wine.
"They're unusual to most people, but because it's the holiday, they're expecting something unusual and Christmas-y," he says. "These beers are usually (delicately) spiced, sweet, and boozy -- pretty much what the average person generally equates with the season. They're a little spendier than the average beer, but they make an impressive offering and one that usually impresses people."
It's that latter portion of Alworth's argument that makes this such a wonderful time of year for beer: You don't have to spend all that much to make a big impression.
Chris Quinn, owner of The Beer Temple bottle shop and taproom in Chicago and host of The Beer Temple show on Chicago's WLPN 105.5 Lumpen Radio, favors one beer in particular for special holiday occasions: Dupont Avec Les Bon Voux. It's a bubbly Belgian saison, or farmhouse-style, beer that's growing in popularity here in the U.S. (sales have grown from $1.7 million in 2012 to $2.3 million in 2016, according to beer consulting firm Bump Williams). It comes in 750-millimeter, wine-style bottles, has an inoffensive citrus-and-spice flavor, and, at $11 (by Total Wine's pricing), it's a Santa-sized beer at Scrooge prices.
"Originally brewed as a special New Year's Eve beer for their best patrons, at almost 10% alcohol this is sometimes called a "super saison. The beer is just so versatile. It's full of flavor and easily enjoyed by beer geeks and neophytes alike."
More of What's Trending on TheStreet:
This article is commentary by an independent contributor. At the time of publication, the author held no positions in the stocks mentioned.