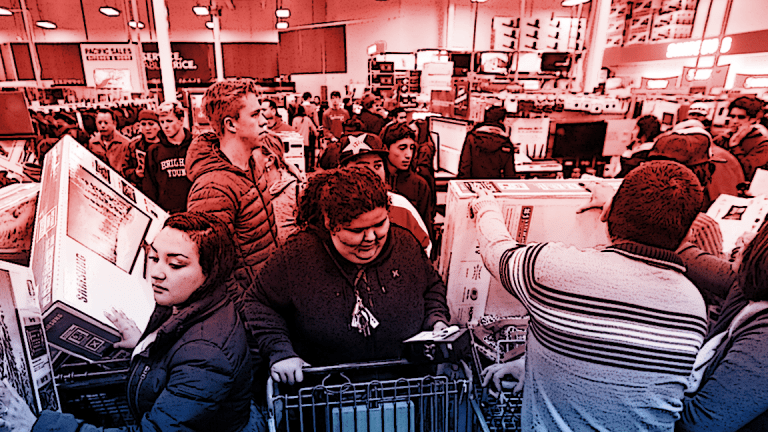 How to Avoid Getting Punched in the Face on Black Friday
Black Friday violence is still frightening for those seeking deals, but both store pickup policies and online options offer great ways to avoid it. (Still, people die fighting tooth and nail for the perfect gifts. Yes, shoppers stab each other in the back, quite literally.)
Black Friday violence is still frightening for those seeking deals, but both store pickup policies and online options offer great ways to avoid it. (Still, people die fighting tooth and nail for the perfect gifts. Yes, shoppers stab each other in the back, quite literally.)
Black Friday shopping doesn't result in as many black eyes as it used to, but that doesn't mean chasing after its deals isn't dangerous.
According to the site Black Friday Death Count, three people were killed and seven people were injured during last year's Black Friday shopping alone. Shootings in New Jersey, Nevada and Texas brought the 2016 Black Friday death toll level with that of the previous-worst Black Friday in 2008, when a Walmart worker was trampled to death in Long Island and a fight between shoppers in California led to two men shooting each other to death.
Yet the seven injured during last year's Black Friday shopping was far fewer than the 46 people hurt on Black Friday in 2011. That doesn't security measures and shoppers themselves improving. Instead, it may mean that fewer people are heading out to stores on Black Friday -- leaving doorbuster sales to more hardened and desperate consumers.
The folks at analytics site Reviews.org, realizing the gravity of the situation, compared states' crime data from the Federal Bureau of Investigations with Google search interest in Black Friday to determine the riskiest states for Black Friday violence. Shoppers in Tennessee, Arkansas, Alabama, Louisiana and Nevada have the most reason to be nervous, while the Midwest, Pacific Northwest and New England seem like fairly safe bets.
However, they also note that 57.1% of Black Friday incidents within the last decade have taken place at Walmart (WMT) - Get Report stores, with malls coming in a distant second at 17.9%. If you are involved in Black Friday violence, however, it's likely going to be ugly. Roughly 30% of all Black Friday incidents involve trampling, while another 26.7% involve shootings. Throw in the 16.7% of incidents that involve car crashes, and you'll be rooting for pepper spray or a simple fistfight (6.7% each).
Luke Hopkins, assistant chair of the Department of Marketing at Florida State University's College of Business and co-director of FSU's Center for Retail Innovation, notes that violence and even predictions of sluggish brick-and-mortar sales this year don't tend to deter the most determined shoppers. Hopkins notes that they see "doorbuster" deals as a finite opportunity, despite the growth of Thanksgiving day, Cyber Monday, Small Business Saturday and other retail holidays.
"The concept of scarcity is frequently used to explain why customers are willing to endure bad weather, long lines and mobs of deal seekers," he says. "Combine scarcity with the tradition of Black Friday shopping, as well as the heightened energy of the holiday season, and you begin to see why our usual rational buying behavior can quickly shift to a more primal, 'must-have' mentality."
The National Retail Federation (NRF) estimates that 164 million people will shop on Thanksgiving weekend. However, of that group, just 115 million will shop on Black Friday. By the National Retail Federation's own estimates, that's fewer than the 122 million people who shopped online on Cyber Monday last year. Though the NRF didn't say how many people chose to shop in stores or online this year, just 40% said they planned to shop in stores on Thanksgiving weekend in 2016, compared to 44% who planned to shop online. That would leave 46 million people shopping in stores on Black Friday.
"While the utility of the weekend will continue to draw shoppers into stores and online to efficiently and inexpensively check off their lists, we're also seeing consumers report tradition and the opportunity to partake in holiday cheer as reasons for shopping, too," says analyst Pam Goodfellow of Prosper Principal, which conducted the NRF's survey. "By now, people know what sort of deals they can expect to see during the weekend and are budgeting for them accordingly, and in many cases expertly."
On Black Friday, planning accordingly can mean planning your way around crowds. If the percentage of in-store shoppers holds from 2016, it would mean there are overall fewer people shopping in stores than there were just three years ago. Foot traffic at brick-and-mortar stores on Black Friday dropped 12% in 2015 from a year earlier. Last year, the number of in-store shoppers was flat.
It's hard to blame people for staying safely behind their laptop screens and smartphones on Black Friday. Back in 2009, Marine Cpl. Phillip Duggan was stabbed in the back at a Best Buy store in Augusta, Ga., by a suspected shoplifter. A 64-year-old man in Queens was killed for a Black Friday television in 2009, dozens of people were pepper sprayed by overzealous Black Friday shoppers in Los Angeles and Kinston, N.C., in 2011. When a guy in Vancouver whipping people with a belt over sneakers during an Adidas Black Friday event last year is considered a lighthearted entry in the holiday-shopping crime blotter, it's rough out there.
But it doesn't have to be. As the NRF discovered, 10% of shoppers have their holiday shopping completely finished by Black Friday weekend as retailers including Toys R Us, Marshalls (TJX) - Get Report , Target (TGT) - Get Report , Amazon (AMZN) - Get Report and others accept holiday returns of many items purchased in October or even as early as September. Another 17% don't make a dent in their lists until December.
As, a result, according to accounting firm Deloitte, even more shoppers may be avoiding Black Friday weekend altogether this year. Of those who replied to its 2017 holiday survey, 20% say they'll finish holiday shopping before Thanksgiving, while one in five shoppers will spend 23% of their holiday budget after Dec. 25. Roughly 51% of that group says they'll still be buying gifts for the current holiday season.
A whopping 53% say they don't rely on Black Friday as much as they used to, and it may be due to how we shop now. Roughly 51% of all shoppers surveyed by Deloitte say they'll be shopping online via laptop, tablet or mobile device. That outpaces the 42% who'll be shopping in-store, but is slightly less than the 59% who tell the NRF that they'll be shopping online -- making it the preferred destination over department stores (57%) and discount stores (54%).
Roughly 50% prefer shopping online to going to physical stores, compared to 36% who feel the opposite. In fact, when online shoppers do go to stores, 43% do so only because they've ordered online and are picking something up. Some 62% will do so to avoid shipping charges, while 48% do so to get their products faster. For many Black Friday sale items, that's an option that keeps shoppers out of stores in the hectic morning hours and allows them to arrive and leave quickly after things have calmed down a bit.
Black Friday and its brawls, beatings and otherwise criminal behavior may not be the only forces driving Thanksgiving weekend shoppers online, but the idea that consumers may have to die for their deals certainly doesn't help steer people into stores.
More of What's Trending on TheStreet: