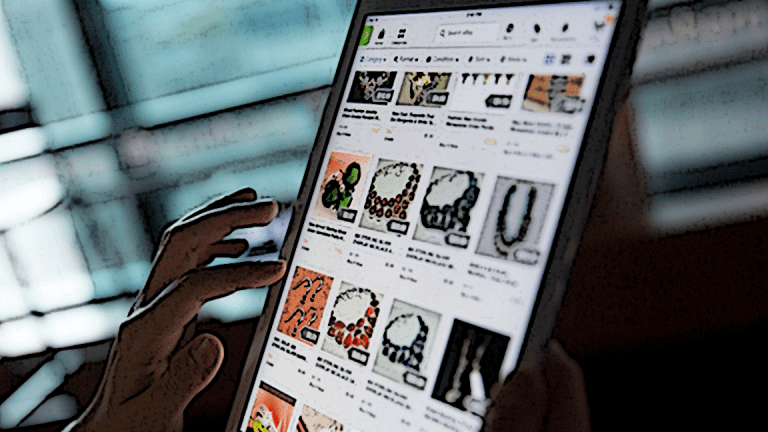 How Cyber Monday Became Much Bigger Than Black Friday
Cyber Monday was no big deal a decade ago, but the recession and shifting holiday shopping habits changed all that. Here's why you're shopping today.
Cyber Monday is the biggest holiday shopping day on the calendar, but that's a fairly recent development.
Just last year, according to ComScore, Cyber Monday raked in nearly $2.7 billion in online sales. That's more than double what people spent online on Thanksgiving ($1.3 billion), Black Friday ($1.97 billion) and both the Saturday and Sunday of Thanksgiving weekend combined ($2.5 billion). According to the National Retail Federation (NRF), more than 122 million people in the United States shopped on Cyber Monday, which outpaces the 116 million who shopped on Black Friday (including just 67.9 million online shoppers).
Cyber Monday has become such a powerful force that Cyber Monday deals on Amazon and elsewhere have spilled over into the rest of the week. That's made the Tuesday after Cyber Monday the second-largest online holiday shopping day of the year, with more than $2.2 billion spent on that day alone last year.
"On Cyber Monday, retailers deliver online discounts unlike any other day of the year—driving consumers to shop online no matter where they are or what device they're shopping from," NRF President and CEO Matthew Shay said last year. "Millions of consumers shopped over Thanksgiving weekend and reserved a portion of their budgets exclusively for Cyber Monday, knowing that there will be digital deals that are too good to pass up."
However, when Shay's National Retail Federation coined the phrase "Cyber Monday" in 2005 to describe an uptick in online spending activity on the Monday after Thanksgiving, Cyber Monday ranked a lowly eighth among online shopping days. Even the following year, Cyber Monday was a dismal 12th place among online holiday shopping days.
In the top spot that first year, and ranked well ahead of Cyber Monday for years afterward, was Green Monday. Though unnamed until eBay gave the second Monday of December that name in 2007 to signify its best shopping day of the month. That year, online sales on the newly dubbed Green Monday hit $881 million, up 33% from the same Monday a year earlier, according to ComScore. Cyber Monday brought in just $733 million that year, by ComScore's estimates.
Andrew Lipsman, senior vice president of marketing and insights at ComScore, notes that Green Monday and Cyber Monday's initial success was often credited to faster internet connections in workplaces. However, the cultural shift in the U.S. workplace in the mid-2000s likely deserves more credit.
"The first factor is simply opportunity, with many workers spending large portions of their days in front of computer screens with Internet access," he says. "It has become commonplace for people to take care of some personal tasks on their computers throughout the work day, and during the holiday season that means doing a little holiday shopping."
Those office computers also offered shoppers more privacy than they had at home, where family members' prying eyes could ruin the surprise. However, by 2008, Cyber Monday was getting a push from both market forces and a couple of powerful allies. The housing market collapse couple with the economic downturn made holiday shopping schedules less important than the deals consumers could find online. While eBay relied largely on individual sellers and a bidding process at the time and relied on Green Monday's timing for volume, Amazon could push sale prices on Cyber Monday and drive deal-minded consumers to its site.
The National Retail Association, meanwhile, saw the softness in the retail market and helped its member retailers push their own Cyber Monday deals through its CyberMonday.com site.
During the 2007 holiday season, eBay (EBAY) - Get Free Report was the No. 6 Internet property in the world, according to ComScore. Its 240.9 unique individual users was well ahead of Amazon's 187.3 million and ranked just below Wikipedia and AOL (273 million apiece). In the year that Apple released its first iPhone, eBay was the lead e-commerce site in the world and folks were more than happy to sit on it for hours bidding on items and enduring auctions.
By 2008, however, Cyber Monday had become the No. 3 online holiday shopping day, just behind Green Monday at No. 2. During the depths of the recession in 2009, Cyber Monday claimed Green Monday's No. 2 spot, while Green Monday dropped to No. 5.
Cyber Monday took the No. 1 spot in 2010 and hasn't relinquished it since. By the time December 2015 came around and "Digital Internet Properties" became "Digital Media Properties," eBay didn't even rank in the Top 10 in the U.S. Among both desktop and mobile users, it was knocked to 19th with 104 million visitors. That was behind No. 16 Walmart (111.8 million users) and way behind No. 4 Amazon (AMZN) - Get Free Report (198.7 million users). Even if you took mobile devices out of the equation, eBay ranked 11th (55.9 million users) and still trailed both Walmart (56.2 million) and Amazon (118.6).
As eBay's profile plunged, so did those of Green Monday. After peaking at $1.6 billion in 2014, Green Monday sales slumped 13% in 2015 to $1.41 billion. While ComScore notes that Green Monday fell on Dec. 8 in 2014 and jumped all the way to Dec. 14 in 2015 -- and that 2015 Green Monday sales were actually up 32% from December 15, 2014 -- that comparison isn't valid. Green Monday is the second Monday of December, and December 15, 2014 was the third Monday of the month that year. Green Monday fell to the No. 5 shopping day of 2015, and has been mired there since.
Last year, Green Monday bounced back to $1.62 billion, but the damage had already been done. Cyber Monday and Cyber Tuesday made $4.9 billion combined, Black Friday closed in on $2 billion and shoppers concerned with free shipping spent $1.7 billion on the Friday before Green Monday instead of gambling an extra three days. Cyber Monday is now such a monster that the $1 billion in revenue it produced via sales through mobile devices alone was more than the $967 million generated on Free Shipping Day (Dec. 16) last year.
By seizing on consumers' financial fears and funneling deals and discounts their way on Cyber Monday, retailers made online shopping synonymous with frugal shopping. According to accounting firm Deloitte, 50% of this year's holiday shoppers now say they prefer online shopping to brick-and-mortar, with just 36% saying the opposite. Roughly 55% of shoppers tell Deloitte they'll be shopping online this year, with 44% going to discount stores and 28% going to department stores.
"Cyber Monday deals have become something that smart shoppers rely on," said Prosper Insights principal analyst Pam Goodfellow. "Consumers wake up early ready to shop at their favorite retailers for the items they've had their eye on all season."
Now here's how you can stay on budget this holiday season:
TheStreet's "Black Friday and Holiday Shopping Survival Guide" series aims to help you, the consumer and the investor, navigate the holiday season, Black Friday, Cyber Monday and everything in between. Through a number stories, videos, graphics and other multimedia elements TheStreet takes a look at the biggest challenges of the season, the winners and losers from the shifting retail environment and much more.Read More about navigating the holiday season.
More of What's Trending on TheStreet: