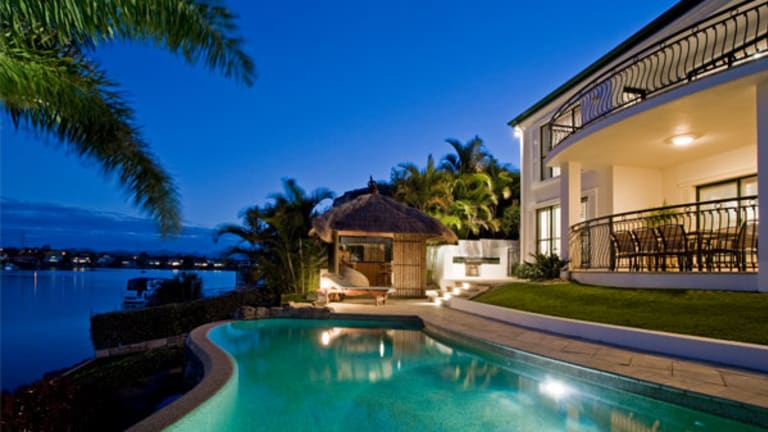 Home Exchanges Mean Free Stays in Luxury
Hollywood puts the spotlight on a website and wins a new generation of house swappers.
BEVERLY HILLS, Calif. (MainStreet) -- It's called a home exchange or house swap, and if you've never heard of it you might be missing out on one of the most affordable ways to travel the world in style -- and never pay for a single night's stay.
Home exchanges' surge in popularity can be traced back to the 2006 Nancy Myers film
The Holiday
, in which Kate Winslet swaps out her charmingly sensible English cottage for Cameron Diaz's impeccably decorated mansion in Los Angeles. The stars used the website
, catapulting the company into the travel lexicon and winning a new generation of house swappers.
A new generation of house swappers is using the Web to find luxury stays around the globe.
HomeExchange.com describes its business simply as "You stay in my house and I stay in yours." The company facilitates two kinds of exchanges, including a traditional home exchange in which one property is swapped with another at an agreed-upon time, and a hospitality exchange in which stays are a bit more flexible given that you're hosted by owners in their own home. While there's no shortage of competition, the company is one of the largest in the market, with more than 250,000 home exchanges per year in destinations as diverse as Madagascar and Manhattan.
To begin, potential swappers join on a quarterly or annual basis with HomeExchange.com at rates of $9.95 per month for a year or $15.95 for three months. Listings aren't limited to single-family homes, instead offering a mix of apartments and condos as well as the occasional yachts and even RVs. Listings are grouped geographically with photos taken by owners and information on owners' background, the neighborhood, preferred booking schedules -- with preferred swap destinations noted by owners -- and such things as whether smoking or pets are allowed.
On a look through potential stays in Palm Springs, a popular resort destination, we found search results plentiful -- more than 25 pages of listings, with numerous large photos that made it easy to get a feel for the homes. There's no way to sort by neighborhood, though. The quality of properties also varied greatly, which is an asset to users since a posh four-bedroom estate is as easily found as a quaint two-bedroom condo. A search for Paris yielded more than 20 pages with a similarly diverse assortment of properties across the city (leaning toward the less-lux and more family-style).
For those looking for more specialized swaps, especially of a high-end nature,
specializes in "stylish homes in major cities and holiday locations around the world." The company describes its "luxe" ethos as small and stylish as well as large and luxurious, meaning a well-decorated Tribeca pad can play in the same marketplace as a palatial Aspen chalet or Laguna Beach house as long as there is a common denominator of style, location and luxury. Given that Luxe Home Swap is more specialized and smaller than its competitors, we found its Google Earth-enabled map interface easier to navigate, down to the actual street location of properties.
For our searches on this site, Palm Springs netted just one property in Rancho Mirage, and it wasn't exactly a vision of luxury, with its tubed TVs and living room of reclining couches. Given that the company is operated out of London, its European listings are far superior. Paris offers a 19th century apartment in the Marais that's decorated with herringbone floors and a general aristocratic swagger, and a 3,500-square-foot penthouse loft in the 9th Arrondissement with views of Montmartre that was featured last year in a glossy pictorial in France's
Marie Claire
. Their listings in the U.K., including central London, were also plentiful; there are fine properties in Belgravia, Knightsbridge, Soho and the city's South Bank.
While most home swaps deals with those exchanging primary residents,
finds a market in those looking to extend use of their second home and vacation properties. Second-homeowners use the service much like a vacation club in which their home is part of a larger inventory with a searchable interface based on month of desired travel, city, beach or desert location, and general map-based inventory. An impressive group of properties includes a waterfront villa, high-rise luxury apartment in San Francisco and bay-front home in Sag Harbor.
While limited on the European front, what was available was top-notch, including a five-story, three-bedroom townhouse in London's historic Regent's Park, but there were only three properties we could find in Paris and just one in Barcelona. (On the other hand, if you have only one, it might as well be this five-bedroom loft duplex alit in contemporary art and architectural furnishings.) But to join 3rdHome.com you actually have to have a second home and indicate the weeks you wish to lend into the site's inventory. Homes are given key values based on net worth, varying between $500,000 and over $4 million, that are redeemed for desired bookings across the site. Membership is available on a two-year basis at $495 or a simple $495-fee per exchange with bragging rights of having a third home at your disposal.
>To submit a news tip, email:
.
RELATED STORIES:
>>Tips on Planning Now for Holiday Travel
>>Tips for Last-Minute Luxury Travel Deals
>>Celebrity Gastronomy at 35,000 Feet
Follow TheStreet.com on
and become a fan on
Michael Martin is the managing editor of JetSetReport.com, a luxury travel and lifestyle guide based in Los Angeles and London. His work has appeared in InStyle, Blackbook, Elle, U.K.'s Red magazine and on ITV and the BBC.