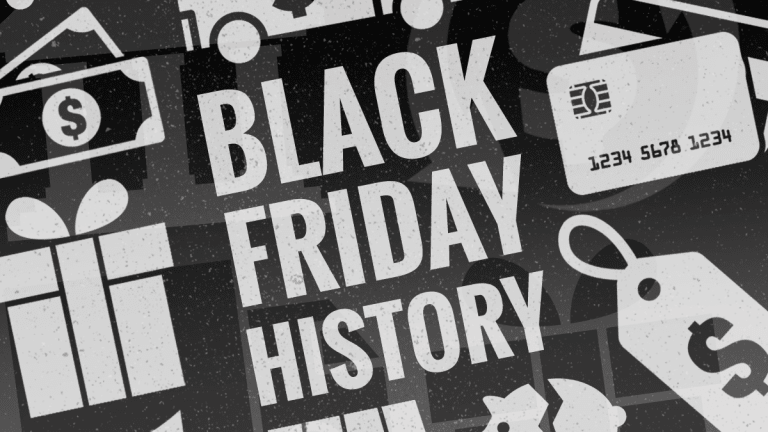 Publish date:
Why Is It Called Black Friday? History and Origins of the Shopping Day
Black Friday is quickly approaching for American consumers. Where did the day get its name, and how long have we had a Black Friday?
Black Friday is quickly approaching for American consumers. Where did the day get its name, and how long have we had a Black Friday?
Black Friday, the day where stores say they are slashing their prices for a limited time and consumers camp out in front of them to wait for these sales, is such a uniquely American event that it has begun cutting into Thanksgiving - the first American holiday.
The day after Thanksgiving being a day dedicated to holiday shopping has become more commonplace and less of a local news story, and it remains one of the busiest shopping days for stores across the country. These retailers have also been taking advantage of online sales both to maximize profits and prevent riots. Now hundreds of millions of Americans partake in some form of Black Friday.
But where did we get the terminology for it? The word Black before a day has historically been used to discuss disasters on Wall Street a la Black Thursday, Black Monday and Black Tuesday referring to the stock market crashes of 1929 and 1987. How did Black Friday become associated with profits and not crashes?
Black Friday Origins: Where Did the Name Come From?
Whereas Black Thursday, Monday and Tuesday were named for the dark economic outlook they brought with them, Black Friday is named such for positive reasons. Accountants use "black" to reflect profit in companies, and "red" for loss. Thus, going from a loss to a profit is referred to as being "out of the red" and "in the black."
With the money that the day so consistently brought, retailers began referring to it as Black Friday due to its profitable nature. It was helping many companies end the year in the black, or at least closer to the black.
Black Friday as we know it has been advertised every year since sometime in the 1980s. But it has been around longer than that.
Black Friday History
The earliest iteration of a similar sort of "Black Friday" phrase is from the early 1950s. This was not used in a positive sense; instead it was how Philadelphia police referred to the massive crowds the day after Thanksgiving that would appear for shopping and tourism, often in advance of the Army-Navy college football game which was often hosted in Philly.
It was also, early on, used briefly to describe the day after Thanksgiving in terms of employees calling in sick at work so they could have a four-day weekend.
The idea of the day after Thanksgiving being a massive day for holiday shopping has never been lost on retailers. Through the early 1900s, retailers actually deeply resented that Thanksgiving fell on the last Thursday in November, feeling as though the holiday sales started too late in the season to ultimately help their yearly profits get into the black. The Retail Dry Goods Association pleaded their case with President Franklin D. Roosevelt in the 1930s about its effect on sales.
Roosevelt was receptive to their request, and in 1939 moved Thanksgiving back to the Thursday before the last one of November, in that year's case the Nov. 23 instead of the Nov. 30. This new Thanksgiving tradition was met with some derision at first, with some snidely referring to it as "Franksgiving." But in 1941, Congress and Roosevelt made it federal law that Thanksgiving Day would be the fourth Thursday in November.
By the 1960s, Philadelphia's "Black Friday" name had made it into print, but brought a negative connotation due to the stock market association and the hostile crowds of consumers. There was a brief push to turn it into "Big Friday" but it never quite took. Black Friday, meanwhile, stuck and began growing.
It was in the 1980s that retailers began using Black Friday in "get-in-the-black" terms, allowing themselves to lean into a phrase that had become established on a day already known as being great for sales. Why mess with a good thing?
The 1990s and 2000s, with toy crazes like Tickle Me Elmo, are when Black Friday began to take shape the way we see it today, and the way local news still covers it: people dressed for the bitter cold waiting in long lines, fighting to get into the store and get their gifts in time.
The at-times thousands of people at a single store fighting for toys and other goods have mostly been used for viral video fodder, but there have been times these crowds have turned deadly. Most notably, in 2008 the large crowd of over 2,000 at a Walmart (WMT) - Get Report in Valley Stream, N.Y., trampled an employee to death.
Other more recent changes to Black Friday traditions, such as online sales or businesses opening doors Thursday night instead of early Friday, were meant to maximize profits. But these are also things that have likely helped quell impatient, rioting hordes of consumers who stayed up all night to get a new television.
They've also helped make Black Friday sales a multibillion-dollar endeavor by themselves. Adobe Analytics estimated that Black Friday sales for retailers were approximately $7.9 billion in 2017. There are more methods than ever for Black Friday shopping, and American consumers have been all too eager to take advantage.
Are There Other "Black Fridays"?
Contrary to a rumor that was started on the internet several years ago, the term Black Friday does not originate from the days of slavery. This baseless myth, which claimed that slave traders would sell their slaves at a discount on the day after Thanksgiving, has been thoroughly debunked.
There is, however, a Black Friday that originates from the 1800s. Like Black Thursday, Monday and Tuesday, this one actually does involve finance. One of the first Wall Street panics, two speculators named Jay Gould and James Fisk attempted to corner the gold market by buying large amounts of bullion to drive up the price and leverage their relationship to President Grant's brother-in-law to get him to limit its availability. Grant, upon realizing what was happening, instead ordered the U.S. Treasury to sell more gold. On Friday, Sept. 14, 1869, the gold market collapsed and the entire market fell dramatically as a result. This was disastrous for many investors, and thus this became known as another sort of Black Friday.