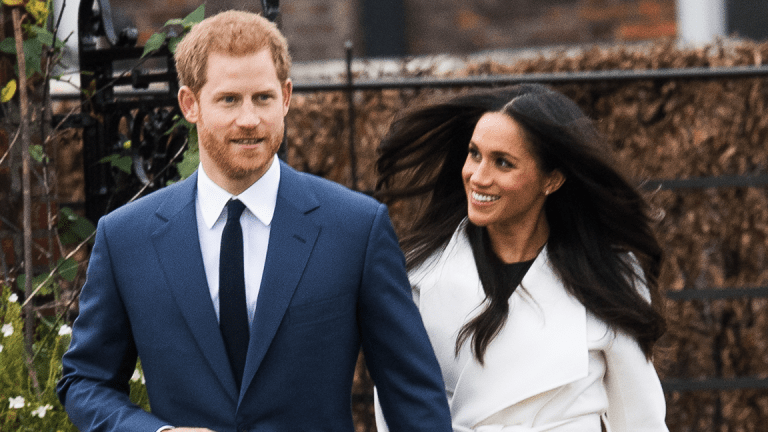 Publish date:
3 Royal Wedding Items That Cost Much More Than You'd Expect
How about a tab of more than $180,000 for champagne alone?
How about a tab of more than $180,000 for champagne alone?
On May 19, millions of people are going to wake up early, angrily wonder why they set such an early alarm on a Saturday, and then remember: it's the day of the royal wedding!
Prince Harry and Meghan Markle are finally going to get married, an event that will stop the entire world for a brief moment. It will be broadcast around the world, with BBC waiving its licensing fee for the event, meaning nearby spectators will even be able to watch the event on big screen TVs. Roads will be closed off.  There are even bathing suits adorned with the faces of the happy couple, for some reason.
Basically, this is a huge deal. It is a lavish event, and it will be expensive. Not that it's going to be a problem -- Markle spent years as a successful television actress and Prince Harry is, well, a prince. Anyone who's ever planned a wedding knows that even just an average wedding from people with average incomes is going to be exceptionally costly. Now extrapolate that for the royal family. Her dress alone will cost more than most people's weddings -- and maybe more than their homes.
Here are a few components of the wedding that could cost way more than you realized.
1. Royal Wedding Invitations
The royal wedding isn't the kind of affair where the couple tells you they just want something small with a few family and friends. No, this is a star-studded affair at a chapel that's also in a castle. Six hundred people have been invited to the service.
That means around 600 invitations, plus invitations for 2,640 members of the public who were invited to attend the event on the grounds of Windsor Castle. The invitations were made by Barnard & Westwood, a famous British printing company whose stationary does not come cheap. Using the price of one of Barnard & Westwood's stationary sets, British wedding planning app Bridebook estimates that these invitations could cost around £200,000. That's almost $270,000 just on invites.
Though, to be fair, they aren't your average invites, with the Prince of Wales badge printed on it in gold ink. It's as regal-looking as it sounds.
2. Royal Wedding Drinks
That's not just a lot of people to invite to a wedding. It's also a lot of people to prepare refreshments for, especially if you want something as elegant and extravagant as the royal wedding requires.
Food and drink are taking up a hefty chunk of the wedding budget, but it's the drinks that stand out. Bridebook estimated that 1,700 bottles of champagne alone will be served. And it's likely that champagne will be Bollinger, a champagne that has the honor of holding a seal of approval called a royal warrant. This alone could cost £136,000 ($183,300) -- and that's before the other bottles of alcoholic beverages that will be flowing for over 2,000 invited guests.
3. Royal Wedding Security
Security for the royal wedding doesn't have a set price just yet, but historically it runs up a bit of a tab in royal weddings. In 2011, Prince William's royal wedding to Kate Middleton cost £6.4 million in security alone. That's nearly $9 million in police protection for one wedding.
Will Prince Harry's wedding cost even more? Bridebook estimated that it could be over £30 million ($40.4 million) just for security. While an actual number has not been confirmed, security has been massively stepped up in Windsor as the wedding approaches. Officials will not only be onsite but keeping watch on nearby roofs windows, and even the sky -- a no-fly-zone was instituted in Windsor for the wedding, and drones are banned.
What Time Is the Royal Wedding?
The wedding service is to begin at 12:00 pm in Windsor on Saturday, or 7:00 am EST and 4:00 am PST. The first guests, though, are expected to arrive a few hours before.
Those interested in watching the service from the United States will have to get up awfully early. CBS, ABC, and NBC will be covering it, as will several cable channels such as E! and TLC. These broadcasts will start between 4:00 am and 5:00 am EST.