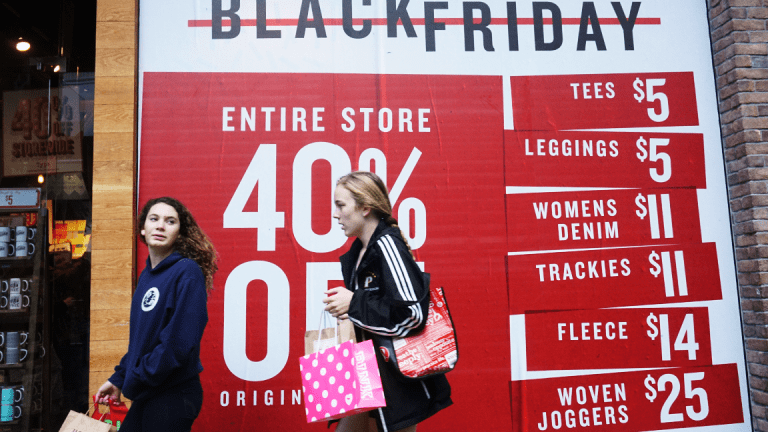 Online sales for holiday shopping hit $80.3 billion from Nov. 1 through Dec. 6, up nearly 19% from last year, according to newly released data from Adobe Analytics.
The record sales make "it the biggest online shopping period of all time in the U.S." and tops last year by nearly $13 billion, said Adobe, reporting that Alaska, California, Washington, New York and Wyoming led the sales charge.  
If the pace keeps up, more than $124 billion is expected in online retail sales by the end of the month, according to Adobe.
Sales by mobile phones were also up, reaching $23.7 billion -- which is about 55% higher than last year. Nearly three in five visits to retail sites came from mobile devices, found Adobe.
The number of shoppers who bought online and picked up in store, also kept with trends, and was up 46% from last year, while a fifth of shoppers said they expect to shop for three-quarters of their holiday purchases over online merchants such as Amazon or Ebay, found Adobe.
Adobe's report is based on an analysis of more than a trillion visits to retail sites and by measuring sales from 80 top online merchants. 
Despite the strong numbers for online sales, stocks for several major retailers closed lower Friday as U.S. equities tumbled. Amazon.com Inc.  (AMZN) - Get Amazon.com, Inc. Report was down about 4%; Target Corp. (TGT) - Get Target Corporation Report  fell about 2.4%; Walmart Inc.  (WMT) - Get Walmart Inc. Report  was down 1.7%; Etsy Inc. (ETSY) - Get Etsy, Inc. Report  tumbled nearly 2.9%; and Ebay Inc. (EBAY) - Get eBay Inc. Report  lost about 1.4%
The news follows a mixed Thanksgiving weekend of shopping that saw big leads in online shopping and quickly moving trends in buying-by-mobile phone, but weak numbers in other areas. 
Cyber Monday marked the nation's biggest single day of online shopping, reaching $7.9 billion, up almost 20% from last year, according to data provided earlier by Adobe Analytics.
More people also had shopped by smartphone, with 2.2 billion such sale transactions over the five-day holiday weekend, according to Adobe. 
In addition, over the weekend -- which included Black Friday, Small Business Saturday and Cyber Monday -- more than 89 million people shopped both in-store and online in what retailers call "multi-channel shopping." That's nearly 40% higher than the year before, according to a November survey from the National Retail Federation and Prosper Insights & Analytics. Shoppers who bought both online and in-store spent more, reported the survey, which found they shelled out $93 more on average than those who only shopped online or in-store.
But total shopping was mediocre over the holiday weekend that retailers so heavily depend on for sales, with 165 million people out shopping during the five days, down from 2017's 174 million. The average shopper spent $20 less -- about $313 -- on holiday-related spending compared to last year, according to the survey by the retail federation. 
Still, those retailers who invest in mobile technology has seen results.
"Retailers are reaping the rewards of their investments in mobile and have seen unprecedented success in converting mobile traffic to sales," said Taylor Schreiner, director of Adobe Digital Insights, in a statement. "Indeed, smartphones are driving this season's impressive growth."