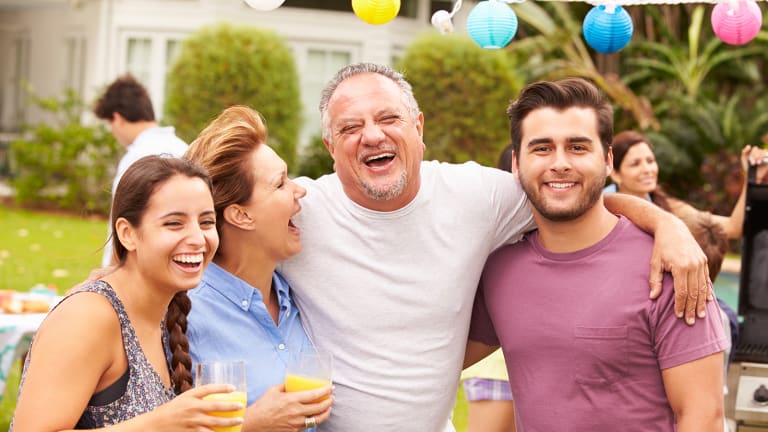 6 Companies Offering Father's Day Deals and Gift Ideas
There are plenty of Father's Day deals out there. You just need to know where to find them.
There are plenty of Father's Day deals out there. You just need to know where to find them.
Father's Day is right around the corner. You didn't forget, did you? Are you here just hours before dad's day looking for last-minute deals? 
We've all been there. Don't panic; breathe. As long as you know what your dad likes, you can find a deal on it. You just need to know the right place to look.
Consider the type of father you have. Is he an outdoorsy dad? A tech-savvy dad? A dad who loves novelty mugs? Dad who builds model trains in the basement? Fitness dad who's in better shape than you in his 60s? Maybe he can't be pigeonholed at all. There are still options.
When Is Father's Day in 2018?
Father's Day falls on June 17 this year. You should probably be thinking of gift ideas right now.
A wide variety of companies are offering Father's Day specials, promotions and discounts that you can take advantage of. Here are just a few of those companies.
1. Omaha Steaks
The grill is crucial to the legend of the stereotypical suburban dad. There's nothing he loves more than manning the grill while wearing an apron with a pun on it.
If you're looking for something for your dad who loves to grill, or just loves meat, one option is Omaha Steaks. The company has been around for over a century and is a leading distributor and retailer of meat products. Omaha Steaks has quite a bit of Father's Day sales this year, with T-bones, filet mignons, rib-eyes, New York strips, burgers, sausages and more, available at a discount.
Individual meals and family dinner combos are each available, and combos can be customized.
2. Dick's Sporting Goods
Fathers who love sports and the outdoors give you plenty to work with when it comes to figuring out a gift, but a lot of those great ideas can also be expensive. Whether an official jersey or a new bike, gifts for the outdoor lover get pricey real quick.
Unsurprisingly, plenty of sporting goods stores offer discounts around this time of year. Dick's Sporting Goods, for example, is offering discounts on items ranging from coolers to kayaks, from fishing poles to exercise equipment, to grills, jerseys and sneakers dads wear to grill. There are plenty of items to choose from no matter what sport your dad likes watching or participating in.
3. Cards Against Humanity Dad Pack
Cards Against Humanity provokes strong reactions from people. If your dad is someone who loves it and loves its humor, 2018 is the year for you.
The company recently released its "Dad Pack," an expansion pack of playing cards relating exclusively to fathers, as part of a Father's Day sale. 30 new cards are available for $6, and they come in a DVD case depicting a fake corny action movie. They made 9 fake DVD covers, all depicting the type of cheesy '90s movie your dad can always be found watching on cable on a slow Saturday afternoon.
They're available on the Cards Against Humanity website, and can also be found at Target - in the DVD section.
4. 23andMe
Is your father interested in learning more about his genealogy? He may want to know more about his ancestry and family history. Maybe he just wants to spit in a tube. Either way, 23andMe is here for you.
23andMe, the DNA testing program, has become a phenomenon, and fittingly they're offering a deal for this family holiday. Both basic and comprehensive services are being offered at a 30% discount. The company advertises that you can find out more about your own DNA and the many things you can learn from it.
5. Medieval Times
Dads can be nerds too. Families looking for a fun event for the whole crew on or leading up to Father's Day will find that if there's a Medieval Times near them, they can get in for a discount. In the two weeks leading up to Father's Day, dads can get in for free with the purchase of a full-priced ticket for another adult, and there's an option for an additional $25 package that includes a framed photo and a coaster set.
6. Major League Baseball
Many sports either aren't being played or are just about to wind down around this time of year. But baseball is right in the middle of its seasons, and the MLB makes sure to take advantage of that every year at the ballpark.
This year, for example, most stadiums hosting a game have a Father's Day promotion. Some are pretty standard MLB promotions (hats, socks, etc.) but depending on where you live, you may be close to a fun Father's Day event. For example:
The Toronto Blue Jays are doing a Father's Day celebration where the WestJet Flight Deck, a standing-room only section, will be turned into a "Dad's Den."
The Seattle Mariners are offering BBQ gloves to the first 10,000 people who show up to the game.
The Baltimore Orioles are offering pre-game "Catch on the Field" packages for Father's Day where dads can play catch on the field with their kids.
Not technically a Father's Day specific, but the New York Yankees are doing "Old Timer's Day," where former Yankees play prior to the game, falls on Father's Day this year and is sure to be a hit among lifelong Yankee-fan dads.
Some stadiums that don't even have games are getting in on the fun. The Los Angeles Angels play in Oakland on Father's Day, but their stadium is open for a holiday barbecue with batting cages and a stadium tour.