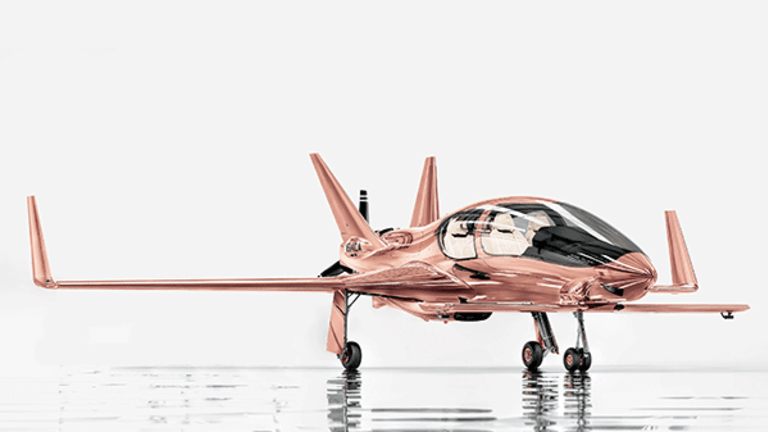 Holiday Gift Guide for the Millionaires in Your Life
From private jets to sprawling penthouses, these Christmas gifts have everything a millionaire (or billionaire) could want.
Editors' pick: Originally published Dec. 13.
For most people, a budget Christmas gift is a purchase that ranges between $15 and perhaps $50 and involves bestowing upon a loved one a colorful new scarf, a festive pair of socks or the ever-popular Chia Pet.
For the planet's wealthiest individuals, however, there's an entirely different definition of gift-giving for the holidays.
Take for example Robb Report's Ultimate Holiday Gift Guide, an annual compendium of lavish, boundary pushing, over the top gifts for the multi-millionaire next door.

This year's guide includes such drool-worthy gifts as a 364-foot super yacht, the first ever supersonic business jet and a sprawling Miami Beach duplex penthouse that comes with custom artwork. The price tags for which range from a low of about $2 million for the penthouse to a staggering $120 million for the jet.
But during a recent conversation, Robb Report Editor-in-Chief Brett Anderson pointed out that when creating the guide, the publication's editors also tried to include some attainable gifts. (insert sigh of relief here).
Before rushing to get your credit card, however, let's clarify exactly what attainable means by Robb Report standards, shall we?
"Like two bottles of Schrader Cellars wine for half a million dollars," explains Anderson. "They're the only two bottles of this type in the world."
At a mere half a million dollars, we can all skip the credit card and head straight for the checkbook.
The two bottles of wine in question are from Schrader Cellars -- CCS and Old Sparky Cabernet Sauvignons, both of which received perfect 100-point scores for the 2006, 2007, and 2008 vintages, from Wine Advocate. In addition to the bottles of wine, the recipient of this particular gift (and five of his or her friends) will also be invited to dine with Fred Schrader and his wife, Carol, at their Napa Valley home. The dinner will of course be far from ordinary. Highlights include servings of vintage rum, a selection of more 100-point wines and even cigars.
To be fair, Robb Report's gift guide, which has been around for 33 years now, is and has always been squarely aimed at ultra wealthy individuals, many of whom are avid collectors of cars, art, planes, one of kind experiences and more. It has never been about budget gifts, but rather about constantly surprising and exciting Robb Report's readers.
"Our goal is always to up last year's ante in terms of cool factor and exclusivity," says Anderson.
To that end, this year the guide also includes such things as a stunning speedster from the revived Bristol Cars, and Eric Clapton's 1939 Martin 000-42 acoustic guitar, used when he famously recorded a session for MTV Unplugged in 1992 that included singing a slower version of his rock anthem "Layla."
As for the yacht mentioned earlier, it's a Benetti Fisker 50 semi-custom creation that starts at around $37 million. Plans for this spectacular sailing vessel include six cabins that can accommodate a total of 12 guests, as well as a top deck featuring a fireplace and a circular fire pit. Interiors meanwhile, can be completely customized.
"The yacht is pretty amazing," says Anderson. "It's a massive boat. But more importantly if you look at the design of it, it's just beautiful. It has the grace and beauty of a speed boat. It's definitely something that will get noticed."

The supersonic business jet is offered by the Nevada-based the Aerion Corporation. The company started development of the jet two years ago and expects to begin deliveries in 2023 - which means if you purchase this gift now, there won't be anything to put a big red bow on for Christmas morning 2016. Perhaps consider placing a picture of the the plane under the tree instead.
The online version of the guide includes gifts that the print version does not - still more carefully curated items for shoppers to peruse - covering such categories as offerings for gem lovers, home-design buffs and road-trippers.
Robb Report's Ultimate Holiday Gift Guide is far from the only lavish source of gift giving issued this time of year.
For much of the past 90 years Neiman Marcus has been the leader when it comes to issuing a Christmas guide filled with items most can't even imagine - or as Neiman Marcus likes to call them - fantasy gifts.  And this year is no different.
Among the ten fantasy gifts in the 2016 Neiman Marcus Christmas Book are a walk-on role in a smash Broadway musical (for $30,000), a week of luxury living at three Downtown Abbey-esque English estates ($700,000), and two tickets to the 59th Annual Grammy Awards (including entree to Clive Davis's legendary and ultra exclusive Grammy party).

For its cool half-million-dollar price-tag, the Grammy gift also includes airfare, a stay at The Peninsula Beverly Hills (a hotel famous for its fleet of Rolls-Royces just waiting to chauffeur guests about) and two $1,000 Neiman Marcus gift cards - so that you can find the appropriate attire for your red carpet walk.
And just in case picking the appropriate Grammy outfit baffles you, the gift also includes meeting with Catherine Bloom, personal shopper to the stars, who will pull together the perfect ensemble. Hair and makeup? On the house.
"James Corden will be hosting the Grammy's this year, which is exciting and the tickets to Clive Davis's party - no one has ever gotten them before," says Ginger Reeder, Neiman Marcus's vice president of corporate communications who curates the Fantasy Gifts.
And not to be outdone by Robb Report, the Neiman Marcus Christmas Book also includes a $1.5 million Cobalt Valkyrie-X Private Plane (because millionaires and billionaires can't ever have too many of these things.) The rose-gold plane, the guide says, is just the thing if time is of the essence in your life. Good to know, right?
The plane that is the brainchild of aerospace engineer and Cobalt founder David Loury, it will be one of the fastest piston aircraft in the world when debuted in 2017.
To be clear, the exterior of the plane is merely shrink wrapped in a rose gold-colored coating. It's the plane's interior controls that are actually plated in real rose gold.

The pages of this luxury gifting extravaganza also include an Infiniti Q60 Limited Edition designed just for Neiman Marcus with 400-horsepower and Solar Mica paint. Only 50 were created and they cost $63,000 each, which is a relative bargain in present company.
"We have included cars in the Christmas Book since 1996," says Reeder. "It's been a very successful program...some sell in extraordinary amounts of time."
Extraordinary may be an understatement. In 2006 Neiman Marcus offered a BMW M6 convertible and 50 of them sold within 92 seconds, says Reeder.
"For that gift you got a trip to Germany to watch the car come out on the line at the manufacturing plant," Reeder explains.
Already, nearly 40 of the Infiniti Q60s have sold.
One last parting note. Neiman Marcus's guide actually does include some true bargains. More than 40% of the items in its Christmas Book cost less than $250.
The least expensive items are a mere $10. The two items at this price are a Neiman Marcus old-fashioned glass with gold monogrammed initial and a package of six vanilla snowflake-shaped marshmallows.  
Not quite the gifts of your dreams, but you have to start somewhere right?