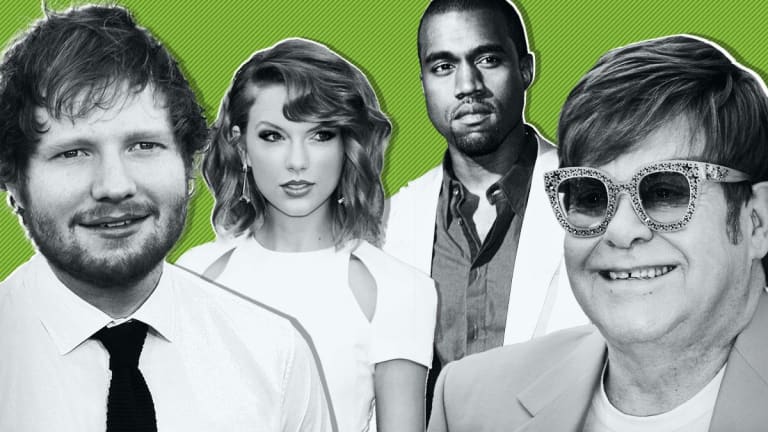 Who Are the Highest Paid Musicians?
With the rise of popular music streaming platforms, musicians are having to get more creative when it comes to making money. Find out who the highest paid musicians of 2019 are and how they're making their money.
Major names in the music business don't just earn their money through album releases. In fact, in today's world of streaming music platforms, making a living can be tough for musicians. Luckily, many of them have found additional income streams through touring, sponsorships, business ventures, and smart investments. But who played their cards well and ranked among the highest-paid musicians of 2019? Find out.

The Highest Paid Musicians in 2019
1. Taylor Swift
Income: $185 million
Despite being under 30 years old, Taylor Swift tops the list of highest paid musicians this year. While she makes plenty of cash off all of her endeavors, Swift has made the majority of her money this year from touring. Her 'Reputation" stadium tour stands as the highest-grossing U.S. tour, earning $266.1 million domestically and $345 million overall. However, she has also made plenty of other earnings from her endorsements with Apple (AAPL) , AT&T (T) and Diet Coke (KO) .
2. Kanye West
Income: $150 million
Wearing the crown as hip-hop's highest paid musician, Kanye West is the second-highest paid musician of the year. West's top-notch earnings weren't primarily from music sales or touring. Instead, West raked in the majority of his earnings this year from merchandise. His shoe line Yeezy, which he developed in partnership with Adidas (ADDYY) , has earned over $1 billion in sales. West earns 15% per shoe in royalties. Additionally, West owns an entire Yeezy apparel line, allowing him to enjoy additional income off sales alone.
3. Ed Sheeren
Income: $110 million
Known for his versatility, Ed Sheeren's cross-genre success has brought him to the top. The majority of Sheeren's earnings this year were from touring. His two-year "The Divide" tour has brought him among the highest paid musicians of 2019, grossing over $600 million both domestically and worldwide. Sheeren only continues to find new opportunities for success. He has an upcoming appearance on a compilation album with first-class artists like Justin Bieber, Cardi B and Bruno Mars.
4. The Eagles
Income: $100 million
Though the band's original lineup isn't in place, nothing can stop The Eagles from making pure magic on the road. They made the majority of their earnings from touring. Their "An Evening With The Eagles" tour earned $3.5 million per stop along the way. It was their first long-running tour since 2016. Recently, they announced that they would perform their album "Hotel California" in its entirety this month at the MGM (MGM) Grand Garden Arena in Las Vegas. This announcement is sure to overjoy fans and sell even more tickets.
5. Elton John
Income: $84 million
Starting in 2018, Elton John began his three-year farewell tour. Though he has been a great earner for decades, The Rocket's Man's "Farewell Yellow Brick Road" tour has been his most prolific yet -- consisting of over 300 shows across the globe. However, that doesn't mean he is done working. John is currently booked to write a Broadway production and release his first autobiography. In June of this year, France's President Emmanuel Macron presented the famed artist with the Legion d'honneur, France's highest civilian award.
6. Jay-Z
Income: $81 million
Long known as one of hip hop's top earners, Jay-Z has had yet another year of amazing financial performances. In fact, he became hip-hop's first billionaire in spring of 2019. "On the Run II," his joint tour with Beyoncé, has grossed over $250 million in earnings. In addition, he has a number of alcohol ventures to rake in addition earnings, including his Armand de Brignac champagne and D'Usse cognac that he sells in partnership with Bacardi. Jay-Z consistently earns a place among the highest paid musicians in the world due to his smart combination of music projects, business ventures, and investments.
7. Beyoncé Knowles
Income: $81 million
Aside from her high-earning "On the Run II" tour in partnership with husband Jay-Z, Beyoncé released her "Homecoming" album in April 2019. The release coincided with the release of Netflix's  (NFLX) special about her Coachella performance in 2018. Beyoncé and Netflix signed a $60 million deal for three different projects, one of which is "Homecoming." In the same month as her album's release, Beyonce released an activewear clothing line, Ivy Park, in collaboration with Adidas to earn some extra income.
8. Drake
Income: $75 million
Drake had a number of top-performing income earners throughout 2018 and 2019. The famed Canadian hip hop artist's album "Scorpion" made number 1 on the Billboard top 200. The album's song "God's Plan" eventually garnered him a fourth grammy in February 2019. On Aug. 2, he released the compilation album "Care Package," which debuted at No. 1 on the Billboard top 200. He also partnered with Migos for the Aubrey and the Three Migos tour, which earned $79 million during its four-month run.
9. Sean Combs
Income: $70 million
Also known as Puff Daddy, P. Diddy, Puffy or Diddy, Sean Combs has made very little music in recent years, but has continued to make financial decisions that keep his earnings high. The majority of his income comes from his successful beverage empire. Ciroc vodka is his primary money-make, with DeLeón tequila and Aquahydrate water coming in close behind. He also continues to earn off of his music backlog thanks to streaming services like Spotify (SPOT) . This year, Combs announced that the reality TV show he produced, "Making the Band", will return to MTV next year.
10. Metallica
Income: $68.5 million
While Metallica has continued strong since their debut in 1981, they have made the majority of their income in 2019 from touring. Their "WorldWired" tour, originally starting in 2016, has earned over $250 million. In Spring 2019, Metallica announced that they would continue their tour throughout Australia and New Zealand alongside Slipknot. In addition to the tour, Metallica has also earned from their album release "Hardwired... to Self-Destruct," which debuted No. 1 on the Billboard 200.
11. Rihanna
Income: $62 million
Though Rihanna is a world-renowned musician, the majority of her earnings in 2019 were made from merchandise and business ventures. She is co-owner of Fenty Beauty, a high-end makeup line that earned around $570 million last year. Aside from the quality of the products, Fenty Beauty's primary claim to fame has been their range of foundation shades and diverse racial representation in their marketing. In the spring of this year, she and co-owner LVMH (LVMUY) announced their upcoming Fenty fashion house in Paris. Rihanna has already dipped her toe into the apparel market with her lingerie line Savage X Fenty, which has also been lauded for its diverse representation in both its marketing and product lines.
12. Travis Scott
Income: $58 million
Travis Scott's third studio album "Astroworld" debuted at No. 1 on the Billboard 200 chart. But even more than his album sales, Scott's tour for the album -- titled the "Astroworld: Wish You Were Here" tour -- grossed more than $65 million. Scott also has made a number of other prolific appearances in the press and beyond. He appeared on the song "Power is Power" alongside The Weeknd and SZA, a track that appeared on "Game of Thrones" album "For the Throne." This year, Netflix has also released a documentary about the hip hop artist's life called "Look Mom I Can Fly."
13. Katy Perry
Income: $57.5 million
Katy Perry has continued to wow fans with her show-stopping singles, albums, and concerts. Her "Witness" tour grossed over $1 million a night on her 37 stops in the last year. She also released her single "Never Really Over" in May of this year and "Small Talk" in August. "Never Really Over" debuts at No. 15 on Billboard's Hot 100. Raising her profile even further, Perry appeared in Taylor Swift's music video "You Need to Calm Down." In addition to her musical endeavors, Perry currently serves as a judge on ABC's "American Idol."
14. Justin Timberlake
Income: $57.5 million
The majority of Timberlake's earnings have come from his "Man of the Woods" tour, which grossed over $225 million in just over a year of shows. The album that the tour promoted debuted No. 1 on the Billboard 200. Timberlake has since hinted at a number of collaborations with both established and up-and-coming musicians, including Pharrell Williams, Nathaniel Hills, and SZA. He has also announced his participation in the Trolls World Tour, a promotional tour for the upcoming musical comedy film produced by DreamWorks. In addition to his recent musical activities, Timberlake has also crafted the Tennessee Braspberry Supertea flavor for Bai Brands as the company's Chief Flavor Officer.
15. BTS
Income: $57 million
BTS, also known as the Bangtan Boys, has taken the world by storm. The renown k-pop boy bands' most recent album "Map of the Soul: Persona," debuting in spring 2019, made No. 1 on the Billboard 200. They have also raked in additional earnings on their latest tour "Love Yourself," which takes the group to over 13 countries. The tour's extension became the highest-grossing concert tour in the world, grossing $51 million. Their album trilogy "Love Yourself," whose releases spanned over 2017 and 2018, sold more than 2 million copies each in South Korea.
16. Pink
Income: $57 million
Pink has been working hard to stay in front of fans for almost 20 years since her album "Can't Take Me Home" made her a household name. The pop-punk star scored grossed around $3 million per story on her "Beautiful Trauma" world tour, helping her enjoy her position as one of the highest paid musicians of 2019. She also released a studio album called "Hurts 2B Human," which featured a number of other famous artists like Khalid. In February 2019, Pink received a star on the Hollywood Walk of Fame.
17. Billy Joel
Income: $52 million
Though Billy Joel hasn't released his 1993 "River of Dreams," he has made a great deal of income off of touring in the last few decades. He has had a five-year residency at Madison Square Garden, regularly selling out shows. In 2019, he performed his first-ever concert at Camden Yards Stadium in Baltimore. The concert sold out.
18. Bruno Mars
Income: $51.5 million
Bruno Mars' "24K Magic" world tour was the highest grossing of 2018, raking in over $237 million for 100 shows across the globe. In February of this year, Mars released a single with Cardi B called "Please Me," then a single called "Blow" alongside Ed Sheeran and Chris Stapleton. He is performing a series of shows at the Park MGM in Las Vegas. "Please Me" reached No. 3 on the US Billboard Hot 100.
19. Jimmy Buffet
Income: $50 million
Though Jimmy Buffet hasn't released an album or toured in a few years, he continues to make great profits from his lifestyle brand named after his hit song "Margaritaville." The brand touches a number of different industries, including clothing, home decor, and alcohol. He even has a line of resorts and casinos that have recently begun construction in Belize and Mexico. Buffet has his toes dipped into the restaurant industry as well. He owns the Margaritaville Cafe chain and was a co-developer of the Cheeseburger in Paradise chain.
20. Eminem
Income: $50 million
In August 2019, Eminem released his never-before-announced "Kamikaze" album, which debuted at No. 1 on the Billboard Top 200 -- his ninth album in a row to do so. In early 2019, Eminem collaborated with many different notable artists, including Ed Sheeran and 50 Cent. He also played several shows throughout Australia and New Zealand on his "Rapture" tour.
21. Fleetwood Mac
Income: $49 million
Fleetwood Mac spent much of their time on the road to earn their income. Notorious for their tumultuous inner-band relationships, it comes as little surprise that the entire band did not tour together. Lindsey Buckingham was absent on their tour, replaced by Neil Finn and Mike Campbell. The band launched their tour in late 2018, grossing around $2 million per show. This was even after the death of Danny Kirwan, one of the band's original singers and songwriters, in June 2018.
22. Ariana Grande
Income: $48 million
Ariana Grande has seen great success in 2019. She released two hit albums: "Sweetener" and "Thank U, Next." In August 2019, she released her single "Boyfriend" with pop duo Social House. She even headlined at Coachella, becoming the youngest performer the festival has ever seen. Grande has also dipped her toe into the beauty world, just like many musicians before her. Her perfume, Cloud Eau De Parfum, won an award as one of the most popular fragrances of the year.
23. Paul McCartney
Income: $48 million
Beatles star Paul McCartney has had a busy couple of years. In late 2018 release "Egypt Station" topped the Billboard 200, becoming his first solo album to debut at the top. He was also busy touring around the world during his "Freshen Up" tour, which pulled in around $4 million per show on average. He earned $17.8 million from his four South American shows in 2019.
24. The Chainsmokers
Income: $46 million
This famous EDM duo has had a busy year. The Chainsmokers kicked off 2019 by releasing the single "Who Do You Love" in collaboration with 5 Seconds of Summer. Later that spring, they released their single "Kills you Slowly." They could be found throughout festivals this year, performing at Ultra Music Festival in Sydney, closing out Ultra Music Festival in Miami, and headlining on the first day of Lollapalooza. The Chainsmokers will be kicking off their "World War Joy" tour in late September.
25. Guns N' Roses
Income: $44 million
Though for years the group denied that it would ever happen, Guns N' Roses has finally had a reunion. Axl Rose, Slash and Duff McKagen came together for the "Not in This Lifetime..." tour, earning $4 million per show on average. Despite having no endorsements, the band still has made its way among the highest-paid musicians of 2019. In early 2019, they told the press that they were working on a new album.