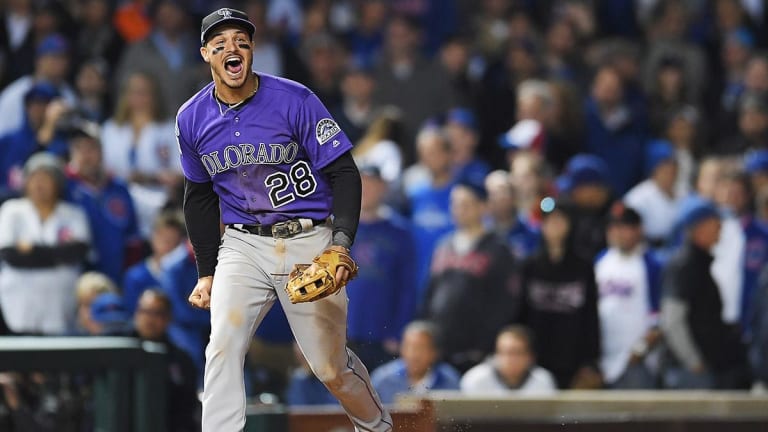 Who Are the Highest-Paid MLB Players in 2019?
From the Nationals starting rotation to former MVPs, who will be making the most in the 2019 MLB season?
A frustrating offseason for Major League Baseball fans has come to a close as spring training has begun. Only recently have any notable moves been made. This includes star infielder Manny Machado finally getting his huge deal - 10 years, $300 million from the San Diego Padres. The Colorado Rockies, one year before he was to reach free agency, signed Nolan Arenado to an eight-year extension. And most recently, former Nationals superstar Bryce Harper finally got his record-breaking deal from the Phillies: 13 years, $330 million.
Interestingly, though, only Arenado makes this list - per Spotrac, Machado's contract and signing bonus for 2019 gives him a salary of $12 million before reaching over $30 million a year in 2020. The first year of Harper's contract plays out similarly on the payroll, even though he's also getting a hefty signing bonus.
The look of this list will change considerably next year as Machado and Harper break the $30 million mark for yearly salary, and new free agents sign. For now, though, here are the 30 players with the highest payroll salaries for the 2019 season.
1. Stephen Strasburg
2019 Salary: $38.3 million
When Strasburg is healthy, he can be everything Nationals fans thought he could be when Washington drafted him with the No. 1 pick in 2009 - look no further than 2017, when his 15-4 record and 2.52 ERA led to him being third in NL Cy Young voting. 2018, though, was marred by injuries as he made six fewer starts than in 2017 (though still struck out 10.8 batters through nine innings). He'll need to go back to living up to the contract he signed in 2016 for the Nationals to make the playoffs.
2. Max Scherzer
2019 Salary: $37.4 million
Another member of the Nationals rotation, Scherzer has managed to surpass the expectations of the $210 million contract he signed in 2015. He has made six straight All-Star Games and won two straight Cy Young awards in 2016 and 2017. Even in 2018 when he only came in second in the voting (thanks to a historic year by Mets ace Jacob deGrom,) Scherzer achieved his first-ever 300 strikeout season. Many star players wilt under the pressure of a nine-figure contract, yet Max Scherzer has spent the first four years of his establishing himself as perhaps the best pitcher in baseball.
3. Zack Greinke
2019 Salary: $34.5 million
Greinke signed a six-year deal worth $206.5 million with the Diamondbacks in December 2015, coming off a year with the Dodgers where he pitched to a historically low ERA. He struggled to live up to the deal in 2016, but the 2017 and 2018 were major steps up for him, a return to form of sorts. Greinke can go under the radar when he's pitching for teams without as much buzz, but he's been one of the most consistently good pitchers of the past decade, with his peak being the 2009 season that saw him win the AL Cy Young award with the Kansas City Royals.
4. Mike Trout
2019 Salary: $34.1 million
The first position player on the list, and it couldn't really be anyone else. Trout has played at a Hall of Fame level since his first full season in 2012, accruing an incredible 67.4 fWAR from 2012-18. In those seasons he never finished lower than fourth in AL MVP voting, and that happened once; every other time he has either placed second (four times) or won the MVP award (in 2014 and 2016). He has been the best player in baseball for seven straight seasons, and he is two years away from free agency.
5. Clayton Kershaw
2019 Salary: $31 million
Max Scherzer may have been the best pitcher in baseball for the past few years, but if you're asking who the greatest pitcher of the 2010s has been, it's Clayton Kershaw - and by a lot. Even the past three years where he has had to fight through injuries and a decline in velocity, Kershaw has played at a high level. He has been the recipient of the NL Cy Young in 2011, 2013 and 2014, when he was also NL MVP. And even with his reputation for struggling in the playoffs, the Dodgers wouldn't have been able to make the World Series the past two years without him. Re-signing Kershaw was a no-brainer for Los Angeles; at age 30, he's already one of the best players in the franchise's long history.
6. David Price
2019 Salary: $31 million
Speaking of struggling in the playoffs, Price exorcised his postseason demons in 2018 by playing an integral role in the Red Sox championship run. It was a monumental moment for Price, one of the AL's best pitchers since 2010. His 2010 AL Cy Young for the Rays, as well as his superb resume pitching for them, the Tigers and Blue Jays led to his $217 million contract with Boston in December 2015. Three years into the contract, Price went from being seen as a "choke artist" to a World Series champion, getting the win in the deciding game after a fantastic starting performance.
7. Miguel Cabrera
2019 Salary: $30 million
Cabrera's best days are behind him, that much is clear after a rough past two seasons. Of course, his best days are some of the best any offensive player of his generation ever put up. It's how he got a $248 million contract extension with the Tigers in 2014 - six years after signing his first $152.3 million contract with them. Cabrera is a two-time MVP (two consecutive years in the AL in 2012 and 2013) and at 465 home runs, is looking to reach the 500 home run career mark in the next few years - a benchmark that will put a bow on a Hall of Fame resume.
8. Yoenis Cespedes
2019 Salary: $29 million
Yoenis Cespedes is one of the most exciting and powerful hitters when he's healthy. And that's something he has not been in quite some time. Cespedes has appeared in just 119 games over the past two seasons for the Mets, a disappointment for fans who came to love him after his bat helped lead them to the 2015 World Series. He followed that up with 31 home runs in 2016, leading to a four-year, $110 million deal that offseason. But he has been far too hurt to contribute effectively ever since that contract, and no one is sure when he'll be ready to play in 2019.
9. Albert Pujols
2019 Salary: $28 million
Pujols's massive contract for the Angels has looked worse and worse over the past few years the more he declines. In 2016, the Angels signed Albert Pujols to a $240 million deal over 10 years, and while Angels fans are surely dreading the last three years of his contract being an albatross on the payroll, you can't say he didn't earn that contract. Albert Pujols in the 2000s put together some of the best offensive seasons baseball has ever seen, hitting for both average and power to the tune of three NL MVP awards for the Cardinals. He isn't even close to earning $28 million these days, but he's still one of the best hitters in the history of baseball. Just not one of the best hitters of 2019.
10. Justin Verlander
2019 Salary: $28 million
For a brief couple of years in Verlander's career, many thought his days as an ace were over, peaking in a 2011 season where he won both AL Cy Young and MVP. And yet the past three years have been a renaissance for Verlander. After regaining his form in 2016, he was traded to Houston midway through 2017 and was a key component of that team winning the first World Series in Astros history. He followed that up with a phenomenal 2018, coming in second in a hotly contested Cy Young race (he lost to Tampa's Blake Snell). At 36, he's still one of the best pitchers in baseball.
11. Felix Hernandez
2019 Salary: $27.9 million
Felix Hernandez has always been one of the easiest players to root for in baseball, a humble superstar who spent his best years on bad Mariners teams and adored by the Seattle community. But unlike Verlander, Hernandez's best days do appear to be behind him, as a 5.55 ERA in 28 starts in 2018 would suggest. Hernandez is in the last year of his contract, and it will be his 15th season - all with the Mariners, the team he won a Cy Young Award with in 2010.
12. Jon Lester
2019 Salary: $27.5 million
Lester is only the second pitcher on this list to not have a Cy Young on his resume. But he's been one of the more reliable pitchers in baseball since he made the majors in 2006, and has three World Series rings to his name (2007 and 2013 Red Sox, 2016 Cubs). The Cubs signed him to a six-year, $155 million contract in the 2014 offseason to anchor the rotation of what, at the time, looked to be a very promising young team that needed some veteran talent to pull everything together. In his first year with the Cubs they made the NLCS; the next year, they won the World Series.
13. Nolan Arenado
2019 Salary: $26 million
This placement could change, as it's not yet certain how Arenado's new contract extension will impact this year's salary. Before the extension, though, he was set to make $26 million via arbitration. His new contract, $260 million over eight years, averages out to $32.5 a year. It's all a lot of money, but few players this decade have made the instant splash Arenado has. In six years in the MLB, he already has 186 home runs, and even more impressively is already seen as one of the best defensive third basemen the game has ever seen. He's the perfect centerpiece for the Rockies to build around.
14. Giancarlo Stanton
2019 Salary: $26 million
Giancarlo Stanton, before Bryce Harper's shiny new contract, was the largest contract signed in MLB history: 13 years, $325 million with the Marlins in the 2014 offseason. Just three years later, the Marlins dealt Stanton - at the time the NL's newly crowned MVP - to the New York Yankees. Stanton is one of the game's best power hitters possibly ever, a player who always puts up gaudy home run stats in the seasons he's healthy, culminating in a 59 home run season in 2017. His first season with the Yankees started slow, but by the end of the season he had put up 38 home runs.
15. Jake Arrieta
2019 Salary: $25 million
Arrieta's career has taken several turns. At the beginning, he was a prospect with the Orioles struggling to control his pitches. After being traded to the Cubs in 2013, though, Arrieta found himself and his command, eventually leading to a Cy Young season in 2015 thanks to a 22-6 record and 1.77 ERA. After following that campaign up with two more solid seasons, Arrieta signed a three-year, $75 million deal with the Phillies in time for the 2018 season. His 3.96 ERA in 2018 was the highest it had been for him since 2013 - the year he was traded to the Cubs.
16. Joey Votto
2019 Salary: $25 million
Joey Votto has quietly put up a Hall of Fame-caliber career for the Cincinnati Reds, one walk at a time. Not so quiet, of course; otherwise he wouldn't have a 2010 NL MVP to his name, nor would he have signed a $225 million contract extension in 2012. Votto was a heralded prospect before he came up to the MLB in 2007, and has spent most of his career putting up an over-.300 batting average and over-.400 on-base percentage over several full seasons, along with 269 career home runs.
17. Jordan Zimmermann
2019 Salary: $25 million
Remember what I said earlier about a lot of nine-figure contracts not working out? For much of his early career with the Nationals, Jordan Zimmermann was quietly one of the better pitchers in baseball, most notably ending his excellent 2014 season with a no-hitter. But he hasn't come even remotely close to that form since he signed a 5-year contract worth $110 million with the Tigers. In his best years with Detroit, he has been mediocre, and at his worst - a 6.09 ERA in 29 starts in 2017 - he has been disastrous.
18. Robinson Cano
2019 Salary: $24 million
Cano is looking for a fresh start after being traded to the Mets in the offseason. Granted the need for a fresh start was his own making; Cano had been putting up some fantastic seasons with the Mariners after signing a 10-year contract worth $240 million in 2013, but he was suspended for 80 games in 2018 for violating the league's policy on PEDs. That suspension will likely mar any retrospectives on Cano's career, as prior to that Cano had easily been one of the best middle infielders of his generation.
19. J.D. Martinez
2019 Salary: $23.75 million
Since 2015, J.D. Martinez ranks sixth in baseball in home runs. Martinez developed into one of the game's biggest power threats, first in Detroit and then in half a season for Arizona, helping them make the playoffs in 2017. Despite that, he didn't sign as a free agent in that offseason until February of 2018, landing a $110 million contract with the Red Sox. Patience worked out for Martinez, as his first season in Boston was spent hitting 43 home runs, coming fourth in MVP voting and winning his first World Series ring.
20. Josh Donaldson
2019 Salary: $23 million
Donaldson was a first-round pick for the Cubs, but never played a game for them. He instead blossomed into a star in his late 20s with Oakland, and after being traded to the Blue Jays prior to the 2015 season, he ended up hitting 41 home runs and winning league MVP as the star on a suddenly competitive Toronto team. He continued to play at an elite level for two years after that, but played in just 52 games in 2018, and was traded to Cleveland midseason. In November 2018, he signed a one-year deal with the Atlanta Braves.
21. Jason Heyward
2019 Salary: $22.5 million
In five seasons for the Braves and one for the Cardinals, Jason Heyward established himself as an elite defensive outfielder with decent power. That, plus his age (he was just 25 when he first became a free agent) was enough for the Cubs to sign Heyward to an eight-year contract worth 184 million in the 2015 offseason. And while the Cubs thrived with him on the team and won the 2016 World Series, Heyward's offensive output has cratered, and his defense hasn't been good enough to make up for it.
22. Buster Posey
2019 Salary: $22.2 million
Buster Posey became a Giants legend very quickly, as one of the most important members of the core that helped them win a World Series in 2010, 2012 and 2014. That 2012 season also saw Posey win NL MVP. By 2013 San Francisco had already decided to keep Posey around long-term as the centerpiece of the team and signed him to an eight-year extension worth $159 million. Including 2019, Posey still has four years left on his contract.
23. Masahiro Tanaka
2019 Salary: $22 million
Tanaka signed a huge deal with the Yankees from Japan: seven years, $155 million. Tanaka isn't currently the Yankees ace that salary would imply, but he's proven himself to be a dependable starter in the rotation with potential to be that ace at times. He battled through injury his first two seasons, but the past three seasons he has always made at least 27 starts, including four postseason starts in the past two seasons. Luis Severino has eclipsed him as team ace, but Tanaka is a sturdy presence for the Yankees.
24. Edwin Encarnacion
2019 Salary: $21.7 million
Edwin Encarnacion entered the league in 2005 and was teeming with home run potential, but struggled to put full seasons together for the Reds. It wasn't until 2012, in his age 29 season and his fourth season with the Blue Jays, that he became what he is known as today. That was a 42 home run season, followed up in the next four seasons with respective home run totals of 36, 34, 39 and 42. After all this, he signed a three-year deal with Cleveland worth $60 million. He's entering the final year of this contract, albeit with a different team - this past offseason, Encarnacion was dealt to the Mariners.
25. Matt Kemp
2019 Salary: $21.5 million
Matt Kemp signed a $160 million contract in the offseason in 2011 with the Dodgers. Three years later, he was traded to San Diego. A year and a half later, he was traded to Atlanta. A year and a half after that, he was traded back to the Dodgers. And then this offseason, he was traded to Cincinnati, meaning he will play out the final year of that contract in a Reds uniform. It's been an interesting career for Kemp, who has had some solid offensive seasons over the past several years but hasn't quite been able to recapture the magic of his 2011 season when he placed second in MVP voting.
26. Freddie Freeman
2019 Salary: $21.4 million
Freeman is the heart of this Braves team, and has been from early in his career. He has been under a huge contract with Atlanta since the 2014 offseason, signing an eight-year extension worth $135 million. He has seen his Braves team go through its share of ups and downs as he enters his 10th season, but has thrived regardless of situation, with three top-10 finishes in MVP voting. With a young Braves team on the upswing, he figures to be in the run for MVP yet again.
27. Charlie Blackmon
2019 Salary: $21.3 million
Charlie Blackmon didn't play a full season in the majors until he was 27 years old. By 29, he put up a 29 home run season, and at 30 he increased that total to 37 and finished in the top five in NL MVP voting. Prior to the 2018 season he signed an extension with the Rockies worth $94 million over five years, and he responded to the new contract with another 29 home run season. Blackmon has been a key figure in the Rockies making the postseason for two straight years and is signed through 2023.
28. Jacoby Ellsbury
2019 Salary: $21.1 million
How good was Jacoby Ellsbury's 2011 season (32 home runs, 119 runs scored, 39 stolen bases, 9.4 fWAR)? So good that despite not coming anywhere near that level of production in 2012 and 2013, the Yankees then signed him to a seven-year deal worth $153 million with a full no-trade clause. At the time of the signing, many suspected he'd never live up to that contract, and they have been proven right over the first four years of the deal. Including 2019, the Yankees are paying Ellsbury at least $21 million for three more seasons.
29. Rick Porcello
2019 Salary: $21.1 million
Rick Porcello's tenure with the Tigers was not awe-inspiring or even great, but he proved his use as an average at-worst starter who could give you much-needed innings and give the bullpen a break. That was enough for the Red Sox to hand him a four-year, $82.5 million contract extension just a few months after trading for him. That worked out better than anyone could have expected; in 2016, Porcello went 22-4 with a 3.15 ERA and won the AL Cy Young by a razor-thin margin. Entering the final year of his contract, Porcello remains a useful innings-eater in the rotation behind David Price and Chris Sale, even if he hasn't recaptured his Cy Young magic.
30. Chris Davis
2019 Salary: $21.1 million
When Chris Davis is at his best, he hits for more power than nearly anyone in the game and keeps his batting average respectable, like in his 53 home run 2013 or his 47 home run 2015. When he's at his worst, he's the player the Orioles got when they re-signed Davis for seven years at $161 million before the 2016 season. So far, the nadir has been 2018, when Davis hit just 16 home runs in 128 games along with an abysmal .168 batting average. And including the upcoming 2019 seasons, he's still under contract for four more years.