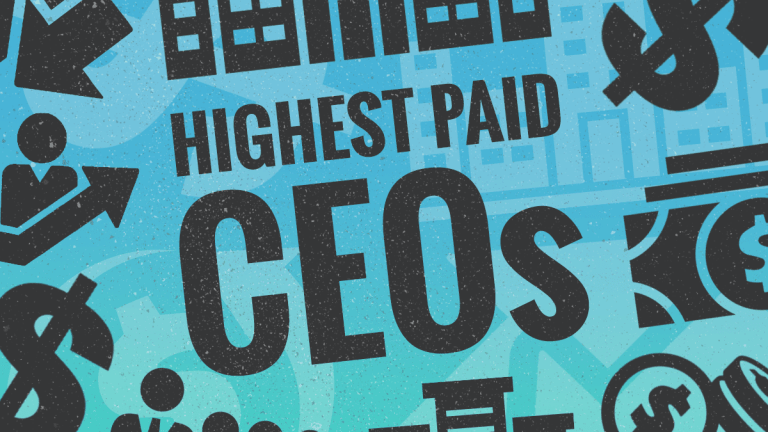 Who Are the 9 Highest-Paid CEOs and How Much Do They Make?
The CEOs who bring in the most money every year may not be who you expect. Who are the highest-paid CEOs?
In 2017, the CEOs of the top 350 companies in America had an average compensation of $18.9 million according to a study by the Economic Policy Institute. That is a 17.6% increase on the year prior.
There is perhaps no clearer way to show the growing wage gap and wealth inequality in this country than in the salary of a CEO compared to that of other employees. According to the EPI, these companies had a CEO-to-employee compensation ratio of 312-to-1. Though this is not the highest that ratio has ever been, it's an exceptionally high ratio, and the fact that CEO salaries are going up so significantly while other workers' wages stagnate is especially troubling.
What are the companies that have such highly-paid CEOs? How do they make this compensation, and what has their tenure looked like? The look of the list has changed of late since one of the highest paid CEOs in America, CBS's (CBS) Les Moonves, stepped down after sexual misconduct allegations became public. Another, Transdigm Group's (TDG) W. Nicholas Howley, moved to Executive Chairman as Kevin Stein became CEO. What does the newer list look like?
9 Highest Paid CEOs
With information from both the AFL-CIO and Salary.com, here are the nine CEOs with the highest compensation, and what the breakdown is on the money that they make. The top 350 average $18.9 million; these nine average $72.29 million.
1. Hock E. Tan, Broadcom
Compensation: $103,211,163
Tan Hock Eng is the CEO and president of Broadcom Inc. (AVGO) , a company that specializes in infrastructure software solutions. Broadcom Inc. was known as Avago Technologies until they bought the Broadcom Corporation and merged into one. Most notably, Broadcom is a supplier for Apple (AAPL) . Broadcom surpassed expectations on revenue and earnings when its fourth-quarter earnings report was released in 2018.
Tan has held his position as CEO since 2006. Having graduated from Harvard Business School, his long history in business includes upper management positions in PepsiCo (PEP) , General Motors (GM) and Commodore International (CBUIF) . His base salary as Broadcom CEO is $1.1 million. But with a nearly $4 million bonus and over $98.3 million in stock value thanks to his holdings with the company, his total compensation balloons all the way up past $103 million. That's more than 2,000 times what the average worker in America makes.
2. Frank J. Bisignano, First Data Corporation
Compensation: $102,210,296
First Data Corporation (FDC) isn't the most well-known name in business, but its one of the most ubiquitous corporations in our daily lives. They're a financial services company best known for payment processing of credit and debit card transactions.
Bisignano had a lengthy career in banking, bouncing from Lehman Brothers to Citigroup (C) to JPMorgan Chase (JPM) before being named First Data CEO in 2013. Bisignano has grown the company tremendously in his short tenure, most famously by working with Apple to create Apple Pay. Similar to Hock Tan, Bisignano has a base salary of $1.3 million. His stock value, however, is an enormous $99.88 million.
3. Peter P. Gassner, Veeva Systems
Compensation: $88,143,333
Veeva (VEEV) describes itself as a cloud-based service for the life sciences industry. Their clients include pharmaceutical giants like Pfizer (PFE) and Merck (MRK) , offering these clients cloud products and consulting services. These "solutions" are meant to help businesses streamline their processes, keeping everything in one faster, more efficient cloud system.
Gassner's involvement with the Cloud Kings should come as no surprise; in the past he has worked as the senior vice president at salesforce.com (CRM) before co-founding Veeva in 2007, where he has been CEO and Director since. Gassner's base salary for his work is $325,000; the bulk of his worth comes from options valued at more than $87.8 million that will vest from 2020-2025.
4. Michael Rapino, Live Nation Entertainment
Compensation: $70,615,760
Live Nation Entertainment (LYV) was the corporation created by the highly controversial 2010 merger between Live Nation and Ticketmaster. Its subsidiaries include not just these companies and the subsidiaries that existed within them but Roc Nation as well.
Rapino is CEO, president and director of Live Nation Entertainment, and has been CEO at Clear Channel Music Group and iHeartMedia, Inc. in the past as well. Rapino's base pay is around $2.4 million, along with $7.7 million in bonuses and over $58.6 million in stock award value.
5. Mario J. Gabelli, GAMCO Investors
Compensation: $69,414,472
GAMCO Investors (GBL) was founded by Mario Gabelli in 1976, and has developed into one of the largest and most successful financial service companies. GAMCO acts as a brokerage service and investment manager, and aspiring investors can open accounts for GAMCO's mutual funds.
Gabelli doesn't actually take a salary at GAMCO, so how does he wind up at a compensation of over $69 million in 2017 (which isn't even the highest yearly compensation the famous billionaire has had)? According to a 2013 article in the New York Times, Gabelli gets 10% of GAMCO Investor's pretax profits, as well as various fees.
6. Douglas Lebda, LendingTree
Compensation: $59,591,002
LendingTree (TREE) has been around since 1996 when current CEO Doug Lebda founded it, and in the decades since has become perhaps the most popular online platform for lending services. It is an online brokerage service that connects its clients to potential lenders for mortgage loans, student loans, credit cards and much more.
Lebda, the founder of the company, has been in the chief executive officer position with LendingTree since 2008. He is also CEO and chairman of GetSmart.com, Inc. With a base salary over $639,000, over $1 million in bonuses and over $57 million valued in option awards, his compensation in 2017 was nearly $60 million.
7. Douglas Ingram, Sarepta Therapeutics
Compensation: $56,866,241
Sarepta Therapeutics (SRPT) is a biopharmaceutical company with a specific focus on RNA-targeted medicine. Sarepta has used research and development on genetic medicine to create products meant to treat Duchenne muscular dystrophy.
Ingram took over as Sarepta CEO and president in June of 2017. Prior to that, he had been CEO of Chase Pharmaceuticals Corporation, Inc., and had a lengthy career at Allergan, Inc. (AGN) before that. Ingram's base pay is $337,500. Thanks to a bonus of over $420,000, stock awards valued at $11.6 million and option awards valued at $44.48 million, his compensation in first year as Sarepta CEO was well over $56 million.
8. Ronald F. Clarke, FleetCor Technologies
Compensation: $52,643,810
FleetCor Technologies (FLT) deals in commercial payment solutions. This means having a global presence in the worlds of fuel payment, toll payments, lodging payments and more.
Clarke has been CEO and president of FleetCor since 2000, and chairman since 2003. His base pay is $1 million, but an additional $1.1 million in bonuses and over $50.5 million in equity ($15.1 million valued in stock awards, $35.4 million valued in option awards) bring his compensation up quite a bit higher.
9. Stephen Kaufer, TripAdvisor
Compensation: $47,933,462
TripAdvisor (TRIP) , founded in 2000, was designed to be a personalized way to research travel options. The travel service showcases reviews and ratings for travel destinations such as restaurants, hotels, airlines and much more. This can include price comparisons.
Kaufer is the co-founder of TripAdvisor, Inc., and has been the CEO and president since that founding in February 2000. In 2017, his base pay and bonuses added up to about $1.05 million. Stock awards valued at $28.6 million and option awards valued at $18.3 million bring his total compensation up to almost $48 million.