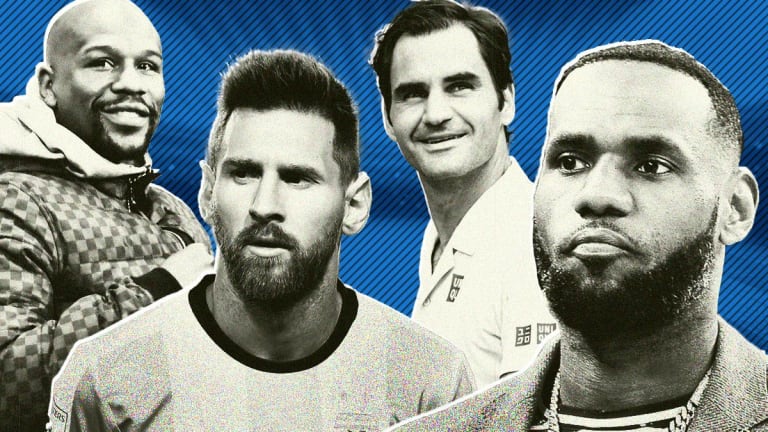 Who Are the Highest-Paid Athletes in the World?
From Neymar to LeBron, Messi to Federer, these are the highest-paid athletes in the world.
We're all well aware that the greatest athletes in the world make tens, if not hundreds of thousands more than the rest of us yearly. But which ones are the absolute highest paid?
Some are exactly the ones you'd expect, some may surprise you, and some omissions may surprise you even more. Despite being in a league with no salary cap, no major league baseball player is on this list. And because endorsement money is factored in, some athletes in sports like golf find themselves far higher up than they would've been otherwise.
So who are, according to Forbes, the highest-paid athletes in the world?
1. Lionel Messi
2019 Pay: $127 million
Messi is one of the most well-known athletes in the entire world. Lionel Messi is the all-time leading scorer in the history of La Liga, Spain's storied professional football league. And he doesn't lead it by a little, either; he's over 100 goals ahead of the No. 2 all-time scorer (we'll get to him in a second). Combine his yearly contract with Barcelona (the team he has spent his entire La Liga career with) with his other football endeavors, such as playing for Argentina in the 2018 World Cup, Forbes estimates he made $92 million from the sport alone. His endorsements, including a lucrative Adidas  (ADDYY) deal, comfortably pushed him over $100 million for the year.
2. Cristiano Ronaldo
2019 Pay: $109 million
Fittingly, Ronaldo is behind Messi not just in La Liga goals but the list of highest-paid athletes in the world. Of course, a big part of why Ronaldo is in second in La Liga history is because he first became a star in the Premiere League with Manchester United. In 2009 though, Ronaldo was able to transfer to Real Madrid. Here, he became the worldwide icon he is now for the sport, at one point averaging $50 million a year on his contract. After nearly a decade in La Liga, though, Ronaldo transferred again -this time to Italian football club Juventus.
3. Neymar
2019 Pay: $105 million
For several years, Barcelona fans had the pleasure of seeing Messi and Neymar on the same team. But the Brazilian superstar wanted out, and Barcelona paid the largest release clause ever to let him out of his contract in 2017, allowing Neymar to then become a member of French club Paris Saint-Germain. PSG will be paying Neymar $350 million through 2022, to go along with the tens of millions he makes in endorsement deals with Nike (NKE) - Get Nike Inc. Report , McDonalds (MCD) - Get McDonald's Corporation Report , Red Bull and more. But with rumors spreading that Neymar wants to return to Barcelona, he may end up making even more soon.
4. Canelo Alvarez
2019 Pay: $94 million
He may not be undefeated in his boxing career, but a record of 52-1-2 is hardly anything to look down on. Alvarez is perhaps the best active boxer out there right now, and his most recent match against Daniel Jacobs in May of 2019 helped him retain the World Boxing Association's super middleweight title, which he won in December of 2018. Alvarez's one loss in his storied career? It came in 2013 against - who else? Floyd Mayweather.
5. Roger Federer
2019 Pay: $93.4 million
Per Forbes, a whopping $86 million of that pay was from endorsements alone. It certainly pays to be the greatest of all time in your sport, as many believe Roger Federer to be in tennis. More than two decades into his career, Federer, 37, is still easily one of the best players in the sport, even returning to the No. 1 world ranking at one point in 2018 after a hot start that included a win at the Australian Open.
6. Russell Wilson
2019 Pay: $89.5 million
Wilson has established himself as one of the elite quarterbacks in the NFL, taking the Seahawks to two consecutive Super Bowls (winning one) and developing into one of the best dual threat QBs in the league. In April of 2019, the Seahawks rewarded Russell Wilson with the most expensive contract in NFL history, paying him $140 million over 4 years. Combining his salary and a signing bonus, he's guaranteed $70 million this year alone, and at the age of 30 Wilson may have enough years ahead of him to get another hefty contract after this one.
7. Aaron Rodgers
2019 Pay: $89.3 million
The quarterback that Wilson overtook for the record of biggest contract? That would be Packers legend and all-time great QB Aaron Rodgers, who signed a $134 million extension with Green Bay prior to the start of the 2018 season. That season would turn out to be a disappointing, injury-plagued one. But Rodgers, a two-time NFL MVP and one-time Super Bowl MVP, already has some of the best stats in NFL history, and the Packers are hoping that a new season with a new coach will give a healthy Rodgers a second wind.
8. LeBron James
2019 Pay: $89 million
LeBron is the first athlete on the list that Forbes estimates made more from endorsements in 2018 than actual salary. It's not that hard to believe, as LeBron James is the biggest face in basketball and perhaps the biggest name in all of American sports. The Cleveland legend now plays for the Los Angeles Lakers, but his attempt to create a new dynasty in L.A. stalled out in the first year of his contract; 2018-19 isn't just the first time in nine years James isn't in the Finals, but his Lakers team didn't even make the playoffs.
9. Stephen Curry
2019 Pay: $79.8 million
The Golden State Warriors have been to five consecutive NBA Finals and won three of them, a full-fledged dynasty. That dynasty starts with Stephen Curry. Curry is a two-time MVP, and is already regarded as one of the best 3-point shooters in the long history of the NBA. His rapid ascent to NBA superstardom has netted him a huge amount of money in endorsement deals as well. Most players of Curry's level of fame have a Nike contract, but Curry was actually offered more money by Under Armour (UAA) - Get Under Armour Inc. Class A Report .
10. Kevin Durant
2019 Pay: $65.4 million
Love him or hate him, Kevin Durant set out to get paid and get a championship when he first hit the free agent market and ended up getting both. Durant left the Thunder to join an already-stacked Warriors team and helped turn them into an unstoppable force. Durant lost his lone Finals appearance in Oklahoma City, as they fell to the LeBron-led Miami Heat, but he played outstanding basketball in his first two Finals with the Warriors, winning Finals MVP against the Cavaliers in both. His absence, return and subsequent injury loomed large over the 2019 NBA Finals though, and now as he enters free agency, Durant is likely unable to play next season.
11. Tiger Woods
2019 Pay: $63.9 million
Expect Tiger Woods to be far higher on this list in the future; Forbes estimates that the overwhelming majority of this pay came from sponsorships and that just $1.3 million came from actual golf winnings. That changed this year, though. If you've so much as glanced at a sports news website or program in the past month, you likely heard about the golf legend breaking out of a years-long slump and mounting an incredible comeback to win the 2019 Masters Tournament thanks to an impeccable final round. It was his first win at the tournament since 2005 and his fifth overall.
12. Ben Roethlisberger
2019 Pay: 55.5 million
Roethlisberger has been the quarterback for the Steelers since 2004, and at 37 is nearing the end of his career. Financially speaking, though, he's going out with a bang. The Pittsburgh QB, who has been to three Super Bowls and won two, signed an extension back in April worth $68 million over 2 years. It may well be the last NFL contract for Roethlisberger, a likely future NFL Hall of Famer.
13. Lewis Hamilton
2019 Pay: $55 million
The star of the Mercedes team in Formula One, Hamilton is one of the absolute best in the racing game. The British-born driver has won five Formula One Championship races in his career, including the last two consecutive years and four of the last five. He has also helped his team win five consecutive Formula One World Constructors' Championships.
14. Anthony Joshua
2019 Pay: $55 million
Joshua, who has been boxing professionally since 2013, won his first 22 fights. Only one was by decision; the other 21 victories were knockouts as Joshua has established himself as the best heavyweight in all of boxing right now. Joshua was set to defend his heavyweight titles against Jarrell Miller at Madison Square Garden this year, but their match was canceled after Miller reportedly failed a drug test. He was replaced by Andy Ruiz Jr, who came in as a major underdog but defeated Joshua via TKO, Joshua's first defeat.
15. Khalil Mack
2019 Pay: $55 million
Mack is easily one of the best defensive players in the NFL, and wanted to be paid as such. When Oakland didn't want to do it, they traded him to the Chicago Bears. The Bears immediately gave him the contract he wanted - 6 years, $141 million - and he rewarded them by becoming the leader of one of the best defenses in football. Thanks in large part to Mack's presence, the Bears made the playoffs, winning the NFC North for the first time since 2010. Mack would be named to both the Pro Bowl and the NFL All-Pro First Team.
16. Russell Westbrook
2019 Pay: $53.7 million
Westbrook had a tall task in 2016-17, having to be the No. 1 guy in Oklahoma City after Kevin Durant left. He responded by winning the league MVP that year and averaging a triple-double. Russell Westbrook has successfully gotten the Thunder to the playoffs in all three years since Durant left, but they've failed to advance past the first round each time, most recently losing to the Portland Trail Blazers in devastating fashion in five games.
17. Novak Djokovic
2019 Pay: $50.6 million
Federer may technically be making more money this year, but it's Novak Djokovic who is currently seen as the best tennis player in the game, ranked #1 as of this writing. Djokovic is generally seen as one of the best to ever play the sport, and he has had himself a phenomenal 2018 and 2019. He finished 2018 strongly by winning the last 2 of the 4 annual Grand Slam tournaments - Wimbledon and the US Open - to end the year as the top ranked tennis player. He followed that up in 2019 by winning the Australian Open.
18. Mike Trout
2019 Pay: $50.6 million
Mike Trout is the best player in the entire MLB by a country mile, and he has already made a case for himself as an all-time great in the long history of the sport. Trout has been so dominant from the beginning of his career that when he signed a $144.6 million contract extension in 2014, it was seen as a bargain. Prior to the start of the 2019 season, Trout got a new extension - 12 years, $426.5 million, far and away the largest contract in baseball history. The Angels look to have Trout spend his entire career putting up Hall of Fame numbers in Los Angeles.
19. Phil Mickelson
2019 Pay: $48.4 million
At 48 years old, Phil Mickelson remains one of the biggest names in golf. This despite the fact that he has not won a Major since 2013, and didn't win a single PGA Tournament from 2014-17. Still, Mickelson has been a pro for nearly 30 years now, winning five Majors in the process. He became one of the biggest athletes of the 2000s thanks to his story; Mickelson spent the 1990s as a solid pro golfer who could not seem to get the elusive Major victory until he won his first Masters in 2004.
20. James Harden
2019 Pay: $47.7 million
A year after Russell Westbrook won NBA MVP, his former Thunder teammate won one for a different team. James Harden turned into one of the biggest stars in basketball with the Rockets, culminating in the 2017-18 season that saw him win MVP and get the Rockets to the No. 1 seed of the Western Conference, coming tantalizingly close to defeating the Warriors in the Western Conference Finals before falling short in Game 7. Harden is signed to a massive contract with the Rockets through the 2022-23 season.
21. Conor McGregor
2019 Pay: $47 million
McGregor, the ever-vocal fighter who has boxed against Floyd Mayweather in addition to his mixed martial arts career, very suddenly announced his retirement from UFC in March of 2019. Whether he actually stays retired remains to be seen, but McGregor made quite a bit of money from his one match in 2018: his loss to Khabib Nurmagomedov, a match filled with tension due to McGregor's past with Nurmagomedov and others. A heated end to the match resulted in, among other things, a six-month suspension for McGregor.
22. DeMarcus Lawrence
2019 Pay: $46.9 million
DeMarcus Lawrence was taken in the second round of the 2014 NFL Draft by the Dallas Cowboys, and eventually blossomed into one of the best defensive ends in football, finishing both 2017 and 2018 with double digit sacks. In March of 2019 the Cowboys placed the franchise tag on Lawrence, but unlike with other players with the franchise tag there was no drama to be found in contract negotiations. A month after the tag, Lawrence and the Cowboys agreed on a 5-year contract worth $105 million.
23. Bryce Harper
2019 Pay: 44.5 million
Mike Trout has the largest contract in MLB history, but for a few weeks that record belonged to Bryce Harper. The Washington Nationals drafted Harper first overall in 2010 with a ton of hype, and Harper would go on to win the 2015 NL MVP overwhelmingly. After a lengthy free agency period in 2018-19, he signed what was at the time a record contract with the Phillies: $330 million over 13 years.
24. Chris Paul
2019 Pay: $43.8 million
Chris Paul has been in the NBA since 2005, and has seen his fair share of big contracts. His current one with the Rockets is just his most recent, but it's also easily his biggest contract. Signed in 2018, Paul got a nearly $160 million contract over 4 years not long after the Rockets traded for him. Prior to that he had been on a $107.3 million contract with the Clippers, and prior to his tenure in Los Angeles Paul had played 6 and a half seasons in New Orleans.
25. Kyrie Irving
2019 Pay: $43.4 million
Kyrie Irving was drafted first by the Cleveland Cavaliers in 2011 in the hopes of being their new LeBron. Irving quickly became a star, and LeBron ended up returning to Cleveland. The pair often had public disagreements and spats, but each was crucial to their incredible comeback in the 2016 NBA Finals as they defeated the Golden State Warriors. Still, tensions continued to mount and Irving was eventually traded to Boston. Irving has continued to put up good numbers with the Celtics, but his contract gives him the option to opt out after this season, putting his future with the team in question.
26. Giannis Antetokounmpo
2019 Pay: $43.2 million
Officially the league's reigning recipient of the NBA MVP award, Giannis is a more recent addition to the list because only in the past couple of years has he become one of the faces of the NBA. This year cemented him as perhaps the best young player in basketball, leading the Bucks to the No. 1 seed in the Eastern Conference, where they proceeded to demolish the Pistons in the first round. After a convincing defeat of the Celtics in the second round, his Bucks fell to the Raptors in the Conference Finals. Antetokounmpo signed a four year extension worth $100 million in 2016, and his deal with Nike includes a signature shoe set to be released soon.
27. Drew Brees
2019 Pay: $42.4 million
It's funny to think about the Dolphins deciding not to sign Drew Brees in 2006, worried about whether he would successfully recover from injury and surgery. Brees signed with the Saints instead and got to work crafting a Hall of Fame career in New Orleans. He led the team to its first ever Super Bowl win in the 2009-10 NFL season and continues to play at an elite level a decade later. As of this writing, he is the all-time NFL leader in passing yards and second in touchdown passes, 19 behind Peyton Manning.
28. Aaron Donald
2019 Pay: $41.4 million
Khalil Mack and DeMarcus Lawrence are ahead of Donald on this list, but he is seen by a fairly wide margin as the absolute best defensive player in the NFL, the rare defensive tackle who can stop the run and sack the quarterback. Aaron Donald has played his entire career with the Rams - first in St. Louis and then in Los Angeles. Just before the 2018 season Donald, the reigning NFL Defensive Player of the Year, signed a 6-year, $135 million extension with the Rams. He would end up winning Defensive Player of the Year for the second straight year, and the team would make the Super Bowl.
29. Damian Lillard
2019 Pay: $41.1 million
The last shot Damian Lillard made prior to this writing was one for the ages, an insane buzzer-beater to eliminate the Thunder in five games. It put him at 50 total for the game. Lillard doesn't necessarily get the hype of a LeBron, Curry or Durant, but he is one of the best players in the NBA, an All-NBA First Team selection for the 2017-18 season. And after helping Portland advance with a historic playoff game, he's likely to start seeing even more hype.
30. Sebastian Vettel
2019 Pay: $40.3 million
Vettel currently races for Scuderia Ferrari, but his greatest success came in the early 2010s while a teammate of Red Bull Racing. It was then that Vettel won four consecutive Formula One World Championships from 2010-13, in addition to his second place finish in 2009. His first five years with Ferrari have seen success as well, including consecutive second place finishes in the Formula One World Championship in 2017 and 2018.
Introducing TheStreet Courses:Financial titans Jim Cramer and Robert Powell are bringing their market savvy and investing strategies to you. Learn how to create tax-efficient income, avoid mistakes, reduce risk and more. With our courses, you will have the tools and knowledge needed to achieve your financial goals. Learn more about TheStreet Courses on investing and personal finance here.