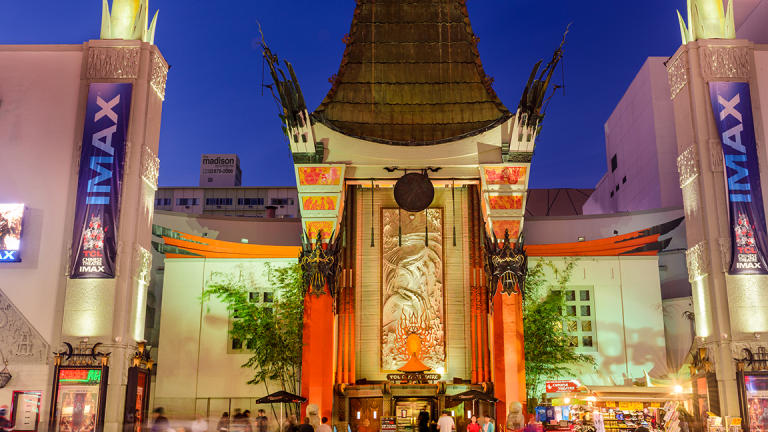 What Do the Highest Paid Actors and Actresses Make in 2018?
How much money do the highest paid actors and actresses make?
The mid-2000s loved "Entourage." One of HBO's biggest hits, it wasn't just a show about the filthy antics of Vinny Chase and Jeremy Piven (that is, Ari Gold). "Entourage" was a chance to take a Hollywood thrill ride.
Jason Bourne let us feel like spies. "Iron Man" gives two hours of superhero power fantasy. "Entourage?" That was all about lavish pool parties and putting Maseratis on the black card in your mind.
It's a sign of the times that Silicon Valley has taken over that space of lifestyle fantasies. No one's hanging up their dream of being a movie star just yet though. Thanks to Forbes, we even know exactly what you'd rake in as a superstar. So for everyone who crushed it in their school play or for those who'd just like to know what the heck a producer is, here are the highest paid actors on the big screen and on the small.
Top Actors and Actresses in the World
Why break it up by actors vs. actresses? It's because unfortunately the pay gap, in Hollywood, is alive and well. It's one of the biggest in the U.S.
Despite longstanding campaigns to the contrary, it's untrue that men and women in America receive vastly different pay for otherwise identical work. In most workplaces the overwhelming majority of gendered pay differences come from career and personal choices such as hours worked and profession. (For more information on this see Harvard, Pew Research, and the Bureau of Labor Statistics.) When you control for factors such as occupation, education, hours worked and time off, the gender pay gap shrinks to between 91% and… nothing. This isn't to say that all is well, but that the issues appear to be social rather than discriminatory.
Except in movies. In Hollywood the pay gap is alive, well and positively raging. Forget 79 cents to the dollar, actresses can make closer to 30 cents to the dollar. The highest paid woman on the silver screen would barely even make it onto the men's list, no less compete for the top spot.
In this case, they literally do the same job. They appear in the same movies. They show up on the same sets. Then, at the end of the day, one person pockets $5 million for reshoots while his co-star gets little more than she'd make working at Arby's.
So we have two lists for actresses in movies and actors in the same.
10 Highest Paid Movie Actresses in the World
1. Scarlett Johansson
$40.5 Million
Is this why Marvel still hasn't made a "Black Widow" movie? Does Johansson simply cost too much? Whatever the reason, her turn with the house that Stan Lee built accounts for her massive earnings in 2018.
2. Angelina Jolie
$28 Million
Jolie has turned most of her attention to work with the United Nations these days, but "Maleficent 2" keeps her secure as one of the world's wealthiest female movie stars.
3. Jennifer Aniston
$19.5 Million
"Friends" will never stop paying off for Aniston. Alongside her numerous endorsement deals, these longstanding checks have made her wealthy despite middling recent film appearances. Expect to keep seeing her name on this list as she starts collecting her $1.25 million per episode for an as-yet unnamed Apple (AAPL) - Get Apple Inc. Report TV project.
4. Jennifer Lawrence
$18 Million
We have one word for you: Mystique. As a major figure in the "X-Men" films, Lawrence has gotten in on the comic book gold rush that will appear again and again in this article. Her real triumph, though, is her mention in the internet's cutest list.
5. Reese Witherspoon
$16.5 Million
A longstanding movie star, next year Witherspoon may show up on the list of TV celebrities. While her movie earnings remain strong, "Big Little Lies" makes up more and more of Witherspoon's payday at $1 million per episode.
6. Mila Kunis
$16 Million
Kunis has come a long way from "That '70s Show." Still the voice of Meg as "Family Guy" enters its 17th (!!) season, she has banked films like "A Bad Moms Christmas" and lucrative endorsement deals like her spot with Jim Beam bourbon.
7. Julia Roberts
$13 Million
Roberts remains one of Hollywood's most well-established stars. Between earnings from her back catalogue, endorsement contracts and the hit "Wonder," her place on this list is secure.
8. Cate Blanchett
$12.5 Million
Blanchett killed it, literally and figuratively, in "Thor: Ragnarok," a hit that continues to pay dividends for the actress.
9. Melissa McCarthy
$12 Million
A truly funny comedian, McCarthy's movies have nevertheless been hit-or-miss. Her reboot of "Ghostbusters" failed to land, as did "Life of the Party." With The "Happytime Murders" coming up, though, her status as a bankable star remains solid.
10. Gal Gadot
$10 Million
You probably know her best from "Wonder Woman," a.k.a. "the good D.C. movie." Between her upcoming sequel, "Wonder Woman 1984," and Gadot's personal brand as a model and spokeswoman she has claimed her spot on this year's list.
10 Highest Paid Movie Actors in the World
1. George Clooney
$239 Million
Tequila. That and endorsements. That's the story of Clooney's breathtaking take-home pay. While Clooney remains a wildly popular star, it was selling his tequila company for $700 million that gave him his quarter-billion dollar payday in 2018.
2. Dwayne "The Rock" Johnson
$124 Million
Despite being No. 2 on this list, and inexplicably not appearing in any Marvel movies, Johnson has collected more for his film appearances than any other actor in the world.
3. Robert Downey Jr.
$81 Million
Tony Stark was the role that Downey was born to play. Throw in the upcoming "The Voyage of Doctor Dolittle," because why not, and the man in the iron-and-laser mask nudges closer to the nine figure club.
4. Chris Hemsworth
$64.5 Million
Hemsworth: noun
A chiseled, gorgeous human being. Typically male. Takes a break from working on his eight pack to call his mom, hand-raise wolves and give his hair a pep talk.
Thor, the God of Thunder and Riches thanks to Marvel's "Thor: Ragnarok" and "Avengers: Infinity War."
5. Jackie Chan
$45.5 Million
You probably know Chan from his popularity here in the U.S. Combined with his huge status in Chinese film, his endorsements and his own line of movie theaters, he will probably stay rich for quite some time. But did you know that he also sings and dances? Because he does, and it's awesome.
6. Will Smith
$42.5 Million
Is there anything Will Smith can't do? Without him, "Independence Day" would have been a movie about improbably helpful tech support. "Fresh Prince of Bel Air" a procedural about interior design. He even managed to make $20 million in "Bright," a Netflix (NFLX) - Get Netflix, Inc. Report movie asking, "what if Malcom X met Dungeons and Dragons?"
7. Akshay Kumar
$40.5 Million
Kumar is a superstar in India. With a catalog of hits that pay him ongoing dividends and endorsement deals nationwide, he has the kind of money that will just keep rolling in. Expect to see him on this list next year.
8. Adam Sandler
$39.5 Million
"The Do-Over:" 10% on Rotten Tomatoes. "Jack and Jill:" 3%. "The Cobbler:" 9%. "The Ridiculous 6:" an astonishing 0%. We could go on at length, but it would just get depressing. Almost as depressing as Netflix giving the man behind "I Now Pronounce You Chuck & Larry" more purchasing power than the nation of Tuvalu.
9. Salman Khan
$38.5 Million
You may not have heard of him, but Bollywood's $2.6 billion ticket sales don't lie. A star in his native India, Khan has both films and endorsements to pad out his personal wealth.
10. Chris Evans
$34 Million
Get comfortable, you're going to hear a lot more about Marvel on this list. Not only did Johansson and Blanchett make bank, but Evans made his fortune as Captain America.
Three Big Takeaways
First, the game is changing. While American audiences will recognize every name on the list of most highly paid actresses, two of the most profitable actors on Earth work in Bollywood and Jackie Chan still does significant work in his native China. Hollywood still remains the dominant force for film around the world, but it increasingly shares the stage.
Second, movies pay, but so do tie-ins, streaming and advertising deals.
Adam Sandler, the eighth highest earner in the world, has been neither funny nor relevant for almost 20 years. He's a few minutes away from Nick at Nite reruns of "Happy Gilmore." Yet thanks to a lucrative deal with Netflix, there he is on this list.
As for George Clooney… He's a bankable movie star to be sure, but more than The Rock? A man with so much charisma that directors literally have to tone down his smile so audiences don't feel too safe during an action movie? Nope. Clooney makes some of his money off acting, and the rest from product endorsements and a hugely profitable tequila company.
Third, it's all about Marvel.
Marvel commands three of the top salaries on this list. Their movies are so popular that this studio singlehandedly, and finally, pushed a woman's salary to at least parity with the bottom of the men's top 10 list. Comic books are huge, but that's not what this is. Gal Gadot cashed a payday as Wonder Woman, but also through her own career as a successful model. The rest of the Justice League, they're nowhere to be seen. It's cute that D.C. keeps trying but we live in Marvel's world now.
On to television for actresses and actors.
10 Highest Paid TV Actresses
1. Sofia Vergara
$42.5 Million
Vergara does owe quite a lot of her fortune to her role as Gloria Pritchett on "Modern Family." Throw in several endorsement deals and she's at the top of this list.
2. Kaley Cuoco
$24.5 Million
Along with her co-stars, Cuoco cut her pay from $1 million to a meager $900,000 per episode so that fellow actresses Melissa Rauch and Mayim Bialik could get a pay bump. The show? Why, "The Big Bang Theory" of course.
3. Ellen Pompeo
$23.5 Million
Another star who owes her success to Shonda Rhimes, Pompeo has played Meredith Grey on "Grey's Anatomy" for 15 years. The show that definitely didn't rip off "Scrubs" has made her a fixture on this list, now and for the likely future. Meanwhile Zach Braff's latest show made it 10 episodes before getting canceled.
4. Mariska Hargitay
$13 Million
There are more "Law & Order" shows than stars in the firmament. This show will continue until the heat death of the universe, after which creator Dick Wolf will pitch 'Law & Order: Existential Emptiness.' It will somehow be a smash hit, which will only improve Hargitay's backend payday.
5. Julie Bowen
$12.5 Million
Welcome to the second show that crushes everything in its path: "Modern Family." As mom Claire Dunphy, Bowen makes her fortune with a six-figure per episode deal.
6. Mayim Bialik
$12 Million
Despite only joining the cast of the "The Big Bang Theory" in 2010, Bialik is an established part of the show. Her earnings match Rauch's at around $500,000. She also actually has a PhD in neuroscience, because that's what Bialik does while the rest of us spend our Saturday nights looking for "ALF" bloopers on YouTube.
7. Melissa Rauch
$12 Million
Almost every other name on this list owes their success to one of two shows. In Rauch's case, it's the enormously popular "The Big Bang Theory" which pays her around a half-million per episode.
8. Kerry Washington
$11 Million
Die-hard fans may remember Washington as the lawyer Chelina Hall from "Boston Legal," but it was "Scandal" that really put her on the map. Between that and her endorsement deals Washington's wealth is set for the foreseeable future.
9. Claire Danes
$9 Million
In its seventh season, "Homeland" has been very good to Danes. Thanks to this steadily popular thriller, Danes has returned to the list of wealthiest actresses on TV.
10. Pauley Perrette
$8.5 Million
Parrette has spent 15 years on NCIS playing the Fox News version of a computer geek. Her legend is perhaps best immortalized in a scene the internet has dubbed "two idiots, one keyboard." Hate all we want, though, because Perrette is hacking all the way to her bank.
Highest Paid TV Actors
1. Jim Parsons
$26.5 Million
Parson's fortune is probably just beginning. Although he only slightly out-earns his co-stars on "The Big Bang Theory," with a spinoff of his character Sheldon Cooper already on screen, Parson's money will keep coming in.
2. Johnny Galecki
$25 Million
Galecki, in his mid-40s, has made a fortune playing nerdy graduate student Leonard Hofstader on "The Big Bang Theory."
3. Kunal Nayyar
$23.5 Million
Nayyar makes his money playing Rajesh Ramayan Koothrappali on "The Big Bang Theory," with his per-episode take home pay at almost a million dollars, plus a cut of the show's profits.
4. Simon Helberg
$23.5 Million
From here on out it's all "Big Bang Theory" country. First up is Helberg,as Wolowitz, one of the show's core characters.
5. Mark Harmon
$19 Million
Mark Harmon (briefly) breaks our sitcom trend. With his paychecks from "NCIS" and "NCIS: New Orleans," Harmon earns about as much as an entire precinct playing a detective on TV.
6. Ed O'Neill
$14 Million
"Modern Family" continues to be good to its adult leads. Patriarch Jay Pritchett, played by O'Neill, anchors the show. Some endorsements have added to his per-episode paycheck.
7. Eric Stonestreet
$13.5 Million
Playing Ferguson's clown-loving husband on "Modern Family," Stonestreet makes most of his money off the long running show. A bit of voice work rounds out this solid income.
8. Jesse Tyler Ferguson
$13 Million
More "Modern Family," where Ferguson cashes his check as the neurotic lawyer Mitchell Pritchett. A few endorsement deals make him some money on the side, but this is still mostly ABC money.
9. Ty Burrell
$12 Million
We return to "Modern Family," on which Burrell plays the fun and funny dad Phil Dunphy. After seeing him trampoline his way into our hearts, who could have guessed that he also has a thing or two to teach Andrew Lincoln about zombie wrangling?
10. Andrew Lincoln
$11 Million
Lincoln has been running from zombies as Sheriff Rick Grimes on "The Walking Dead" for nearly a decade. And the living dead have been very good to him in return.
Three Takeaways
First, the gender gap certainly looks weaker for top 10 lists in TV land.
While among the lower pay scales women certainly earn less than men, for the highest earning TV stars the gender gap is almost gone. The most profitable television star in the world is Sofia Vergara, and the consistency of pay among stars on the same shows is noteworthy.
That doesn't mean the gap is gone, though. Men and women earn substantially similar amounts on these two lists, the fourth highest paid woman earns as much as the eighth highest paid man. Most of the men average at least a couple of million more than their female counterparts overall, notwithstanding Vergara's bankability. Television looks a lot better than film does, but there's still some work to be done.
Second, comedy is king.
"Modern Family" has been a consistent hit for ABC, and for reasons inexplicable to man, science and God audiences truly love "The Big Bang Theory." Together these two shows make up an astounding 60% of all highest earners in television. Throw in "NCIS" and Shonda Rhimes and you account for almost the entire rest of the lists.
Noteworthy in its absence is prestige TV. Shows like "Game of Thrones," "The Good Place" and the "Walking Dead" may be cultural icons but that hasn't put dollars in the bank. These big-budget, big-footprint shows have captured the imagination of audiences but, with only one entry on both lists, the message is clear: America votes with its wallets, and the people want sitcoms.
Third, can we be done saying that TV is the lesser medium? Let's be done saying that TV is the lesser medium. Because, holy cow. While no one on TV banked a $100 million payday in 2018, these numbers have steadily caught up to their counterparts on film. Give the actors and actresses on TV a few more years and we'll probably be pitying their counterparts stuck on those great big screens.
Except for The Rock. He'll always be fine.