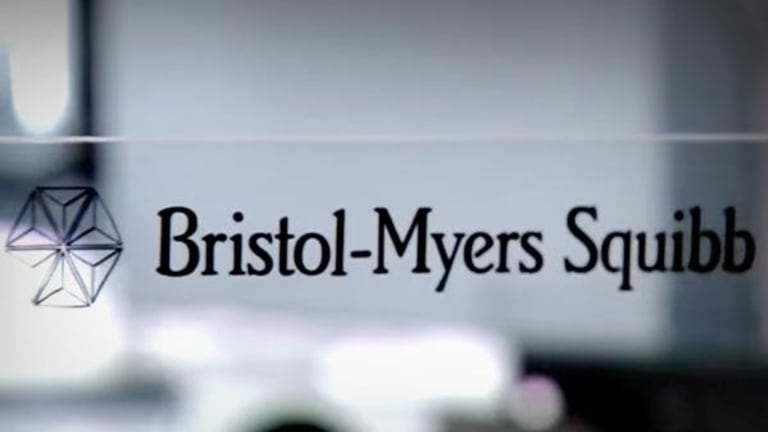 With Cancer Rival's Immuno-oncology Flop, Bristol-Myers Looks Less Enticing for Suitors Too
The results from a clinical trial of AstraZeneca's lung cancer treatment increase uncertainty about Bristol-Myers' immuno-oncology franchise, according to BMO analyst Alex Arfaei.
The poor results from a clinical trial of AstraZeneca plc's (AZN) - Get Astrazeneca PLC Sponsored ADR Report lung cancer treatment also increase uncertainty about the immuno-oncology franchise of rival Bristol-Myers Squibb Co. (BMY) - Get Bristol-Myers Squibb Company Report , lessening chances of Bristol being acquired, according to a stock analyst.
AstraZeneca on Thursday, July 27, said its stage-IV lung cancer drug Imfinzi failed to meet its hoped for target for progression free survival in the Mystic trial compared with standard chemotherapy, either in combination with tremelimumab or on its own.
The debacle has hurt not only AstraZeneca's shares but Brostol-Myers' as well. On Thursday they dropped $1.74, or 3.11%, $54.24. AstraZeneca was down $5.06, or 14.91% to $28.88.
"The MYSTIC results increase uncertainty about Bristol's IO franchise, particularly Opdivo + Yervoy in the important 1L-NSCLC (first-line non-small cell lung cancer) market, and therefore, in our view, lower the probability of Bristol being acquired as some on the Street expect," wrote BMO Capital Markets analyst Alex Arfaei in a Wednesday note.
He said that overall, Bristol-Myers is "too dependent on IO, and we argue that there is simply too much uncertainty in IO for a $100Bn+ deal."
A Bristol-Myers representative said the company does not comment on market speculation but noted that Mystic and Bristol-Myers' IO study, dubbed CheckMate-227, are "different trials using different designs, drugs, dosing and scheduling."
"Therefore, it's difficult to make direct comparisons or draw conclusions from one trial to another," the representative said in email.
On Thursday, Bristol-Myers reported second-quarter non-GAAP earnings per share of 74 cents, up 7% from the year-ago period and in-line with analysts' estimates. Revenue rose 6% year-over-year to $5.14 billion, surpassing analysts' forecasts of $5.09 billion, according to FactSet Research Systems Inc.
"2Q17 was a good quarter that is overshadowed by MYSTIC's failure," wrote BMO's Arfaei.
SunTrust Robinson Humphrey Inc. analyst John Boris wrote in a note that the revenue beat versus consensus estimates "came primarily from Oncology (+$92M/-$18M vs. Street/our) & Eliquis (+$44M/+$44M), partially offset by a Street miss/but beat vs. our estimates on Virology (-$20M/+$30M)."
In a news release, Bristol-Myers Chairman and CEO Giovanni Caforio said the company "had a strong quarter, particularly for Opdivo and Eliquis, and also advanced our portfolio with important clinical and regulatory milestones across multiple therapeutic areas."
Second-quarter sales of cancer drug Opdivo totaled $1.195 billion worldwide, a 42% jump year-over-year. Blood thinner Eliquis generated revenue of $1.176 billion, up 51%.
Also on Thursday, Bristol-Myers updated its 2017 GAAP EPS guidance to the $2.66 to $2.76 range, from $2.72 to $2.87, and its non-GAAP EPS guidance range to $2.90 to $3.00, from $2.85 to $3.00.
Shares of Bristol-Myers were trading at $54.27 on Thursday, down 3.1%. American depository receipts of AstraZeneca were trading at $28.94, down 14.8%.
AstraZeneca reported better-than-expected second-quarter earnings on the same day it announced Mystic trial results.
-- Lisa Botter and Jonathan Braude contributed to this article