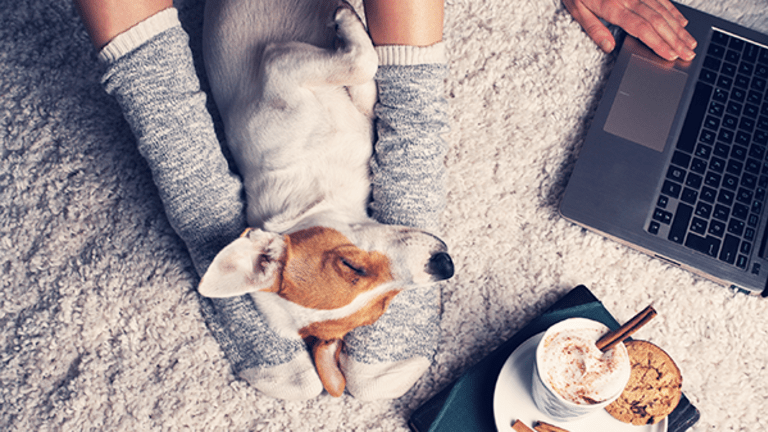 Why You Can Thank Millennials for the Booming $70 Billion Pet Industry
Projections say that the pet industry could reach $69.36 billion in 2017 alone.
Thanks to the thousands of dollars spent by millennials on their four-legged friends, the pet industry is expected to reach almost $70 billion in 2017, compared to $60 billion in 2015. 
Given this tremendous growth, TheStreet decided to visit a New York City pet supply store to investigate just what is behind this massive influx in pet spending and to find out just what pet owners are buying with this $70 billion and what is driving investment in the industry.
Esther Fox, 29, estimates that she's spending at least $1000 annually on Foxy, her 13-year-old Miniature Pinscher. And that's just for a dog barely pushing ten pounds.
For pet-owners like Carolina Lopez, 25, her Siberian Husky, Bowser, is ringing up her bill by an approximate $4000 per year. Lopez believes she's spent at least $7000 over the past year-and-a-half.
Bowser has a monthly subscription to Bark Box, a pet service that sends monthly themed-boxes filled with toys, treats, and assorted bones. The subscription costs $40 per month. Based on Lopez's experience with Bowser, she believes that veterinary expenses are the most costly, followed by food and then toys. 
Maria Ronne, 29, tells TheStreet that her vet visits cost her "an arm and a leg" for Piper, her 4-year-old miniature Labradoodle.
All of the pet owners agreed that a fair amount of their income went straight to their furry friends, but reconciled their spending habits within a shared factoid: these animals weren't considered as pets, but moreso as family. 
"If I could buy a stroller for my baby, I absolutely would," said Fox. "That idea was quickly shot down though, [by her spouse]."
Watch More with TheStreet:
5 Ways Companies Are Using AI to Secretly Change Your Life
Around the World in 5 Insane Pizza Hut Pizzas
Tesla's Elon Musk Is All Jokes as the Model 3 Accelerates into "Production Hell"
According to Kevin Ellich, Senior Research Analyst at Craig-Hallum Capital, the two biggest drivers in the companion animal sector are increased pet adoptions and proliferating healthy pet food options.
"People are feeding their pets just like we're feeding ourselves -- more organically," said Ellich. "It's not the traditional bag of dog food, it's the high end $50-60 dollar bag."
The ASPCA reports show that 44% of U.S. households are dog owners and 35% are cat owners, emphasizing the pet industry as a treat worthy market. A breakdown of spending in the industry shows that projections will continue to rise in fiscal 2017. Food alone accounted for $28.23 billion of spending, courtesy of data provided by the American Pet Products Association. Projections for Fiscal 2017 could reach $69.36 billion.
The pet trade has transformed over the past decades into an increasingly privatized sector. What once was considered a mom & pop domain has now morphed into turf ruled by private corporations. With the convenience of e-commerce, millennials are drifting away from brick-and-mortar locations and moving towards subscription services, iOS applications, and other online services.
That said, they are still spending money, much of it without insurance, making the industry that much more profitable.
PetIQ Inc., for instance, recently went public in late July.
The stock rallied more than 30% in its first day of trading, though it has since come back down to earth. Nonetheless the IPO still managed to net the company $100 million in funds to help fund growth.
"People are treating their pets better. It's not the dog in the backyard tied to a tree anymore. There's a humanization happening, and millennials are definitely a part of that," PetIQ CEO Cord Christensen told TheStreet in an interview on July 21.
"Private equity owns the three biggest physical retailers in the U.S.: PetSmart, PetCo, Pet Valu Canada Inc., Pet Supplies Plus, -- and when the retailers have the same sophisticated mentality, they push up on the manufacturers," said Bryan Jaffe, managing director at Cascadia Capital LLC who advises on the pet products space. "That's changed the industry because it has enabled it to keep growing and at the same time, it has driven out the entrepreneurship and innovation that was solely focused on pets and pet owners... it now has a profit mentality."
PetSmart, for one, has soared via a profit mindset. Fiscal 2016 debuted the launch of over 70 stores and projections for Fiscal 2017 are expected to look equally sharp. Much of their success is derived from their unique product offering. Popular favorites from the pet retailer include pseudo-beer cans that read "Pup Light" and an Ellen Degeneres pet collection.
The PetSmart-Chewy deal also compounded company value.
"E-Commerce: the Amazon's (AMZN) - Get Amazon.com, Inc. Report of the world -- there's a number of online retailers of pet products and pet medications and we see consolidation in that area as well," said Ellich. "A big one, which happened earlier in this year [was when] PetSmart acquired Chewy... PetSmart paid more for Chewy than Walmart paid for jet.com."
Information provided by PetSmart cites that the combination of PetSmart and Chewy creates one of the leading brick and mortar and online pet retailers, providing convenient, high-touch customer experience to serve the needs of pet parents and pets across every channel. Chewy's particular e-commerce experience is expected to complement PetSmart's business practices. 
"Chewy's customer service is amazing," said Esther Fox, mother of Foxy, the Pinscher. "I've contacted them before when she [Foxy, her dog] didn't like her food that I purchased. [In response Chewy] said to donate the food and they'd send over a different type of food for Foxy at no extra charge." 
Millennials are crazy about their pets and the trends don't lie: clearly every chihuahua needs a can of Pup Light. Or, at the very least, one of those stylish orange vests. 
More of What's Trending on TheStreet: