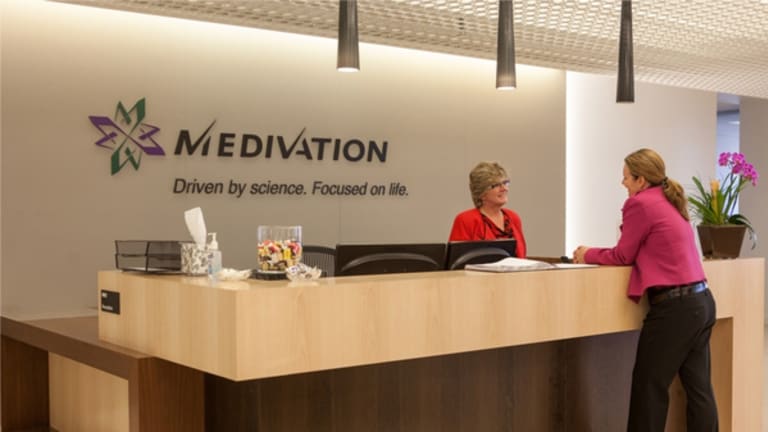 What Tesaro's Cancer Drug Success Means for Medivation
Sanofi's $52.50 per share takeout offer for Medivation is looking increasingly unappealing.
Sanofi's $52.50 per share takeout offer for Medivation is looking increasingly unappealing.
Medivation (MDVN) shares spiked to their highest level Wednesday in over three weeks as a smaller developer of Cancer drugs, Tesaro (TSRO) - Get Report , said that its 500-patient trial for its ovarian tumor preventative drug currently under development had proven successful.  
The Phase 3 study results for Tesaro's PARP inhibitor, niraparib, are seemingly viewed as a positive sign for San Francisco-based Medivation's PARP inhibitor under development, talazoparib. Moreover, the promising data may offer further support to Medivation's claim that  Sanofi's continued attempt to acquire it at value of $52.50 a share is a low ball offer.  
"Sanofi's bid of $52.50/sh for Medivation only becomes further untenable in light of this data," Barclays analysts wrote in a Wednesday, June 29 note.
Medivation shares jumped about 5.5% to finish Wednesday's trading session at $60.95, their highest value since finishing at $60.80 on June 3. Shares of Waltham, Mass., Tesaro skyrocketed about 108% to $77.40. 
PARP inhibitors, which are still being tested in clinical trials and are not FDA approved, are a type of medication that have garnered increasing excitement about their potential to treat cancer. Tesaro, which said Wednesday it plans to file an NDA (New Drug Application) for its ovarian cancer drug in the fourth quarter of the year, is the first to report a succussful Phase 3 study of a PARP inhibitor.
The positive results of Tesaro's study should buoy the overall PARP class, "with positive read-through to the clinical and commercial potential for Medivation's PARP inhibitor, talazoparib," according to Barclays' Geoff Meacham, Carter Gould, Evan Seigerman and Paul Choi, 
The Barclays analysts wrote Wednesday that they assign Medivation's talzoparib--with results for its next study expected to come next year--a per share value of $8. 
Paris-based Sanofi has for weeks been fighting to takeout Medivation, and in a seemingly unsual fashion. The company initially went public with its non-binding cash offer of $52.50 per share, or $9.3 billion, on April 28. After the target repeatedly declined to engage in discussions, the French drugs company on June 2 nominated a slate of biopharma industry insiders in an effort to replace the board of the Nasdaq-listed biotech.
Medivation, which is viewed as having scarcity value for its one marketed therapy, Xtandi, a prostate cancer drug, probably wouldn't be encouraged by Sanofi's usage of a CVR tactic, which it is reportedly considering.