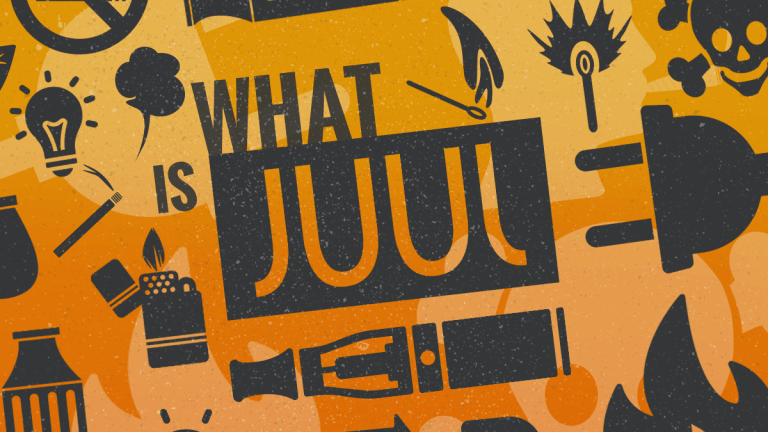 What Is Juul and Is It Bad for You?
A "Juul" is an e-cigarette that looks like a USB flash drive and has become popular among younger, first-time smokers during the past several years. But, is it bad for you?
Whether you work on Wall Street or are late for third-period biology, you've surely seen people using a Juul. 
The small e-cigarette that looks like a USB flash drive has gained enormous popularity in the past several years - notably among teen-aged smokers. The colloquial term, "Juuling" has become part of the GenZ vernacular - used to reference vaping from a Juul. 
Jump ahead to the 2018 FDA Raid.
While controversy rages over the company's marketing, health concerns and domination of the cigarette industry, it looks like Juul is here to stay. But, what actually is a Juul, and is it bad for you? 
What Is Juul? 
Juul is a popular, vaporized e-cigarette that uses changeable, nicotine salt-based liquid cartridges and temperature regulation to produce a vapor as an alternative to traditional cigarettes. The body of the Juul is small and slim and has a battery-powered light that indicates its charge level and when you are vaping. 
The device uses what are called 'JuulPods,' which are plugged into the e-cigarette and provide the nicotine liquid for vaping. The company claims the liquid has "cigarette-like strength nicotine levels via JUULsalts™, our proprietary nicotine salts formula, in order to meet the satisfaction standards of cigarette smokers," according to their site.
The Juul is a product of Juul Labs - a spin off of PAX Labs in 2017. The Juul was first released in 2015, and has since become the most popular e-cigarette on the market - maintaining over a 70% market share, according to Nielsen data. 
The company reportedly raised over $1.2 billion in a financing round over the summer, valuing the company at $16 billion, according to Bloomberg this year. And, with the astounding success of the company in both the e-cigarette and tobacco arenas, it is clear that Juul's disruption is changing the entire industry. 
"Juul's success underscores the potential for disruptive technology to undermine U.S. tobacco's reliable business algorithm," Morgan Stanley (MS) - Get Morgan Stanley Report analyst Pamela Kaufman told Bloomberg in June. 
The device uses plug-in pods that contain varying percentages of nicotine content (most commonly 5%), and, famously, different exotic flavors. Juuls are also rechargeable using an actual USB port, making them easy to plug in anywhere.
What Are E-Cigarettes? 
Juul is an e-cigarette, or electronic cigarette, which means it vaporizes nicotine (instead of burning it like traditional cigarettes) and is battery-charged. The e-cigarette produces a vapor instead of smoke, and is one alternative for adults who wish to stop smoking regular cigarettes. 
Common examples of e-cigarettes include vapes and pens. According to Medical News Today, vaping is allegedly the most popular form of tobacco use among teenagers in the U.S., with e-cigarette use rising 900% from 2011 to 2015 in high school users - and, as of 2016, 3.2% of all adults in the U.S. used some form of an e-cigarette. 
Vaping and e-cigarette use was prevalent in China and other countries and has become enormously popular in the U.S. in recent years. Large companies like Philip Morris International (PM) - Get Philip Morris International Inc. Report , Japan Tobacco (JAPAF) , and British American Tobacco (BTAFF) have capitalized on the growing trend. 
Is Juul Bad for You?
Still, one of the main questions in the "to vape or not to vape" debate is, of course - is vaping bad for you? 
This has certainly been one of the primary concerns with Juul.
A study released last year from Johns Hopkins Bloomberg School of Public Health studied the vapors from 56 e-cigarette users and found hazardous levels of metals in them - including lead. These metals have been shown to cause cancers, lung and liver disease (among others) when inhaled. And while Juul in particular was not studied, being in the category of e-cigarettes may be a cause for concern. 
Study author Ana María Rule, PhD, thinks the results suggest a need for more regulation. 
"It was striking, the varying degrees to which the metals were present in the liquid," Rule says. "This suggests that the FDA should consider regulating the quality control of e-cigarette devices along with the ingredients found in e-cigarette liquids."
But other concerns have clouded Juul specifically. 
According to Dr. Jonathan Philip Winickoff, M.D., assistant professor of pediatrics at Harvard Medical School, one of the concerns Juul poses is the ease of inhaling enormous amounts of nicotine.
"You can inhale a whole package worth of nicotine without even thinking twice," Winickoff told Shape this year.
Additionally, experts agree that, even though Juuling may be safer than inhaling the burning nicotine in cigarettes, nicotine itself still poses health issues - especially for the kind of underage users that Juul is getting.
"Nicotine is extremely addictive and it can act as a neurotoxin and alter brain chemistry so the brain doesn't function normally without it. This can be especially harmful for teenagers whose brains are still developing," said Carol Southard, a registered nurse and tobacco treatment specialist at Northwestern Memorial Hospital, told Women's Health this year. "More importantly, nicotine is a gateway drug. Teenagers who begin with e-cigarettes are more likely to transition to combustible cigarettes, putting them at higher risk for health issues."
And, with a reported 2.1 million users of tobacco products in middle and high schools as of last year, the Food and Drug Administration is cracking down. 
While most experts agree that Juuls and other e-cigarettes are not as bad for you as traditional cigarettes, many say they are by no means the benign drug they are allegedly cracked up to be. 
"Most people just think about the e-cigarette as kind of like a cigarette, except it doesn't have as much bad stuff in it. But when you heat it up, you just get a whole different mixture of toxic chemicals," Stanton Glantz, Ph.D. at University of California San Francisco told Vogue earlier this year. 
But, what are the actual side effects of "Juuling"? 
Juul's Health Side Effects
Especially for young, developing brains (like those of teenagers, who are quickly becoming the e-cigarette's biggest users), using a Juul or vape can have harmful effects on brain development and memory retention.
According to studies, smoking at a younger age can damage your prefrontal cortex performance and suffer memory and attention issues as a result of regular use. 
Additionally, a major concern (specifically for teenage users) of experts has been the highly addictive nature of nicotine - which, according to reports, is the reason why 85% of users who try to quit smoking relapse.
Will Juul Dominate the Tobacco Market? 
Move over traditional tobacco products - Juul is coming for your market share. 
Juul has become a powerhouse in the e-cigarette industry (and larger tobacco industry as well) - dominating market share with a $16 billion valuation. 
According to recent Nielsen data, Juul makes up over 72% of the U.S. e-cigarette market - with British American Tobacco coming in second with only around 9.5% market share. Other reports claim that by September, Juul has secured a 73% market share, according to data provided to AFP by Juul. This market share is exponentially up from its 2% market share in 2016, according to the Journal of the American Medical Association. 
And, sales reportedly increased 641% from 2016 to 2017, reports in JAMA show. 
With Juul's economical prices - the Juul device is about $20, while four refills come in at $30, each the equivalent of one pack of cigarettes - the nicotine impact for the price puts the company in a good position for margin expansion. And this is exactly what has been happening. According to Business Insider, Juul raked in a cool $224 million in sales last year. 
The prolific rise in sales and market share Juul has enjoyed seems due in large part to the company's popularity among a young adult and teenage demographic - and, the popular culture element that has made "Juuling" a verb.
Juul-Altria Deal
In further proof of Juul's rapid ascent in the tobacco market, late in 2018 it was announced that Altria Group Inc., the company behind Marlboro cigarettes, was investing $12.5 billion into Juul for a 35% stake in the company. It was a fitting bow on a year where Juul had become far and away the most popular e-cigarette.
In August of 2019, Altria was confirmed to be in talks with another tobacco giant, Philip Morris, for a potential merger.
Juul in Popular Culture
In what can only be described as a phenomenon, Juul has taken popular culture by storm.
"Juuling" has become its own thing in youth culture - with countless reports of students sneaking drags in class, school bathrooms, and everywhere in between. 
High school students across the country praise Juul's easy-to-use shape that looks like an inconspicuous USB or flash drive, and, with a variety of youthful JuulPod flavors like frutti-tutti and mango, as well as brand-name skins (covers for the Juul), the e-cigarette has become something of a cult classic. 
Even a quick browse on Twitter (TWTR) - Get Twitter, Inc. Report will attest to the cultural influence of the e-cigarette.
Or better yet:
However, others like the FDA don't find the Juul craze quite as funny.
"The troubling reality is that electronic nicotine delivery systems (ENDS) such as e-cigarettes have become wildly popular with kids. We understand, by all accounts, many of them may be using products that closely resemble a USB flash drive, have high levels of nicotine and emissions that are hard to see. These characteristics may facilitate youth use, by making the products more attractive to children and teens," the FDA said in a statement.
Juul Controversy
In the age where there are countless studies to support a correlation between smoking and health concerns, Juul, despite being a supposedly healthier alternative to cigarettes, has not been exempt from scrutiny and controversy.
Most notably, Juul has faced lawsuits and investigations recently over allegations that their advertising targets underage smokers - leading to an FDA raid earlier in September of this year. 
Advertising Controversy
Juul has famously come under fire recently over their advertising strategy - which some claim to be targeting a younger (and potentially underage) demographic. 
A major qualm of regulators has been the company's apparent marketing directed at a dangerous audience - teenage consumers who have no previous tobacco use. 
According to CNN this year, Juul was hit with multiple lawsuits by the Massachusetts attorney general, following allegations that the playful flavors and Juul "skins" the company offers specifically appeal to middle and high school students and has been a cause of the growing popularity of underage vaping.
Juul is famous for their unique and playful flavors like frutti-tutti, mango and cotton candy, and for their customized "skins" - which even feature GenZ cult brands like Supreme. Many claim it is these factors that make Juuling appealing to younger teenagers - in ever-increasing droves. 
Attorney General Maura Healey claimed to CNN that this increasing popularity is "why we need to act as a state and why, frankly, I'm sounding the alarm today."  
The suit is investigating whether Juul failed to prevent sale of their products to underage consumers, like those Healey described - violating state law. Additionally, Healey's office is inquiring into whether or not the e-cigarette company is properly ensuring retailers don't sell to under-21-year-olds either. 
Still, Juul is holding its ground.
"We too, are committed to preventing underage use of Juul," Matt David, Juul Labs' chief communications officer, said in a statement. "We utilize stringent online tools to block attempts by those under the age of 21 from purchasing our products, including unique ID match and age verification technology."
Still, Wired reported earlier this year that the e-cigarette company has also been hit with three lawsuits, with claims the company has misled consumers into thinking the product was safe. 
FDA Raid of Juul in 2018
Last week, the FDA conducted a surprise raid on Juul Labs headquarters in San Francisco, seizing what the agency claimed were "thousands of pages of documents" regarding the company's marketing practices.  
The raid was supposedly conducted to further investigate whether the company is intentionally targeting minors with their advertising - a follow-up to a request the FDA made to Juul to examine said practices in April. 
According to unpublished preliminary data confirmed by the FDA, the number of high school students using e-cigarettes has grown to 75% since last year to around 3 million in the past 30 days. 
FDA Commissioner Scott Gottlieb described the Juul phenomenon as an "epidemic." 
However, Juul Labs CEO Kevin Burns seems cooperative, claiming in an emailed statement to The Verge that Juul plans to continue presenting a "plan to address youth access in the 60-day time frame as outlined by FDA," noting that "the meetings last week with FDA gave us the opportunity to provide information about our business from our marketing practices to our industry-leading online age-verification protocols to our youth prevention efforts."
Juul's Legal Issues in 2019: FTC Investigation and FDA Warning
Controversy has continued to pile onto Juul, particularly of late. Despite Juul's past insistence that they take necessary precautions to prevent underage Juuling, it was reported by the Wall Street Journal in August of 2019 that the Federal Trade Commission was opening an investigation into its marketing practices, and whether there is evidence that Juul "engaged in deceptive marketing," including using influencers and other methods to try and market their product to minors. Juul, when asked for comment, said via spokesman that they are fully transparent and cooperative with any government agencies or regulators.
Not long after this report, the FDA issued Juul a warning letter, saying that the company's marketing of its product as safer and less harmful than other traditional tobacco products. Juul again made a statement saying they would be fully cooperative.
What Is the Legal Age for Smoking a Juul? 
According to Juul's website, the legal age to purchase and smoke a Juul is 21. Additionally, the e-cigarette company claims they use a legal age verification resource called Veratad Technologies to help verify consumer's ages when purchasing the product. 
However, the seeming lack of enforcement or side-stepping of this legal age requirement has been a major source of controversy for Juul.