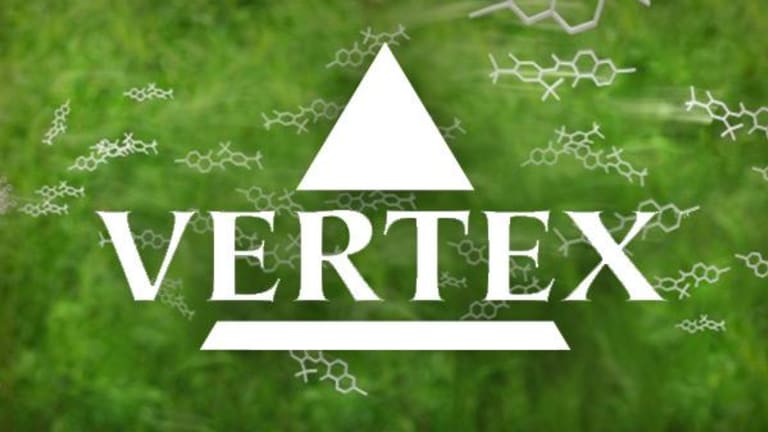 Vertex Growth Expected to Continue with Life-Changing Cystic Fibrosis Treatment
Remarkable data was released from Vertex's triple regiment combination trials.
Vertex Pharmaceuticals Inc. (VRTX) - Get Vertex Pharmaceuticals Incorporated Report has popped by 21% through mid-day trading on July 19 on positive data for a promising new drug but analysts are forecasting that the Boston, Mass.-based company still has upside potential.
Following the release of data from Vertex's triple regimen combination trials for cystic fibrosis, shares of Vertex surged to record highs, boosting its market capitalization by $8 billion. Significant gains in lung function were seen across the board for all three triple-drug regimens that were tested. Patients enrolled in the trials all have the F508del genetic mutation, which is regarded as the hardest form of cystic fibrosis to treat.
"There could be [room for growth]," said Needham analyst Alan Carr. "Vertex hasn't finished announcing data from these trials, so there's higher doses to look at and there's still the fourth [drug] coming. It's possible that these lung functions (FEV-1) could go up more."
The treatment targets defects in the cystic fibrosois transmembrance, or CFTR. CFTR's are broken down into potentiators, correctors, or production correctors. The new Vertex drugs, which are referenced numerically as 440, 152, and 659, are known as correctors since they aid in correcting protein malfunctions within cystic fibrosis patients.
According to Carr, Vertex's Kalydeco, which already on the market as a CF treatment, set the bar for standard of care, thanks to the10 percentage-point improvement seen in lung function capacity. This metric speaks volumes when compared to Orkambi's three to four percentage point increase.
"That's what's so special about the data from last night," Carr continued. "There's tremendous opportunity in the [triple regimen] indication.The vast majority of patients still have plenty of room for improvement when it comes to treatment. What we saw last night goes a long way for addressing that."
The total addressable market brushes 70,000 according to the Cystic Fibrosis Foundation Patient Registry. The foundation also reports that there are approximately 30,000 patients residing in the United States, with 1,000 new cases diagnosed each year.
Vertex's strength is derived from its cystic fibrosis pipeline and is revered a leader in the field. The most advanced near-term company that trails at Vertex's heels is Belgian-based Galapgos, who has partnered with AbbVie Inc. (ABBV) - Get AbbVie, Inc. Report to work on a triple regimen treatment.
"I think the company [Vertex] is going to move rapidly to get this to market as we saw with Kalydeco and Orkambi," said Raymond James analyst Laura Chico. "We are assuming that they launch in the United States by 2020. Based on the numbers of potential patients, she predicted the drug could be a multi-million dollar seller. "We will get more visibility in exactly who this could be used in within the coming months, so that'll obviously be important to see," Chico said.