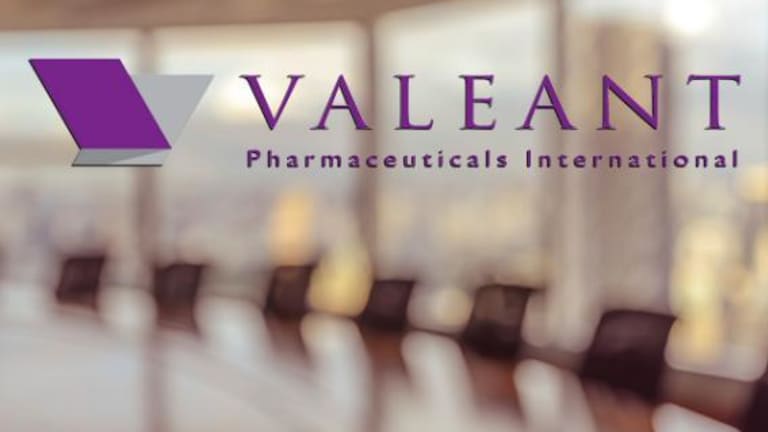 Valeant Could be Worth 30% More If It Can Continue to Execute Turnaround Efforts
This is the checklist.
For those of you that quit on Valeant Pharmaceuticals International Inc. (VRX) , such as hedge funder Bill Ackman who dumped his stake in March, you may want to reconsider your stance on the stock.
That's at least according to one Wall Street that firm that hiked its price target on the biopharma company about 28% in an evening note on Wednesday. 
Cantor Fitzgerald & Co. analyst Louise Chen has raised her price target on Valeant Pharmaceuticals Intl Inc. (VRX) to $23 from $18, citing multiple expansion opportunities.
"We think this is deserved because Valeant's execution has continued to meet or exceed our expectations," Chen wrote in a Wednesday, June 28, note.
She said Valeant's execution against its stated goals boosts confidence that CEO Joe Papa and CFO Paul Herendeen "can return the company back to growth."
Shares of Laval, Canada-based Valeant rose 2.3% to $17.55 in after-hours trading on Wednesday after closing at $17.15, up 3%.
Chen, who has an overweight rating on the stock, said Valeant could continue to refinance its debt.
"Management has noted that all options are on the table here. Valeant has to use all proceeds from asset sales to pay down its term loans per its credit agreements. The company can pay back bank debt, secured debt and senior unsecured debt, etc. with free cash flow," she wrote.
Valeant, which built a debt load of more than $30 billion to fund acquisitions in recent years, in March issued $1.25 billion and $2 billion of senior secured notes due 2022 and 2024, respectively, and persuaded bondholders to tender $1.1 billion of senior notes 2018. The move greatly reduced the amount of debt maturing prior to 2020.
As of May, Valeant's debt stood at $28.66 billion, down from $32.31 billion at the end of March 2016.
The price target hike by Cantor Fitzgerald comes on the heels of an 8-K filing on Monday showing that John Paulson's hedge fund, Paulson & Co. Inc., had increased its stake in Valeant to 6.3% from 5.7%. Paulson joined Valeant's board earlier in June.
Also in June, Valeant inked a deal to sell its iNova Pharmaceuticals business to a private equity consortium of Pacific Equity Partners and Carlyle Group (CG) - Get Report for $930 million in cash, a transaction that forms part of Valeant's efforts to bolster its balance sheet.
In March, Ackman reportedly liquidated his stake in Valeant at around $11 a share after investing in the company in 2015 when the stock was well above $200 per share.

Valeant shares rose 5.6% to $18.11 on Thursday morning.
Visit here for the latest business headlines.
Read More Trending Articles
Walgreens and Rite-Aid Just Laughed in the Face of Regulators, Strike One Clever New Deal
Here's Why Amazon Could Feast on the Remaining Carcass of Rite Aid After Failed Walgreens Merger
Walgreens Punches One of Its Biggest Rivals in the Face With This Surprising New Deal