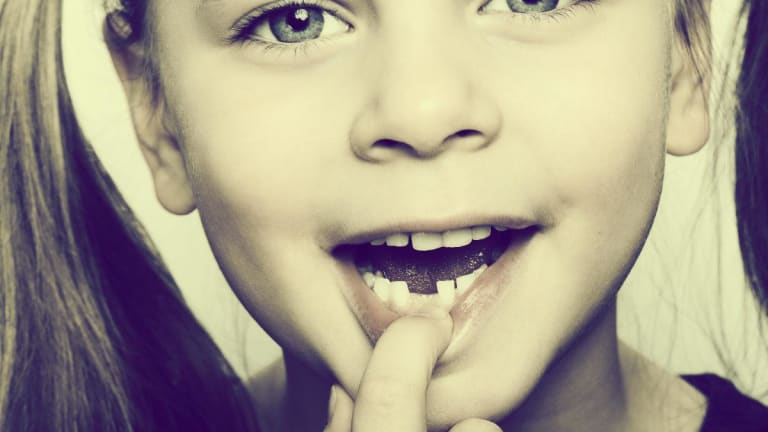 Publish date:
The Painful Tooth: The Tooth Fairy Is Giving Kids 10.4% Less on Average
Poll finds the average kid getting just $3.70 per tooth, down from $4.13 a year ago.
Poll finds the average kid getting just $3.70 per tooth, down from $4.13 a year ago.
Fortunately, Tooth Fairy payouts are way higher than they were when Delta first began its annual poll in 1998. In those days, parents were only giving $1.30 on average per tooth, or $2 in today's money. 
The Tooth Fairy is paying American kids $3.70 on average for their lost teeth -- down 10.4% from $3.70 a year ago, a new survey of parents finds.
"The Tooth Fairy's purse strings appear to be tighter than a year ago," dental insurer Delta Dental Plans Association said Thursday in releasing its annual Original Tooth Fairy Poll, which asked more than 1,000 parents of kids aged six to 12 what they leave under a youngster's pillow for a lost baby tooth.
Fortunately, Delta Dental found that there's more than just money at stake when it comes to the Tooth Fairy. The poll also found that:
56% of parents said getting money from the Tooth Fairy gives kids something to be excited about.
48% said their children choose to save their Tooth Fairy proceeds, learning an important lesson about saving vs. spending.
34% think a visit from the Tooth Fairy instills good oral-health habits.
30% of respondents say children go to bed early when youngsters leave a tooth out for the Tooth Fairy.
"While our Original Tooth Fairy Poll is rooted in fun, it is also interesting to see how parents are using visits from the Tooth Fairy as a learning tool in their home," Delta Dental Chief Marketing Officer Jennifer Elliott said. "Parents share that the Tooth Fairy is delivering so much more than a tangible gift for a lost tooth, such as teaching our next generation about proper oral health habits and personal financial responsibility in a memorable way."
Still, the latest results could be a real kick in the teeth for Wall Street. That's because the company said that its survey is a "good indicator of the economy's overall direction, tracking with the movement of Standard & Poor's 500 index for 14 of the past 17 years." For instance, the S&P 500 dropped 6% in 2018, roughly mirroring the 10.4% drop in Tooth Fair payouts over the same period.
That certainly gives investors plenty to chew over, but kids might consider moving to another part of America if they want bigger Tooth Fairy payouts, as Delta found that average Tooth Fairy payout rates vary widely depending on where kids live.
The poll found that parents in the West prize their kids' lost teeth the most, giving $4.19 on average. But that's a big drop from a year earlier, when Western kids could expect to wake up to $4.85 on average under their pillows.
On the other hand, Midwestern kids have to grin and bear it when their parents left them just $2.97 on average, the lowest payout in the country and a 47-cent drop from the same time 12 months earlier:
Delta compiled its Original Tooth Fairy Poll by surveying 1,058 parents of kids ages 6-12 between Dec. 31, 2018, and Jan. 13, 2019. The poll has a +/- 3% margin of error.
This story was corrected for a typo in the name of Delta Dental Plans Association.