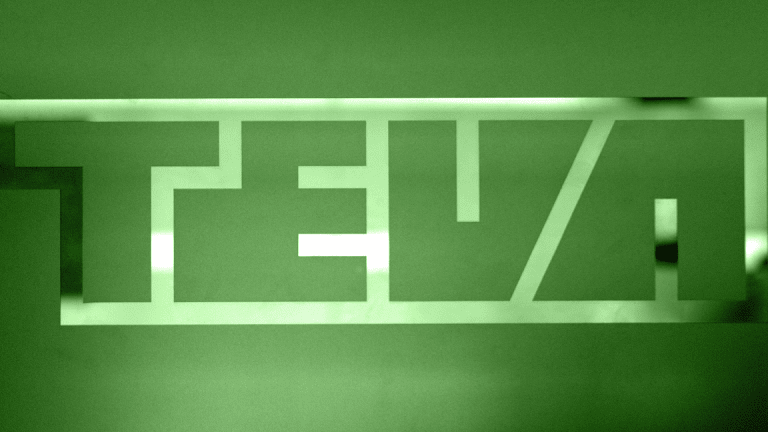 Teva Pharmaceutical 'Turned a Corner' This Week: Goldman Sachs
The Petach Tikva, Israel-based drugmaker on Dec. 15 launched generic Viread a day after announcing plans to cut 14,000 jobs globally over the next two years as part of restructuring efforts. Here come the upgrades.
Teva Pharmaceutical Industries Ltd.'s (TEVA) - Get Teva Pharmaceutical Industries Limited Sponsored ADR Report  quick decision making, broad sweeping changes and a boost from its portfolio of generic drugs are paying in a big way for Wall Street, as sell-side analysts reassessed the Israeli drugmaker that had been all but left for dead by some.
"Teva has turned a corner on December 14," wrote Goldman Sachs & Co. LLC's Jami Rubin analyst, adding that the company's Thursday decision to cut about $3 billion in costs by 2019 was well ahead of her estimates of $1 billion to $2 billion by 2020.
"While we acknowledge there is skepticism on the path forward (as evidenced by the sell-side view: 10% Buys, 20% Sells) we believe we are in the early innings of a credible turnaround led by a competent management team," Rubin added.
Teva's good week continued on Friday, Dec. 15, as the Petach Tikva, Israel-based drugmaker launched generic Viread (tenofovir disoproxil fumarate) in the U.S. for the treatment of HIV-1 infection in adults as well as in pediatric patients 2 years old and up. Tablets also have the potential to treat chronic hepatitis B in adults and pediatric patients 12 years old and up.
Teva's American depository receipts rose to $18.41, up 6% on Friday. Shares popped Thursday after unveiling a restructuring plan that includes about 14,000 in jobcuts (about a quarter of its workforce) globally. The cuts are aimed to low its total cost base by $3 billion by the end of 2019 from an estimated cost base of $16.1 billion this year.
The size of the cost reduction "is bigger than what people were expecting," said Guggenheim Securities LLC's RohitVanjani.
Goldman's Rubin, upgraded their rating on the stock after the restructuring plan was unveiled. Rubin revised her rating to buy from neutral and upped her price target to $20 from $15.
Credit Suisse Securities (USA) LLC's Vamil Divan upgraded his rating to neutral from underperform and increased his price target to $20 from $8.
"Successfully executing on the plan remains paramount, but we are encouraged by the CEO's prior track record at Lundbeck and the plan he has laid out,"  Divan wrote in a note. "We await more details on the plan and look for signs of successful execution before getting comfortable enough to fully recommend the stock, but we see things heading in the right direction."
Teva is led by Kåre Schultz, who joined the company as president and CEO on Nov. 1 after helming Valby, Denmark-based pharmaceutical firm H. Lundbeck A/S.  At  Lundbeck, which he joined in 2015 as the company was facing the loss of critical patents, Schultz implemented a turnaround strategy that included reducing operating costs while targeting new product launches.
According to Teva's announcement, the restructuring will focus on, among others, the "optimization of the generics portfolio globally and most specifically in the United States, through price adjustments and/or product discontinuation." The company plans to close or divest a "significant number" of manufacturing plants in the U.S. Europe, Israel and growth markets.
In addition, the company plans to close or divest a "significant number" of research and development facilities, headquarters and other office locations globally.
Teva chief financial officer Michael McClellan said on a Dec. 14 conference call with analysts that Teva has had preliminary talks with rating agencies and the company plans to have more in-depth conversations with them next week.
Moody's Investors Service said on Dec. 14 it has placed the Baa3 senior unsecured ratings of Teva and its subsidiaries under review for downgrade. Moody's said its review will center on the "timing and execution risk of achieving $3 billion in cost savings" as well as on the potential negative effects of cost reductions on R&D productivity and quality control, and on the restructuring's impact on cash flows and leverage through 2019.
In a Dec. 15 note, Goldman Sachs credit research analysts wrote that they were surprised by Moody's review "on the back of a plan of this magnitude, though we acknowledge that there is substantial execution risk and uncertainty around declining earnings from portfolio rationalization initiatives."
Despite the increased risk of a downgrade to high yield after the review, "we estimate that Teva can reach 4x leverage at the end of 2019 even when incorporating a 30% cut to our prior Ebitda estimates pro-forma for the addition of the full restructuring benefits in 2019," wrote analysts Shubhomoy Mukherjee and Sean Hanley.
More of What's Trending on TheStreet: